By Robert Tate, Automotive Historian
Images courtesy of the National Automotive History Collection
Posted: 04.17.2017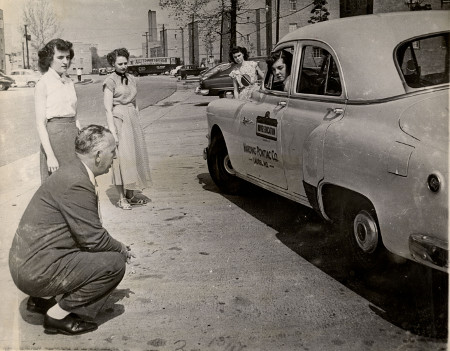 A driving teacher and student; photo taken circa 1950.I remember during my high school days eagerly awaiting my 16th birthday so I could sign up for driver's education. Back then, driver's education was a normal part of the school curriculum. Today, high school students seeking driver's education must turn to the variety of privately owned driver training schools.

This is a story about the history of driver's education and the fond memories many of us still may have of sitting behind that steering wheel for the first time.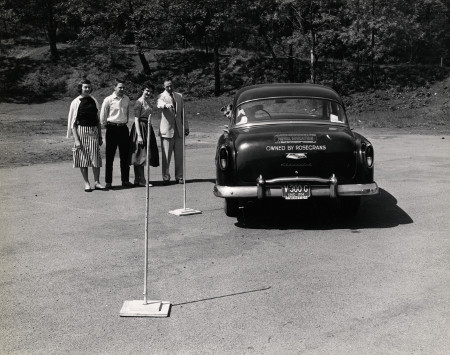 Driver's training classes being conducted circa 1956. The year was 1920 when school districts in the U.S. first provided instruction for traffic safety. In the beginning, it was integrated with other subjects and taught in either or both secondary and high schools.
The public school district in Gilbert, Minnesota first offered a separate course in driver training in 1927, and then in 1933 the late Mr. Amos Neyhart offered driver's education including road instruction at a State College high school in Pennsylvania.

In the following year, Mr. Newyart reported on this great program and its success to the National Safety Congress in Chicago. Clearwater High School in Delaware also reported success in their driver training classes in 1934.Two years later, a college-credit course for teachers was offered at the Pennsylvania State College.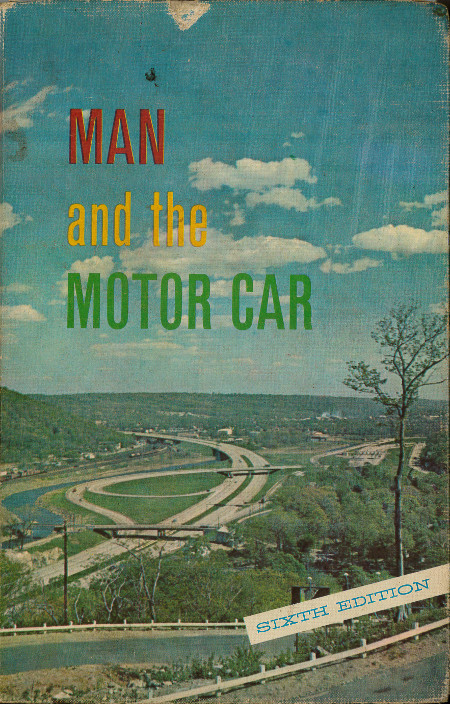 In Michigan, the American Automobile Association (AAA) had provided a driver's education course to High School students with a successful program. In addition, several high schools offered textbooks that were published and used from the mid-1930s to 1950s. The books were titled, "Man and the Motor Car" printed by the National Conservation Bureau and later by the Center for Safety Education at New York University. "Man and the Motor Car," was first published in 1936 and marked the first time a book on driver training was widely used in U.S. high schools. The first edition was revised and made available to public schools in 1941.

The "Man and the Motor Car" textbook provided its students with many traffic problem details, and it was a challenge to young drivers on how to drive correctly. For many years, "Man and the Motor Car" helped millions of students all over the United States to become responsible and safe drivers for many years.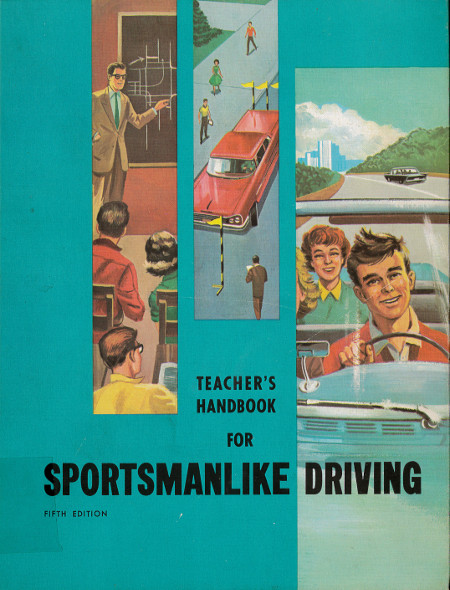 Another popular book among high schools during the 1960s and 1970s was "Sportsmanlike Driving," published by the Driver Education Specialist American Automobile Association in Washington, D. C. The book highlighted pedestrian safety while driving as well as driving under adverse or special conditions. The textbook was successful for many years and had provided many students with needed information to become great drivers.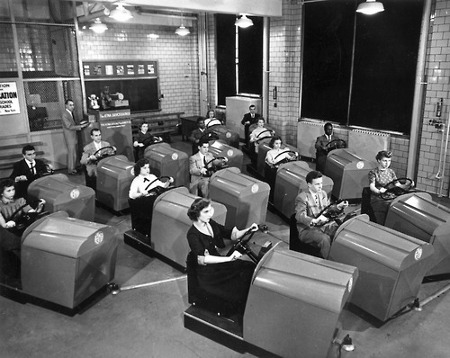 Starting the 1940s, a hands-on driver training tool was developed called the Aetna Drivetrainer. Because of this invention, the student classroom all of a sudden became a behind-the-wheel training program. The Drivetrainers looked like bumper cars and a series of short films were produced covering many aspects of practice driving.

The small dummy cars were equipped with a variety of controls. As the students would view the film, their reaction and responses to driving situations were recorded electronically on individual cards. This multiple-type trainer had provided training for up to 20 students at a time. At the time, it served to supplement practice driving.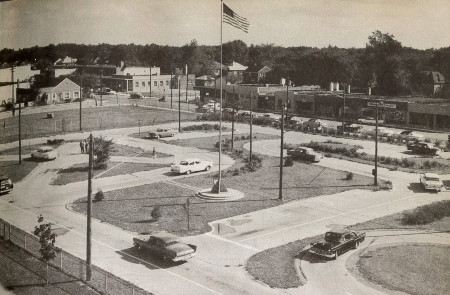 It should also be noted, that one of the first driving ranges for students and adults in this country was located at Mumford High School in Detroit, Michigan (see above photo).

By the late 1990s, Michigan schools began to eliminate the driver's educational programs. Most of the discontinuation for free driver's education courses started in Macomb County with school district officials citing cost overruns. Today, a driver's educational course can cost many parents between $250 to 300 dollars for training.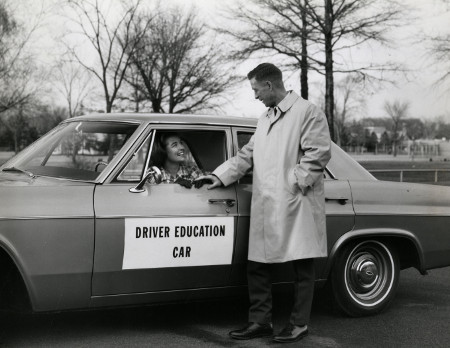 A driving instructor and student circa 1966. For further information on photos please visit http://www.detroitpubliclibrary.org/ or email This email address is being protected from spambots. You need JavaScript enabled to view it.. Please do not republish the story and/or photographs without permission of MotorCities National Heritage Area. (Bibliography:Bakri, Lama. "Driver's Training still free for most" The Detroit News 3/31/98; "Sportsmanlike Driving," Fifth edition Driver's Education specialists American Automobile Association Washington, D.C. 1962-1965; "Man and the Motor Car," Sixth Edition by The Center for safety Education New York University; 1962 revision.)

If you would like to contribute an article for the MotorCities newsletter, email This email address is being protected from spambots. You need JavaScript enabled to view it. or call 313-259-3425.
---