Welcome to the MotorCities Challenge and Mini Grant Program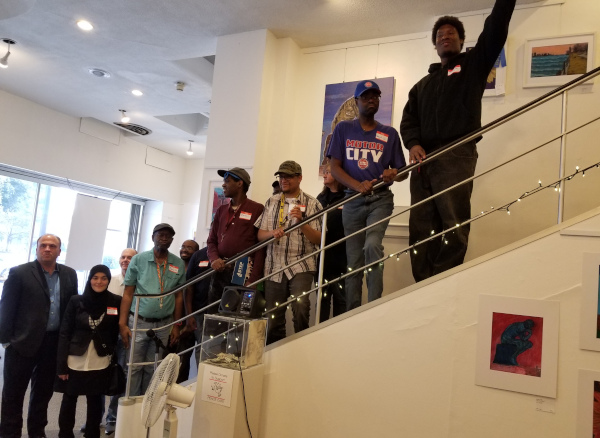 A MotorCities grant supported an exhibit of auto history-related art pieces by young people with disabilities at the Peace Gallery in Detroit, in conjunction with Services to Enhance Potential of Westland.
Projects must be largely automobile and/or labor heritage related and must deal with: Revitalization of our historic automotive and labor structures through preservation, Interpretation efforts which attempt to tell the story to a broad audience, Education activities which engage a specific audience and creates increased appreciation of our heritage and heritage tourism projects which promote the region and its heritage activities.
The Challenge Grant Program funds projects up to $25,000.
Funds must be matched, but match can include cash, in-kind, donated goods and volunteer services.
Projects which exemplify diversity, equity and inclusion will receive preference.
If you have a smaller project in mind we have a mini-grant program which does not require match and funds projects up to $1,500. Click here to learn more about the mini-grants.
The Challenge Grant cycle is a rolling submission. Applications can be submitted at any time. Review will occur quarterly with awards announced by 12/15 (submit by 11/24), 3/15 (submit by 2/22), 6/15 (submit by 5/25), and 9/15 (submit by 8/25).
For new potential applicants, there is a mandatory MotorCities Grant Training Workshop on July 26 at noon. Click here to register for the workshop.
You can review a previous grant training session, but any new applicants must attend the workshop AND contact MotorCities Grant Coordinator, Brian Yopp (This email address is being protected from spambots. You need JavaScript enabled to view it., 313.259.3425 x 307) prior to submitting an application.
---
The following are examples of some of our most recent Challenge Grants:
The Automotive Hall of Fame (Dearborn)

: Supporting a series of four events devoted to the history and innovations of Hall of Fame honorees -- $10,000.

Detroit Historical Society

: Supporting the upcoming "Body By Fisher" exhibit and programming -- $10,000;

Fair Lane, The Home of Clara & Henry Ford (Dearborn):

Supporting updating and replacing 19 outdoor interpretive signs – $2,584;

Flint Cultural Center Corporation:

supporting the research and development of programs in conjunction with the upcoming Vehicle City Gallery at the Sloan Museum of Discovery -- $9,696.76;

Ford Piquette Avenue Plant (Detroit)

: supporting the development and installation of an interactive exhibit about the Milwaukee Junction district -- $2,800;

Model A Ford Foundation (Irmo, SC):

supporting the development and installation of an interactive Ford Model A chassis exhibit at the Gilmore Car Museum in Hickory Corners -- $3,000;

Packard Motor Car Foundation

(Shelby Township): supporting three different revitalization projects at the Packing Proving Grounds (PPG) site -- $10,000;
The following are the latest recipients of our mini-grant program:
Detroit School of Arts

: Supporting the sixth annual Midtown Auto Show, an opportunity for students to learn about automotive careers -- $1,500;

Engineering Society of Detroit (Southfield):

Supporting the continued production of the organization's "SciEngiMathePloration" children's television show -- $1,500;

Ford Piquette Avenue Plant (Detroit):

Supporting the installation of a video kiosk and map near the guest entrance -- $1,500;

Genesee County Historical Society (Flint)

: Supporting the creation of a digital education program utilizing iPads and video -- $1,500;

Packard Proving Grounds (Shelby Township):

Supporting the production of the organization's first interactive display about Packard's engineering expertise --$1,500;

Partnership for the Arts and Humanities (Canton):

Supporting production of two new Wayside Signs telling the story of the Cherry Hill Ford Village Industry-- $1,500.
---
If you have any addtional questions, please contact the MotorCities Challenge Grant Program Coordinator:
Brian Yopp at 313.259.3425 x 307 or This email address is being protected from spambots. You need JavaScript enabled to view it..

Some Tips:
Use the PDF version of grant application as a guide for elements of the grant that you should prepare prior to beginning the online process.
You can save your progress at any point throughout the process by clicking the "Save Progress & Resume Later" link. The 'Save Progress feature will not retain uploaded attachments. Please upload attachments as the final step when you are ready to submit.
Please maintain a back-up document in case there is an issue with retrieving your work.
Documents can be uploaded as doc,docx, xls, xlsx, and pdf formats


Useful Documents:
If you missed the grant training webnar, click here to view the full session.
Challenge Grant Application PDF version (for reference only. Only applications submitted via the online system will be considered.)
Reporting:
If you have received a grant award you must use these tools to request reimbursement and to close out your project.
Reimbursement Request Form- Download and complete based on the period of time that you are requesting. Return the form to This email address is being protected from spambots. You need JavaScript enabled to view it. in Excel format along with a PDF of all canceled checks, timesheets, paystubs or additional means used to support the paid expenses detailed on your form.
Performance Measure Report (Due 60 days after end of grant or by 11/15 of each calendar year).
Partner Feedback Survey (Due 60 days after completion of project).