Explore and Record your MotorCities Adventure!

The National Passport Stamp Program was created in 1986. It is designed to serve as a log of the unique experiences that a visitor encounters as they visit national parks, landmarks and heritage areas across the country. MotorCities National Heritage Area encourages you to explore our region. Stand in the footprints of automotive pioneers and legends of the labor movement. Learn the stories of the people, place, ideas and innovations that shaped America's history and put the world on wheels. Explore and Enjoy!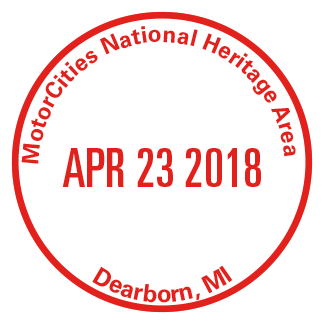 How much does a stamp cost?
Nothing! The National Park Stamps can be found and acquired at no cost at National Parks and Heritage Areas participating in the Passport program.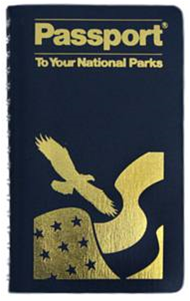 How do I participate in the program?
First, you may want to obtain a National Park Passport book (pictured at right). This spiral-bound booklet allows you to collect and store stamps available at National Parks and Heritage Areas throughout the United States. The passport book can be purchased from the National Park Service's store website ($9.95 plus S&H) or can be purchased at local National Park and Heritage Area's visitor center/gift shop.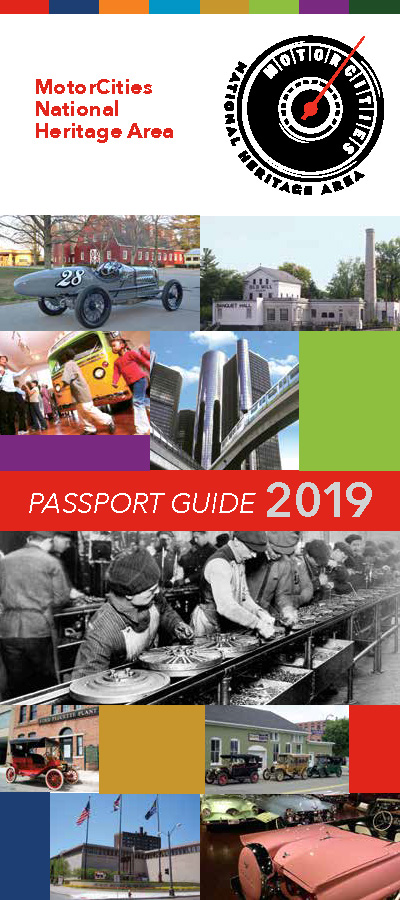 Lastly, let the adventure begin! Explore the region, learn about parks, record your adventure, and support the National Parks and Heritage Areas!
In addition to the National Park Service Passport Program, you can participate in a Michigan-based program in conjunction with sites located in the MotorCities National Heritage Area.

What sites are participating in the MotorCities Stamp Program?
Watch a video featuring many of our Michigan passport sites.
Our Michigan passport books (pictured at left) are available at the following sites in these cities:
Belleville: Yankee Air Museum
Brooklyn: Cambridge Junction Historic State Park
Chesterfield: Stahls Automotive Foundation
Dearborn: Automotive Hall of Fame
Greenfield Village
The Henry Ford Museum of American Innovation
Detroit: Detroit Historical Museum
Detroit Institute of Arts
Ford Piquette Avenue Plant
GMRenCen
Historic Fort Wayne
Dundee: Old Mill Museum
Eastpointe: Michigan Military Technical & Historical Society
Flint: Durant-Dort Carriage Company/GM Factory One
Sloan Museum
Grosse Pointe Shores: Edsel & Eleanor Ford House
Hickory Corners: Gilmore Car Museum
Lansing: Michigan History Museum
R.E. Olds Transportation Museum
Livonia: Roush Automotive Collection
Plymouth: Plymouth Historical Museum
Rochester: Meadow Brook Hall
Westland: Nankin Mills
Ypsilanti: Michigan Firehouse Museum
Ypsilanti Automotive Heritage Museum
OR email This email address is being protected from spambots. You need JavaScript enabled to view it. to have a copy mailed to you.