Stop 2: Auto Pioneers & The Assembly
Have you ever wondered about the beginnings of the automotive industry? How did the first car companies come to be? Who made a significant impact on the automotive industry and what did they do that made their contributions so special?
Click on any of the links below to watch the videos of your choice to learn about some of the amazing people that helped to shape and innovate the automotive industry. After you watch the videos, test your knowledge by completing the automotive pioneer crossword puzzle highlighting their accomplishments!
BEFORE YOU COMPLETE THE CROSSWORD PUZZLE BELOW, CLICK HERE for Automotive Pioneers & Innovators You "AUTO" Know!
Mary Bara
Mary Teresa Barra is an American businesswoman who has been the chairman and CEO of General Motors Company since January 15, 2014. She is the first female CEO of a 'Big Three' automaker. On December 10, 2013, GM named her to succeed Daniel Akerson as chief executive officer.
Mary Barra Biography | Animated Video | Highest-paid Auto CEO in the world (5 minutes and 21 seconds)

Mary Barra, First Female Auto Industry CEO, On Women And Leadership | TODAY (4 minutes and 53 seconds)
---
David Buick
David Dunbar Buick was a Scottish-born American Detroit-based inventor, best known for founding the Buick Motor Company. He headed this company and its predecessor from 1899-1906, thereby helping to create one of the most successful nameplates in United States motor vehicle history.
David Buick | The Automotive Innovators | Web Series from AutoAlert (45 seconds)
---
Louis Chevrolet
Louis-Joseph Chevrolet was a Swiss race car driver, co-founder of the Chevrolet Motor Car Company in 1911, and a founder in 1916 of the Frontenac Motor Corporation.
The Origins and Innovations of Chevrolet | Chevrolet (3 minutes and 7 seconds)
---
Walter Chrysler
Walter Percy Chrysler was an American automotive industry executive and founder of Chrysler Corporation, now a part of Stellantis.
Early Chrysler History Pt. 1 (2 minutes and 32 seconds)
---
John & Horace Dodge
John and Horace Dodge were American automobile manufacturing pioneers, brothers, and co-founders of Dodge Brothers Company.
Business Legends: Dodge Brothers (1 minute and 2 seconds)
---
Dorothy Draper
Dorothy Draper was a decorator credited with having turned the art of interior design into a profession.
Dorothy Draper Interior Designer (4 minutes and 55 seconds)
---
Billy Durant
Billy Durant, was a leading pioneer of the United States automobile industry, who created a system in which a company held multiple marques – each seemingly independent, with different automobile lines – bound under a unified corporate holding company.
General Motors (8 minutes and 48 seconds)
---
Henry Ford
Henry Ford worked as an engineer at the Edison Illumination Company where he met Thomas Edison. His first try at an automobile company was in collaboration with Thomas Edison and was called the Detroit Automobile Company. Ford had Edison's last breath saved in a test tube and you can still see the test tube at the Henry Ford Museum. In 1918 he ran for a US Senate seat, but lost. He was a race car driver early in his career.
Henry Ford - History Cartoon (2 minutes and 55 seconds)
---
Henry Leland
Henry Leland was an American machinist, inventor, engineer and automotive entrepreneur. He founded the two premier American luxury automotive marques, Cadillac and Lincoln.
This Place in History: Henry M. Leland
Business Legends: Henry Leeland (2 minutes and 50 seconds)
---
Charles Nash
Charles Nash was an American automobile entrepreneur who served as an executive in the automotive industry. He played a major role in building up General Motors as its 5th President.
The Midwestern automotive pioneer who took on the Big Three (9 minutes and 4 seconds)
---
Ransome E. Olds
Ransom E. Olds was a pioneer of the American automotive industry, after whom the Oldsmobile and REO brands were named. He claimed to have built his first steam car as early as 1887 and his first gasoline-powered car in 1896.
A History of Oldsmobile (7 minutes and 21 seconds)
---
Walter Reuther
Walter Reuther was an American leader of organized labor and civil rights activist who built the United Automobile Workers into one of the most progressive labor unions in American history.
Walter Reuther, Hero of the Working Class (56 seconds)

COMMON PATH - The legacy between the labor and civil rights movement (2 minutes and 51 seconds)
---
Preston Tucker
Preston Thomas Tucker was an American automobile entrepreneur. He is most remembered for his Tucker 48 sedan, initially nicknamed the "Tucker Torpedo", an automobile which introduced many features that have since become widely used in modern cars.
History of Preston Tucker | The Henry Ford's Innovation Nation (3 minutes and 45 seconds)
---
Edward Welburn
Edward T. Welburn is an automobile designer and the first African-American Vice President of Global Design for General Motors, a role in which he served from 2003 to 2016.
Ed Welburn Interview, Part 1: How I Became A Car Designer (4 minutes and 11 seconds)

Edward T. Welburn The First African American To Lead A Global Automotive Design Organization (3 minutes and 18 seconds)
---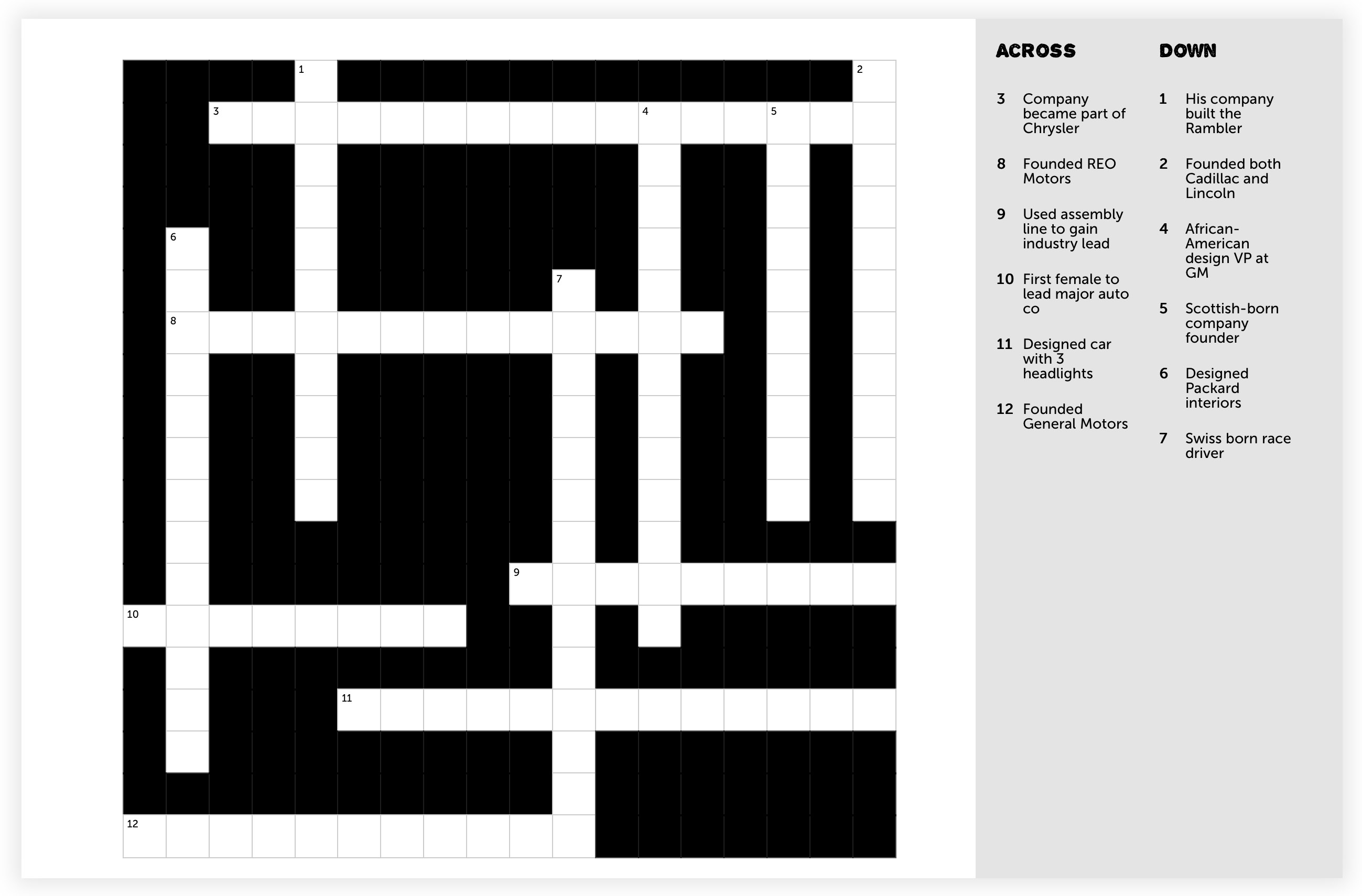 Activity 3: Identify MotorCities National Heritage Area (MCNHA) Auto Pioneers Crossword Puzzle
Click here to complete the crossword puzzle. Once you have completed it, be sure to take a screen capture or save it as a PDF. You will want to upload it using the online form. This is the form you will fill out when you have completed all your stops or activities.
---
Click Here to Learn About The Assembly Line: Then & Now
It's hard to imagine life before cars existed, however, many, many years ago, people used horses and wagons to move from place to place. Once the idea of the automobile was established, people soon tossed the idea of horses and wagons to get around, and wanted cars that could transport them from place to place a lot faster than the old methods of transportation. But how could these cars be produced in a cheaper way so that everyone could afford them? On December 1, 1913, Henry Ford installed the first moving assembly line for the mass production of automobiles. His innovation reduced the time it took to build a car from more than 12 hours to one hour and 33 minutes! Over a century later, today's modern assembly line is still the main process for building cars. Although Henry Ford didn't actually create the idea of an assembly line, he is credited with adapting it and using it in his automobile factories.

How does the original assembly line differ from today's assembly line?

A Man Named Henry Ford
Assembly Line
Instead of one car being built by a single person, now there was a division of labor. Parts of the automobile would come down a line, and each person would be responsible for one part of the car's assembly.

Have you ever wondered what makes the assembly line so special and innovative? Let's start with the question, what is an assembly line? Check out the video below to learn the answer and to learn how the assembly line improved everyday life, the number of items built and the speed in which they were built!

What is an Assembly Line? Learn all about the History of Assembly Lines (9 minutes and 9 seconds)

The Assembly Line in the Beginning: The Model T Assembly Line (5 minutes and 17 seconds)

The First Automobile Assembly Line | American Experience (3 minutes and 30 seconds)

Today's Assembly Line: F150 Factory Tour, How Ford Builds An F-150 Every 53 Seconds! (12 minutes and 1 second)

What is an Assembly Line? Learn all about the History of Assembly Lines (9 minutes and 9 seconds)

Learn How Cars are Made in the Factory! (3 minutes and 47 seconds)
---
Old Cars vs. New Cars
Travel through time to learn about the evolution of cars with us! We're going Back to the Future…MotorCities National Heritage Area Style! (10 minutes and 15 seconds)
---
Wave of the Future? A New Way of Building Cars: A Glimpse Into the Innovations of 3-D Printing and Self-Driving Cars
This drivable car was 3D printed in 44 hours (4 minutes and 36 seconds)
---
What Would a World with Self-Driving Cars Look Like? (3 minutes and 20 seconds)
---
Future Car Designers in the Heart of Detroit!
Take a look at what students at the College for Creative Studies are doing to take future car designs to the next level! (5 minutes and 52 seconds)
---
Have you ever wondered what the process of manufacturing a car looks like?

From the design and concept of the car, to its launching, it typically takes about two to five years to make a car from the beginning to the end! It needs to take this amount of time to ensure that the car is in excellent and safe condition for consumers to use. They also need to make sure that the design and extra additions to the car will be liked by a large number of people.

The design and building of cars have become more complicated through the years with technological innovations that improve year by year. There is however, a standard process for building cars and it looks like this:

A Brief Step-by-Step Process for Building a Car

RAW MATERIALS
Raw materials are gathered in order to transform a car from an idea or concept, in to a reality. Manufacturers are always looking for ways to make cars more sustainable, cost-effective, and lightweight.

DESIGN & ENGINEERING
Cars must be designed to meet the needs of the consumer as well as their style of car. Once a design is drafted, it goes through many adjustments. Car manufacturers need to make sure that the car is appealing on the inside and on the outside. It must also include the most innovative technology in order to compete with other car brands.

Things like the aerodynamics, safety, fuel economy, cost and many other factors play a key role in the design and engineering of a car. Once the design and engineering of a car have been tested and approved, it can then go to the manufacturing process.

MANUFACTURING
Once design and engineering have been tested and approved, sheet metal parts for the bodywork of a car are created and stamped by robots. These parts include the side frame, hood, doors and roofs of cars, which are added to a main frame a little later.

When the frame of the car is created and the parts are ready for assembly, the car is loaded onto a production line and travels along the assembly line. Both people and robots work on the assembly line to ensure that certain tasks and jobs are completed, including welding, soldering, screwing pieces together and gluing various parts onto cars.

When the body parts of the car are fully manufactured, the car will then undergo a process called detailing. Detailing includes cleaning, and layering chemical formulas onto the car to protect it from corrosion and scratches. The final phase of this process includes painting the car.

Lastly, important items like the engine, transmission, axles and exhaust systems are installed and tires are then placed on the car so it can stand on its own.

TESTING & QA
Now that we have a completed car, it is ready to be driven and tested in order to ensure it quality and safety. The vehicle is then checked for any imperfections or issues both on the exterior and interior of the car. It is then run through a series of tests to make sure that everything is working properly and safely.

The last step in the testing process is crash testing! That's right, they actually test the car to observe how it handles impacts, airbag and seatbelt performance and reliability. If everything checks out, the car can then be presented to the market!

LAUNCH
From this point, after market research, coming up with a marketing theme and deciding on a price for the car, the car is produced and sent to car dealership for public purchase!

Who knew there was so much involved in getting a car to the dealership!!

Have you ever wondered how a car is made from start to finish? Now that you've read about it, see it in action by clicking on the link below!

Learn How Cars are Made at a Car Factory!
Come into to the factory with us and find out how cars are built! (3 minutes and 47 seconds)

The Ford Factory Complex, Then & Now!
See the changes made not only in the factory, but the way in which cars were produced. Travel back in time with us and look at the workers, equipment and changes in the industry through the years! (4 minutes and 9 seconds)
---
Interactive Games You "Auto" Play!
Build Your Own Car Online (3 minutes and 35 seconds)

Build Your Own Rubber Band Powered Car (Build at your own pace.)

How to Build Your Own Working Car in MineCraft (23 minutes and 25 seconds)

A Virtual Visit to Disney World's Chevrolet Test Track (1 minute and 48 seconds)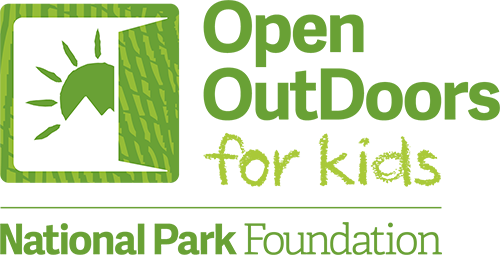 This project was made possible by a grant from the National Park Foundation through generous support of partners including Union Pacific Railroad and donors across the country.