By Robert Tate, Automotive Historian and Researcher
Images Courtesy of the Library of Congress, Scottish News, and Various Other Websites
Published 3.15.2023
Alice Ramsey (Library of Congress)
As MotorCities continues to celebrate Women's History Month, this is a story about the history of women who were automotive pioneers and became mechanics in the early days. On a historical note, the first American woman to receive a drivers license Anne Rainsford French Bush on March 22, 1900.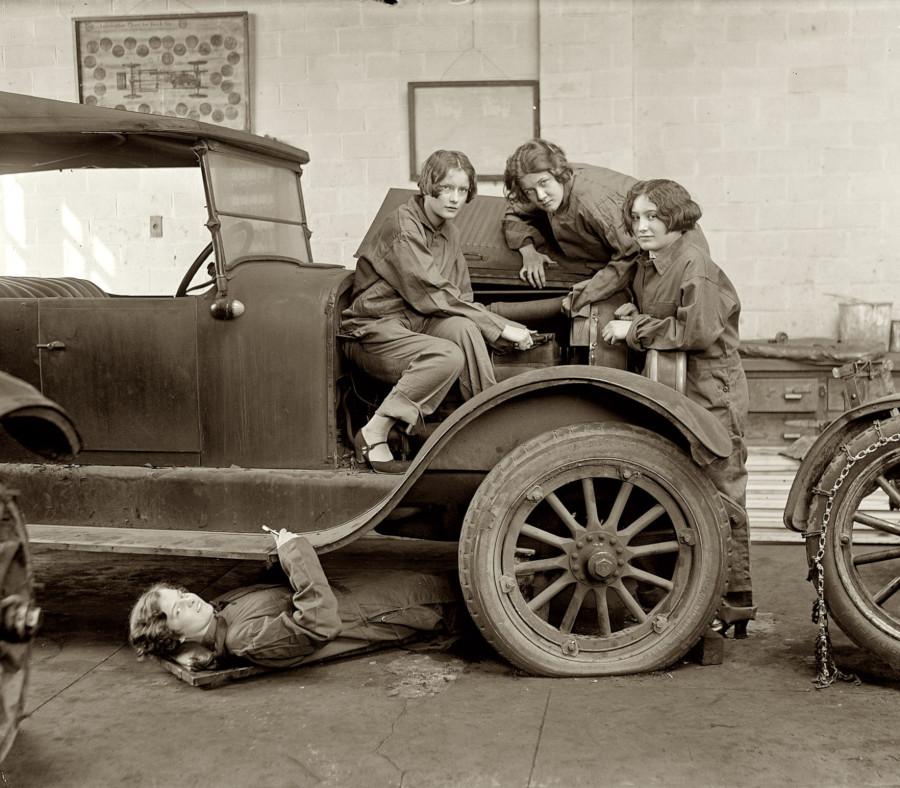 Female auto mechanic, 1913
In 1909, Alice Ramsey (November 11,1886 -September 10, 1983) made history by becoming the first woman to drive across the United States. She was 22 years of age and drove a Maxwell automobile for the all- female, cross-country road trip. Ramsey's drive proved that a four-cylinder 1909 Maxwell DA automobile could take anyone all the way across America with two bench seats -- and that women were capable of handling their own minor road repairs as well. The trip was sponsored by the Maxwell and Briscoe automobile company. Ramsey's companions for the trip were Nettie Powell, Margaret Atwood and Hermine Jahns who all learned about the basics of car safety throughout their journey. Ramsey did have to replace several tires and perform other minor repairs.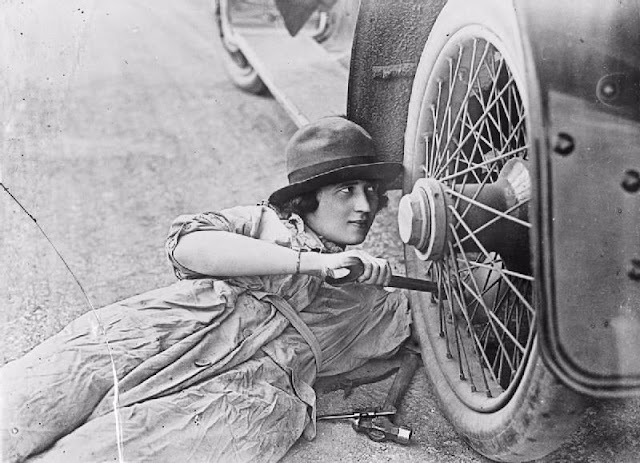 Woman auto mechanic working on tire
As their journey continued, an outside mechanic was sometimes called when certain unavoidable problems took place. In 1909, American roads were not yet developed to a quality level to sustain long-distance driving. Everyday was a challenge for Ramsey, however, she was able to complete her journey and become a part of automotive history.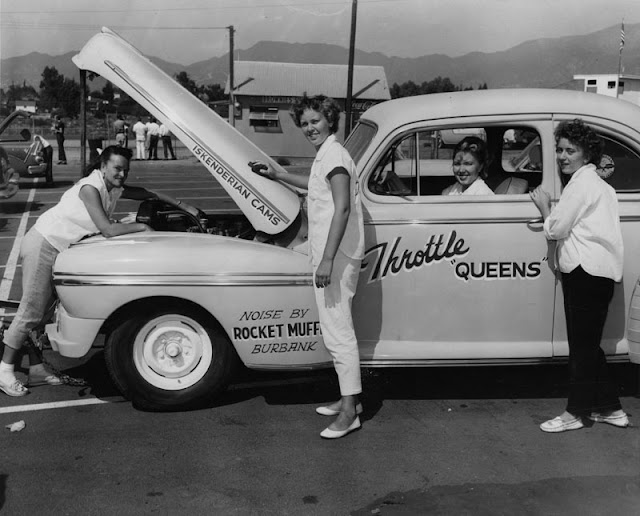 Women auto mechanic working on Ford drag racer, 1956
When many picture an auto mechanic, they often think of it as a male-dominated career field. For many years, however, women have participated in automotive repair and maintenance, especially during World War II. Today, many women are talented mechanics and great automotive repair instructors. Their success did not come without hard work. When drivers take their vehicle in for repair, they generally do not care about who the mechanic is, they just want their vehicle to be fixed properly.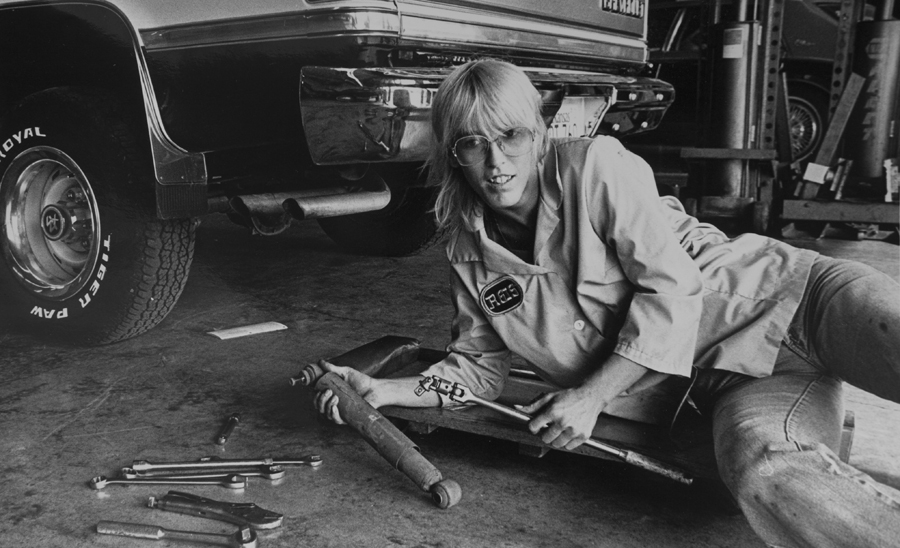 Woman auto mechanic, 1970s (Scottish News)
Historically, being an auto mechanic has often been considered an uncommon career choice for women, however, it can also be very rewarding for many women who have become involved in racing. The women that have been mentioned in this story are only a few examples of role models who can serve as examples for new generations of women mechanics.
Woman auto mechanic
Today, the Bureau of Labor Statistics reports that there are 19,236 female auto mechanics and a total of 130,174 women in automotive repair and maintenance, which translates to about 10 percent of all people in the field. All of these women have the right training and credentials to repair automobiles. The process for becoming a good mechanic includes completing a skill test and completing hands on automotive experiences.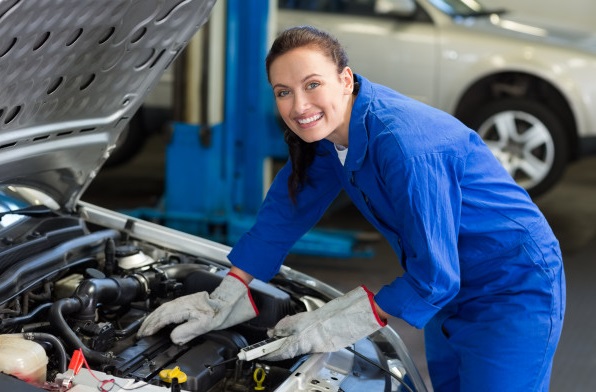 A woman auto mechanic today (Active Travel)
In conclusion, Trade School Future says that "Audra Fordin was another very influential woman, who is the owner of Great Bear Auto Repair in New York State. She has been working in the field for 27 years and has dedicated her life and career to educating and empowering other women in the automotive industry. To do this, she has founded 'Women Auto Know' and is teaching future women auto mechanics all over the country."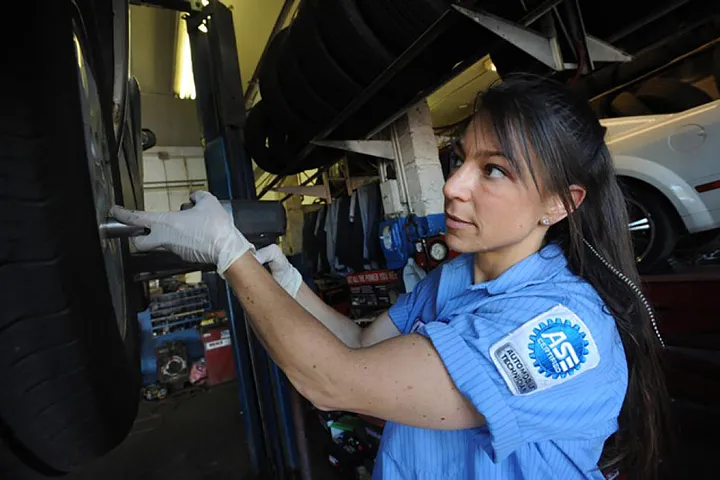 Audra Fordin, auto mechanic instructor (Salt of the Earth News)
Today, women automotive repair and maintenance technicians will always be a part of our auto history and community.
Bibliography
Ruben Koestler, Marina. "Alice Ramsey's Historic Cross-Country Drive." Smithsonian Magazine, June 4, 2009.
White, Lindsey. "Women in the Automotive Industry: Past, Present and Future." Motor Automotive Data Since 1903 - Motor Exclusive. November 12, 2021.
Trade School Future. "The Future of Women Auto Mechanics." TradeschoolFuture.com