By Robert Tate, Automotive Historian and Researcher
Images Courtesy of the Ford Motor Company Archives
Published 4.13.2022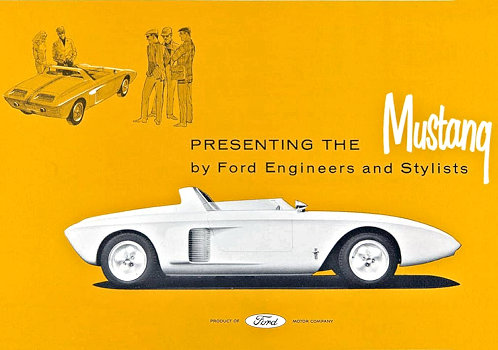 1962 Mustang Ford Engineering Catalog (Ford Motor Company Archives)
In 1962, the engineers and designers at Ford Motor Company were exploring new automotive ideas and created a new model called the Mustang. Ford engineers would go on to fine tune a vehicle that would become one of the greatest looking automobiles in automotive history. The Mustang would also become an iconic vehicle that thousands of Americans would thoroughly enjoy, along with automotive enthusiasts worldwide.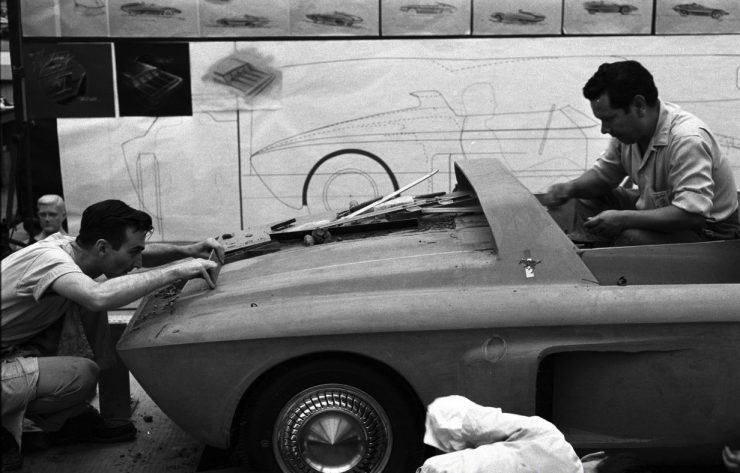 1962 Ford Mustang I Concept Car in clay (Ford Motor Company Archives)
Ford's research department knew the young adult market would play a major role in purchasing future automobiles. During the early 1960s, many consumers were looking for a high-performance engine in a low-to-the ground vehicle; they also wanted the new style bucket seats and a sporty design.
1962 Mustang testing with Ford engineers (Ford Motor Company Archives)
The Mustang I concept was a great looking two-seater that had taken some of its styling cues from European designs. It featured a mid-mounted engine design built out of fiberglass. The interior had a complete set of color-coded instruments in its padded dash including tachometer, oil pressure gauge, ammeter, and water temperature indicator. The Mustang I concept was an experimental car used in the development of the production model, designed by the team of stylist Eugene Bordinat, John Najjar, engineer Herb Misch and product planner Roy Lunn. The car body fabricator Troutman Barnes of Culver City, California assisted in the development of the Mustang I concept.
1962 Ford Mustang I concept with Eugene Bordinat design team (Ford Motor Company Archives)
The Mustang I concept stood only 40 inches high and weighed only 1200 pounds. Bordinat's automotive design team first constructed the Mustang as a clay model. When it was first displayed publicly at the U.S. Grand Prix at Watkins Glen in October 1962, the Mustang I concept was very enthusiastically received and was driven in a parade lap by racer Dan Gurney.
Originally, there was no provision for a soft top on this open concept model. However, that would change as the Mustang concept became more developed.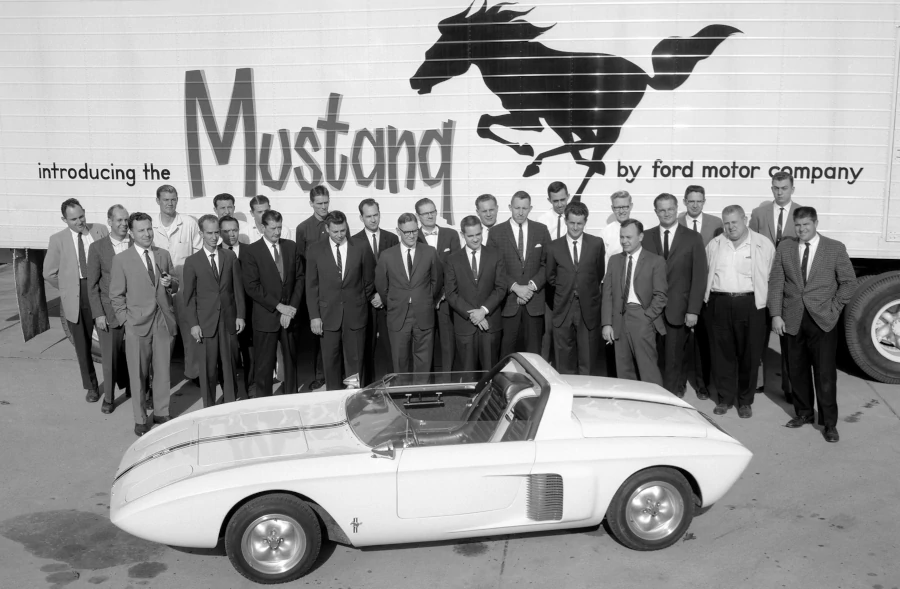 1962 Mustang I concept with engineers and designers
Automotive historians have said for years that the Mustang I concept was a great looking vehicle, but it was too far out there for Ford Vice President Lee Iacocca to accept. During the early 1960s, Iacocca had a vision for a popular pony car that would seat four people and offer great looking bucket seats with a floor mounted shifter. In response, Ford's engineers and designers were all very excited about the Mustang.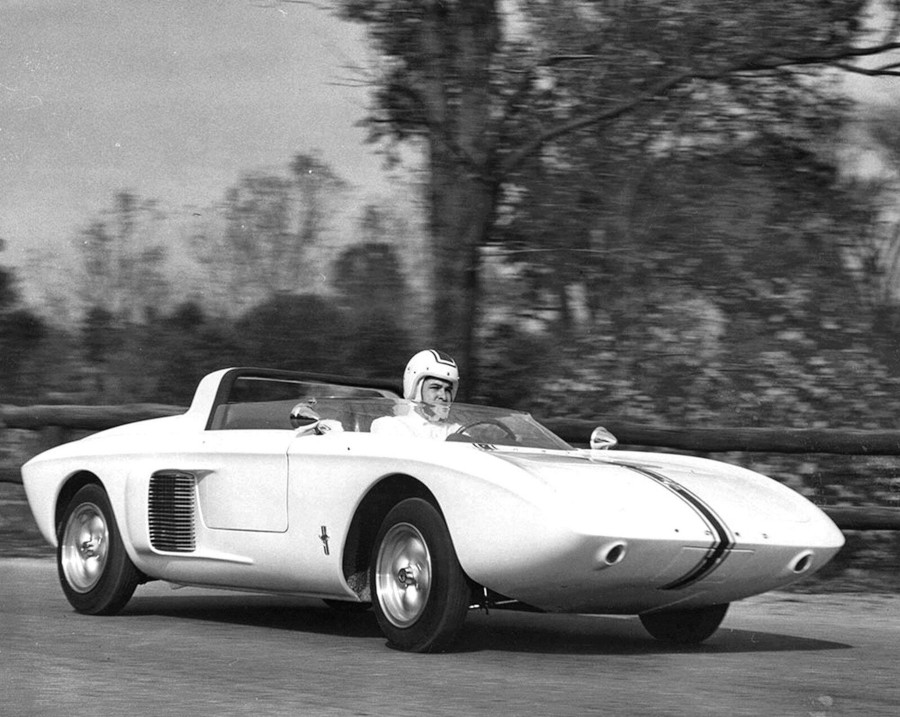 1962 Ford Mustang concept with driver (Ford Motor Company Archives)
It was Ford's lead designer and aviation enthusiast, John Najjar, who proposed the name "Mustang" because of certain design cues. Ford executives liked the suggestion.
The automotive press took notice and immediately embraced the Mustang I concept. As part of a promotional campaign, the concept toured a number of American colleges and universities to get reactions and feedback from the younger generation.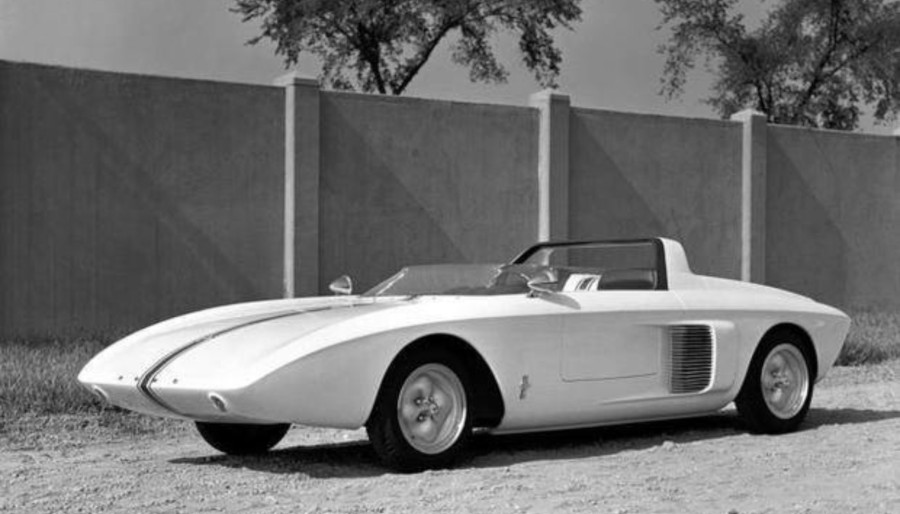 1962 Ford Mustang I concept (Ford Motor Company Archives)
Just six months before hitting showrooms, Iacocca decided to abandon the Ford Cardinal program and invest in a sporty all -American car instead. Also, before the production Mustang, the Mustang II concept would be developed for further engineering study.
The Mustang was introduced in the spring of 1964 and became one of the most successful cars to debut since World War II. Its sticker price was $2,455, and the Mustang convertible models cost $2,730.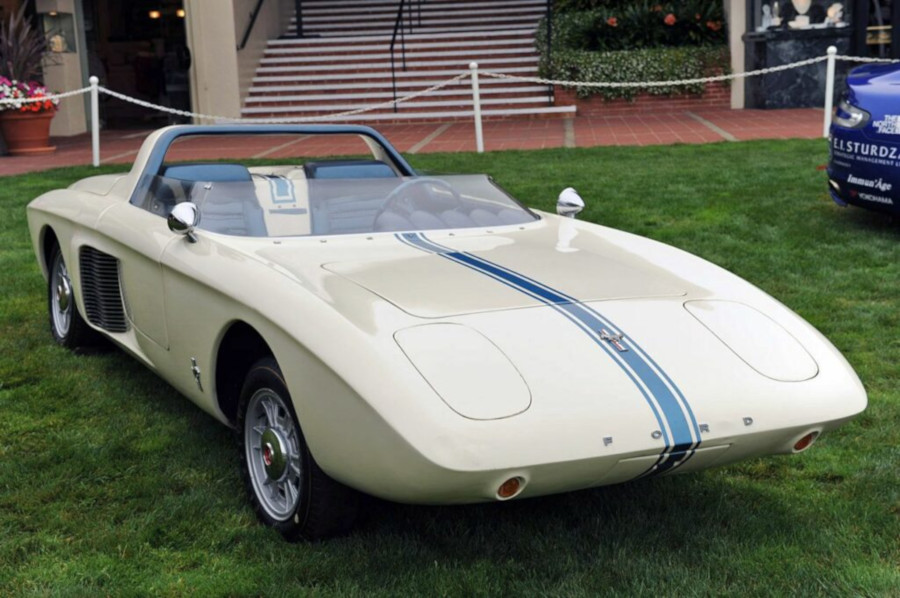 Ford Mustang I concept (Ford Motor Company Archives)
Today, the Mustang I concept is on display at the Henry Ford Museum of American Innovation in Dearborn, Michigan, so future generations can see a great looking concept of our past.
Bibliography
Weber, Louis. "Prototype Cars That Never Were." Consumers Guide, 1981.
Dammann, George H. "Illustrated History of Ford 1903-1970." Crestline Publishing, 1971.
Davis, Michael W.R. "Images of America: Mustang and the Pony Car Revolution." Arcadia Publishing.
Lamm, Michael & Holls, Dave. "A Century of Automotive Style: 100 Years of American Car Design." 1996-1997.