In the late 1860s, some of Detroit's most prominent citizens purchased land in Spingwells to establish Woodmere Cemetery. Bordering Dearborn, it was located outside the city limits but ultimately became part of Southwest Detroit. Many Detroiters, including military veterans, politicians, and industrialists, have been laid to rest in Woodmere, and the cemetery continues to serve the community in the twenty-first century. Among the most notable plots at Woodmere are those of former Governor John Bagley, clothing manufacturer Hamilton Carhartt, Ferry Seed Company founder Dexter Ferry, newspaperman James Scripps, tobacco magnate David Scotten, soft drink entrepreneur James Vernor, and lumberman David Whitney. Two sections are dedicated to members of Temple Beth El, a Jewish synagogue.
Woodmere Cemetery also offers a vantage point from which to trace the early years of the auto industry. The remains of several auto pioneers are interred there:
Henry Leland – Known as the "Master of Perfection," this accomplished engineer transformed the remnants of an ill-fated Henry Ford venture into the Cadillac Motor Company and played a key role in establishing the Cadillac Clark Street complex in Southwest Detroit. At the onset of World War I, Leland left Cadillac to produce Liberty aircraft engines at his new plant, which was located at Warren and Livernois. After the war, he launched the Lincoln Motor Company—later acquired by Ford—cementing his fame as the creator of not one, but two, luxury car brands.
Frederick Matthaei – Known to many for his civic philanthropy, Matthaei is associated today with the University of Michigan's botanical gardens and Wayne State University's athletic fields, all of which bear his name. The industrialist also organized unsuccessful efforts to bring the Olympics to the Detroit area after World War II and he served on the Board of Regents at the University of Michigan. Yet he was also instrumental in the early auto industry. He launched his career by developing innovative techniques for bending steel rods and producing auto seats at his American Metal Products plant, located in Southwest Detroit on Epworth St. next to Lincoln.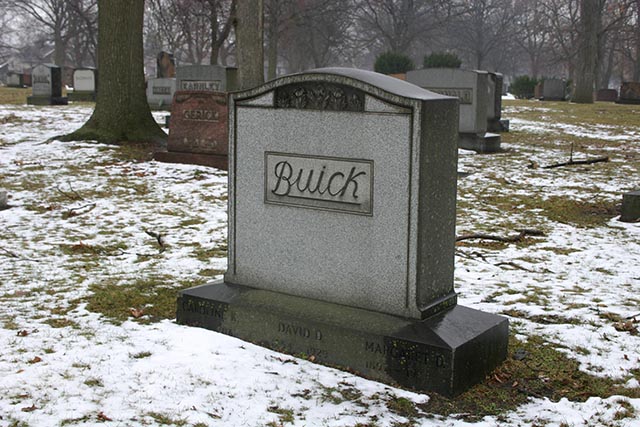 David Buick – Although Buick did not have especially strong ties to Southwest Detroit, he is also buried at Woodmere. He launched his career by patenting plumbing techniques, thirteen in all, including the process that allowed enamel to be applied to cast iron to create porcelain tubs and sinks. Buick was clearly a successful entrepreneur before he became involved with the auto industry. As an early automaker, Buick had a particular interest in combustion engines. His Buick Auto-Vim and Power Company developed the first overhead valve engine. When General Motors acquired his auto business, Buick left to explore other opportunities. But in contrast with his plumbing and automotive successes, Buick's oil and real estate businesses failed. He was teaching in a trade school when he died, penniless, in 1929.
Woodmere Cemetery also holds memories of the 1932 Ford Hunger March, a fatal confrontation between laid-off autoworkers and the Ford Motor Company. The hard times of the Great Depression, which began in 1929, shook Detroit. The depression's impact could mean ruin for auto magnates and financiers and starvation and misery for factory hands. In February 1929, the Ford Motor Company had a payroll 98,939 workers. When the company closed for retooling in 1931, only 37,000 remained on its payroll. The average annual wages of Michigan autoworkers fell by almost 50% between 1929 and 1932. Unemployment in Detroit was estimated to be 50% in 1932, and as many as 100,000 people left Detroit to seek work elsewhere in this period. Private charities were overwhelmed and bank failures further undercut relief efforts. Led by Mayor Frank Murphy, the City of Detroit provided some relief, including shelters, food, and apple-vending licenses. Significantly, the Murphy administration broke down racial barriers by extending aid to Detroit's African American population. But the city's coffers were soon empty, and Franklin Roosevelt's New Deal was still over a year away.
For many, it seemed that "Open Shop" Detroit and industrial capitalism were on the brink of collapse. Members of the Communist Party created Unemployed Councils to resist evictions and demand government support by protesting at local welfare offices. Although the Councils remained closely tied to the Communist Party, they worked with a variety of radical, liberal, and religious organizations to focus attention on the plight of the unemployed. They also earned the respect of the African American community for welcoming blacks among their ranks and championing the cause of the Scottsboro Boys, young black teenagers who were falsely accused of rape in Jim Crow Alabama.
On March 7, 1932, a bitterly cold day, the Detroit Unemployed Councils led more than 3,000 people on a march from Southwest Detroit to the Ford Rouge Plant, in nearby Dearborn, to demand jobs, better conditions for those still at work, and relief for those who remained laid off. A confrontation with police officers and firefighters at the Fort Street Bridge, on the Detroit-Dearborn border, failed to stop the march. When the protesters reached Gate Four at the Rouge, Dearborn police officers and Ford security personnel attacked them, firing several hundred shots and killing four marchers. A fifth died later of injuries suffered that day. A number of hunger marchers threw rocks and clods of frozen mud, breaking employment office windows and injuring fifteen police officers. Sixty marchers were wounded in addition to those who were killed. Numerous protesters with gunshot wounds were arrested and chained to their hospital beds, while police officers raided the headquarters of the Unemployed Councils.
Hunger March Funeral Procession – Grand Circus Park
The four protesters killed at the Rouge on March 7—Joe York, Coleman Leny, Joe DeBlasio, and Joe Bussell—were buried in Woodmere Cemetery in a common, unmarked grave within sight of the Ford complex. Demonstrating strong community support for the Hunger Marchers, an estimated sixty thousand Detroiters participated in their funeral procession down Woodward Avenue. The fifth marcher who died, Curtis Williams, was African American, and Woodmere Cemetery's strict segregation policy prevented his burial there. No Ford or Dearborn officials were prosecuted for the deaths caused by the gunfire on that cold March day. It took nearly fifty years before the Rouge Plant's UAW Local 600 retiree organization was permitted to place headstones at the slain marchers' gravesite, including one for Curtis Williams.
A State of Michigan Historic Marker that commemorates the attack on the Hunger Marchers that had been placed on the original bridge has been reinstalled near the UAW Ford Local 600 Dix Street entrance after the original span was replaced. In addition, the Motor Cities National Heritage Area and its community partners placed a "Wayside" interpretive sign, on the south side of Dix, just outside Woodmere Cemetery's northern fence as a reminder of those difficult times.
Click here to review:
Woodmere Cemetery Information / Auto Pioneer Profiles
Woodmere Cemetery List of Notables Gail Hershenzon's list of distinguished citizens interred at the Cemetery, originally posted to Woodmere Cemetery Research website.
David Dunbar Buick, Jim Donnelly's biographical profile from Hemmings Classic Car magazine website
Detroit's Olympics bid brought Matthaei to WSU, an account of how Frederick Matthei's efforts to host the Olympics led to the development of Wayne State University's athletic facilities.
LINCOLN MOTOR COMPANY and HENRY LELAND, the Guide's features that chronicle Henry Leland's career
Hunger March Accounts
Dave Moore - Labor Minute, this DPTV /WTVS video shares the insights of a Hunger Marcher, UAW officer, and Civil Rights activist
The Ford Hunger March: Five Martyrs for Justice, Jim Pita's Michigan Labor History Society newsletter feature
Ford Hunger March, Kristen Chinery's discussion from the Walter Reuther Library website.
Fort St. Bridge Interpretive Park this initiative spearheaded by MotorCities, the Fort-Rouge Gateway Coalition (FRoG), and the Friends of the Rouge reclaims the natural habitat of the lower Rouge River and commemorates the Hunger March following the Michigan Department of Transportation's reconstruction of the bridge.
TEXT & RESEARCH – RON ALPERN & DIANNE FEELEY