By Robert Tate, Automotive Historian and Researcher
Images Courtesy of General Motors Media Archives, ClassicCars.com
Published 3.8.2023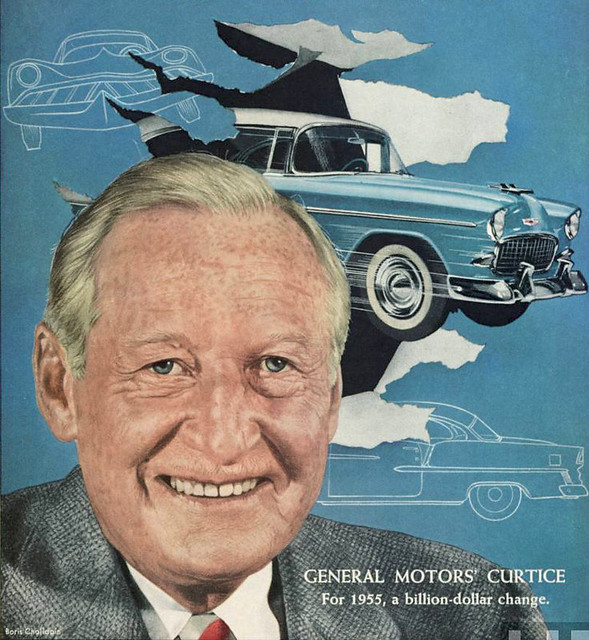 GM President Harlow Curtice art by Boris Chaliapin
Some of the most iconic automobile designs that came out of the 1950s were the 1955 Chevrolet models by General Motors. The three individuals behind these cars and their new design look were GM President Harlow Curtice (August 15,1893 - November 3, 1962), Head of GM Design Harley Earl (November 22, 1893 - April 10, 1969) and GM executive Ed Cole (September 17,1909 - May 2, 1977). Other Chevrolet designers involved included Clare M. Mackichan -- who was chief of the Chevrolet design studio from 1955 through 1957, Carl H. Renner, Bob Cadaret, Bob Veryzer and Chuck A. Stebbins.
1955 also marked a milestone event for GM and the Chevrolet brand. On November 23, 1954, GM's 50-millionth U.S.-made vehicle rolled off the Chevrolet assembly line in Flint, Michigan. The car was a 1955 Chevrolet Bel Air Sport coupe. GM President Curtice was there for the big event.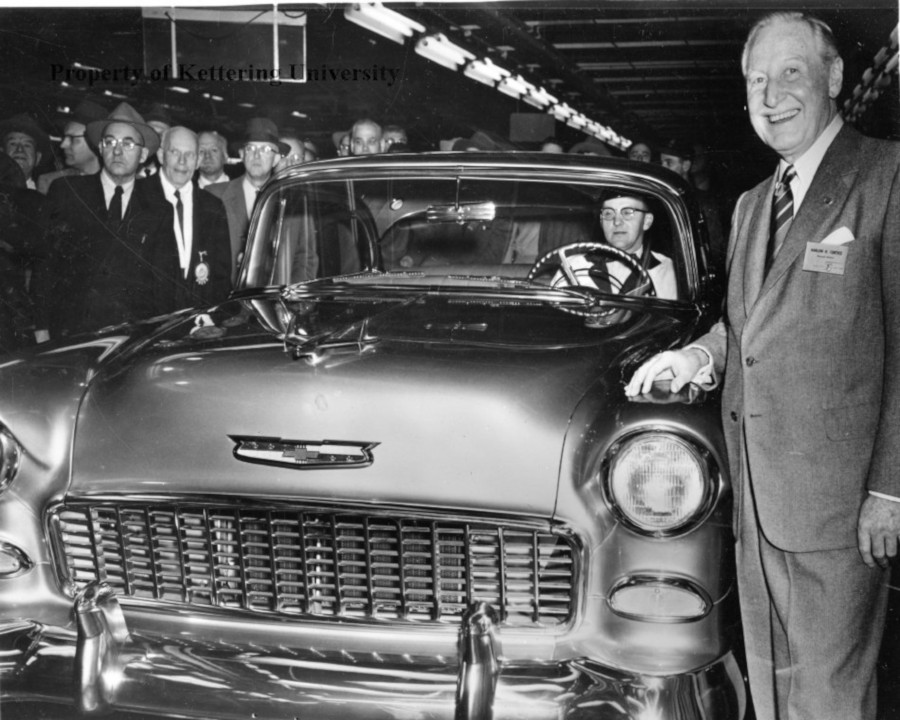 Harlow Curtice with GM's 50th millionth car off the line, a 1955 Chevy Bel Air (GM Media Archives)
The 1955 Chevrolets received very high marks from the public, and sales were great for the division that year with production reaching 1,713,478 units. The 1955 models were manufactured in three series which included the 150, the 210 and the Bel Air. A total of 134,257 units were made in the 150 series and 805,309 units were in the 210 series. The models were powered by the popular V-8 engine. The Bel Air two-door Nomad station wagon was added to the line in February 1955, and the 210 sport coupe was added to the line in June 1955.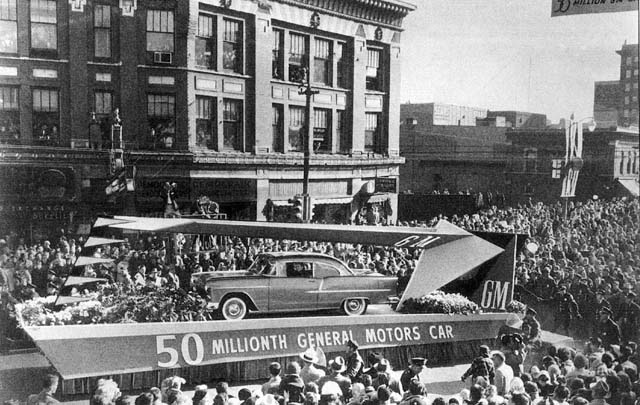 GM's 50 Millionth vehicle in a Flint MI parade (GM Media Archives)
When it came to pricing, the 1955 Chevrolet Bel Air Beauville four-door wagon came in at $2,361, and the popular Bel Air sport coupe cost $2,166. The popular Bel Air convertible, which saw 41,292 units produced in 1955, were priced at $2,305.
Many automotive historians have said that, if Chevrolet had it's greatest year, this was it. GM's 1955 passenger cars in all five lines, including Chevrolet, Pontiac, Oldsmobile, Buick and Cadillac, carried on the great tradition of giving more value per car dollar in design and engineering. However, the new design of the 1955 Chevrolets stood out in front.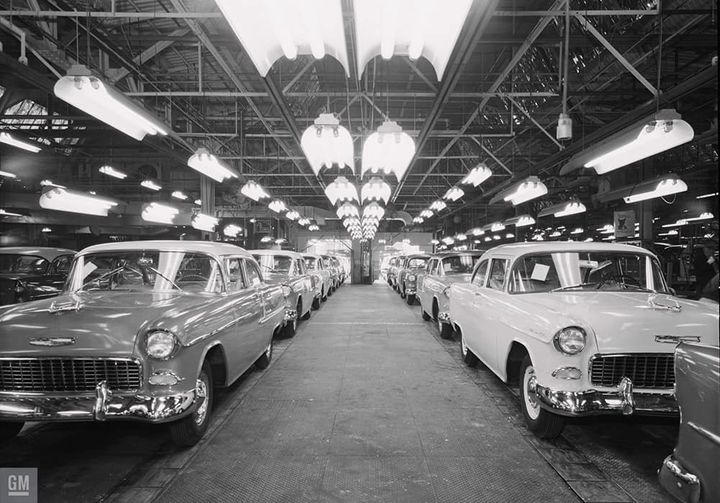 1955 Chevrolet assembly line (GM Media Archives)
1955 was also a good year for GM employees. More people were working for GM, and payrolls were higher than ever before. The automobile industry contributed importantly to this economic progress and also benefitted from it.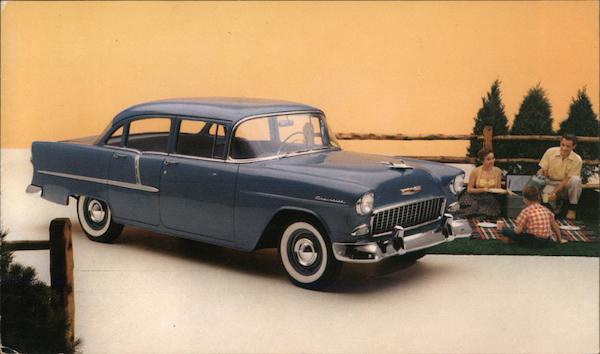 1955 Chevrolet advertising (GM Media Archives)
GM marketed their 1955 model year vehicles with the popular Motorama event, which attracted thousands of consumers when the Chevrolets were being introduced to the public. In addition, the 1955 Chevrolets were also advertised through the brand's sponsorship of the "Dinah Shore Show" with its musical theme "See the USA in your Chevrolet." The brand's advertising was so successful in 1955, that its V-8 engine production couldn't keep up with the consumer demand, forcing buyers to wait for the V-8-powered Chevrolets to be delivered.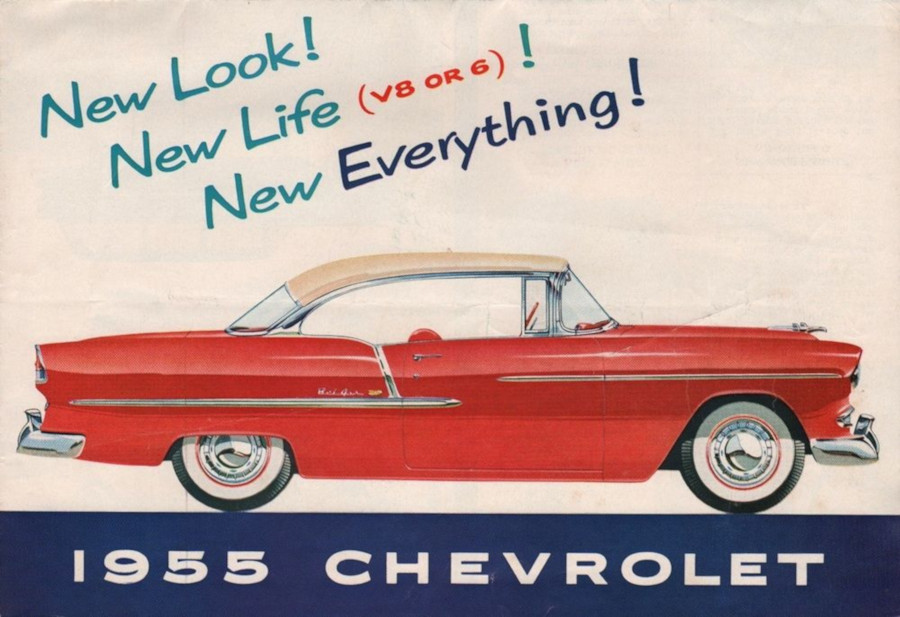 1955 Chevrolet advertising sales material (GM Media Archives)
Clare Mackichan, a GM designer who was involved with the development of the 1955 Chevrolets, said this: "What we were trying to do was change our whole image to the public: from the older man's car to youth. And the car was made to do it… the engine was made to do it… and we did it."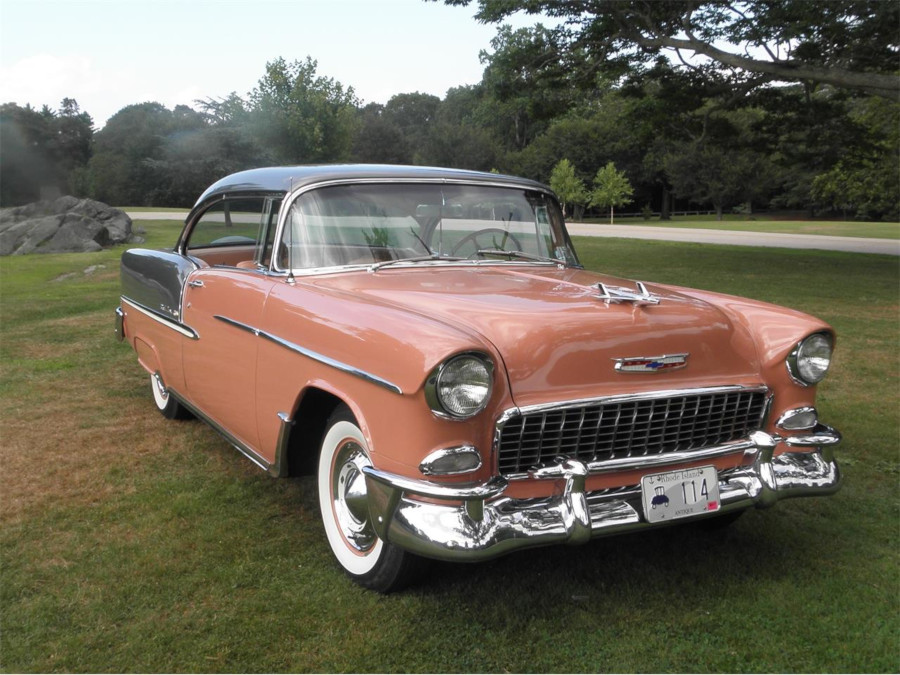 1955 Chevrolet Bel Air (ClassicCars.com)
In conclusion, the 1955 Chevrolet models with their new wrap-around windshield were an impressive package. A 1955 Chevrolet was also chosen to pace the 1955 Indianapolis 500 race. The clean 1955 Chevrolet grille was now recognized as a great looking superior design, which many consumers admired. These new 1955 Chevrolet models marked a new era for the brand and are remembered by automotive enthusiasts and car lovers all over the world.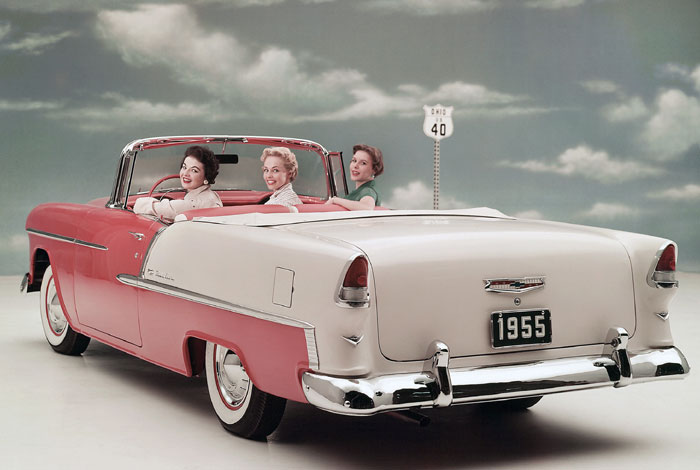 1955 Chevrolet Bel Air convertible (GM Media Archives)
Today, the 1955 Chevrolets are still in demand and popular for collectors of all ages.
Bibliography
Chappell, Pat. "The Hot One Chevrolet 1955-1957." Dragonwyck Publishing, First Edition, 1977.
Dammann, George H. "Sixty Years of Chevrolet. (Revised Edition)" Crestline Publishing, 1972.
General Motors Annual Report, 1954. "GM Motorama of 1955." 46th Annual Report for the Year Ended December 31, 1954.
Kowalke, Ron. "Standard Catalog of Chevrolet 1912-1998 (Second Edition)." Krause Publications, 1998.