by A. Wayne Ferens
Images Courtesy of the Ferens Collection, NBC-TV and CBS-TV
Published 8.28.2019
Fess Parker as Davey Crockett Disney movie poster promoting AMC's Hudson brand (Ferens Collection)
When World War II ended in 1945, the American automobile industry was more than anxious to get back to the business of building and selling cars and trucks. Many of the products produced were basically continuation models from 1942 when auto production ceased to support the war effort.
Even during the war years, the auto industry kept their name in the public eye and ear through print advertising, and radio and movie theater clips showing support for our country and our troops. The use of Hollywood film and radio celebrities to sell war bonds was common and very successful.
With troops returning home and industry back to domestic production, the U.S. was quickly on the rebound economically and socially. Manufacturing skyrocketed, creating millions of well-paying jobs. Living standards were on the rise and so was the demand for new and improved products. The 1950s brought exciting new models from the auto manufacturers and a new and exciting way to sell them – television!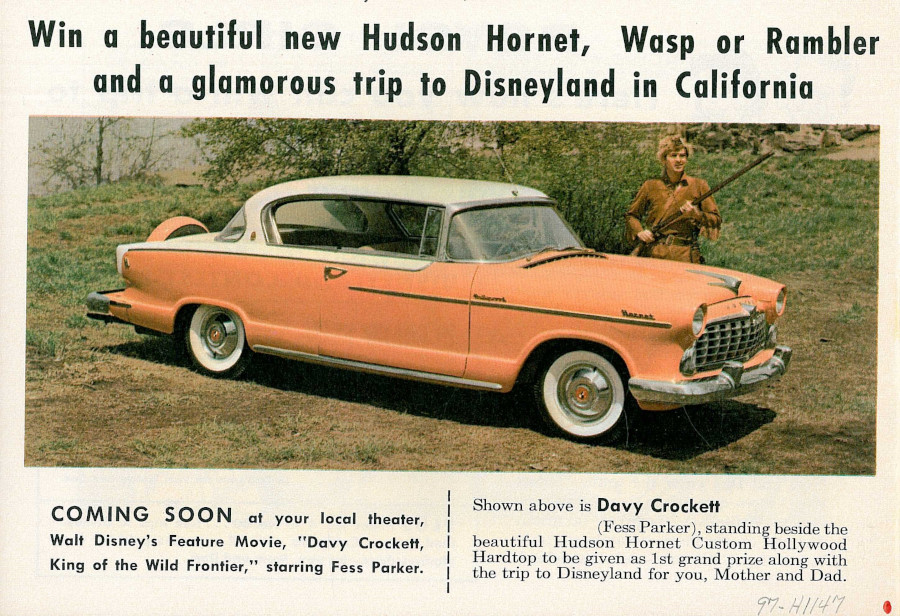 Cross-promotional advertising featuring Fess Parker as Disney's Davey Crockett and the AMC Hudson Hornet from a comic book given out at dealerships. (Ferens Collection)
Television was tested before the war, but became marketed and more affordable in the 1950s and 1960s. The auto industry capitalized on this new and rapidly expanding mass medium for advertising, news and entertainment by using radio and movie celebrities to promote their new cars.
1954 became the year of the frontiersman Davy Crockett and, following the successful TV series, Disney adapted those adventures into a feature-length film in 1955. Hudson, for example, advertised its new models using the "King Of The Wild Frontier," Fess Parker Jr. as Davy Crockett.
As more TV networks and channels were added, competition increased for advertising on the most popular shows. Children of the 1950s adored Roy Rogers and Dale Evans, whose image was plastered on seemingly every piece of merchandise imaginable as the western genre dominated TV and film. Chrysler even introduced special edition Dodge models to lay claim to those stars.

In the 1950s, Roy Rogers was a spokesman for Chrysler/Dodge and even went to Bonneville for Speed Week, entering and piloting his Chrysler Town & Country station wagon with dual carbs to 107 mph. (Ferens Collection)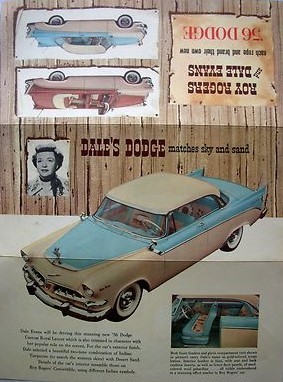 This flier shows the Dale Evans and Roy Rogers versions of the 1956 Dodge. (Ferens Collection)
One of the first TV game shows that made the transition from radio was "You Bet Your Life" starring Groucho Marx. The show was broadcast simultaneously on radio and TV from 1949 to 1961 on NBC. The comedy quiz series was sponsored by Chrysler, featuring their DeSoto and Plymouth brands. The funny interaction between Groucho and the contestants trying to win money often made them celebrities as well. Each show would end with Groucho sticking his head through a hole in the DeSoto logo and saying, "Friends ... go in to see your DeSoto-Plymouth dealer tomorrow. And when you do, tell 'em Groucho sent you."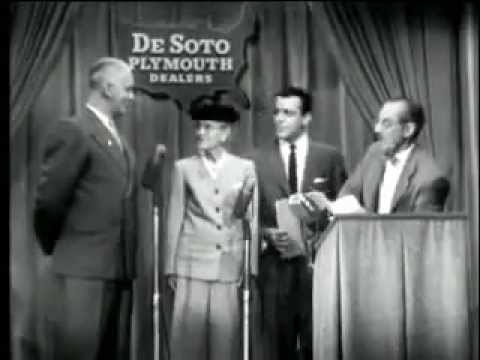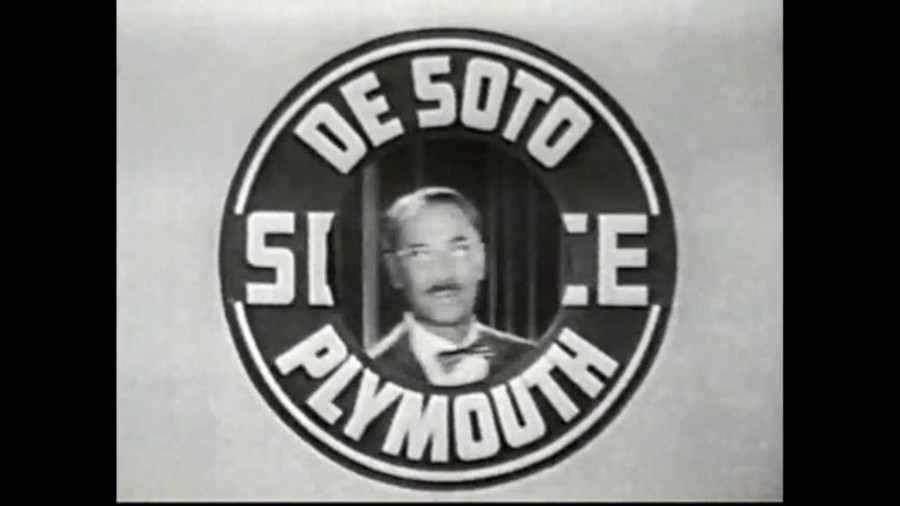 Groucho Marx on "You Bet Your Life," sponsored by DeSoto Plymouth Dealers (NBC-TV)
The most popular televised musical variety show was hosted by big band leader Lawrence Welk. The series aired nationally for 16 years on ABC from 1955 to 1971. The show was originally billed as the "Dodge Dancing Party," then "Lawrence Welk's Plymouth Show." "The Plymouth Show" was the first American television program to air in stereophonic sound.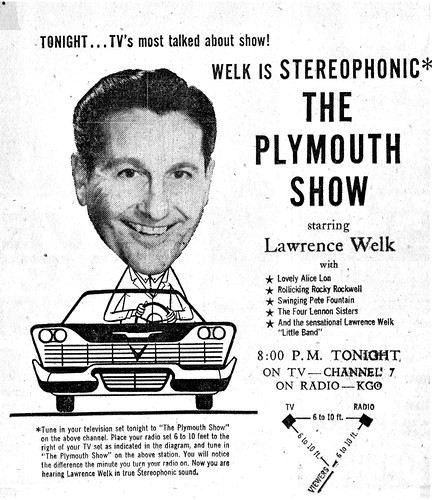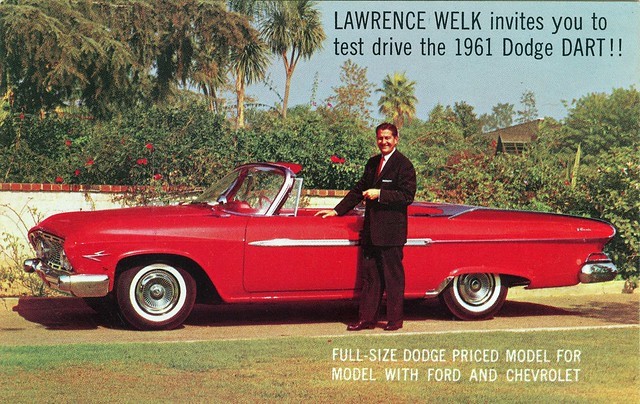 Lawrence Welk had a long-running musical variety show and pushed Chrysler products. (Ferens Collection)
Ford Motor Company sponsored "The Ford Show" starring Tennessee Ernie Ford (no relation to the automaking family), a variety program with the biggest names in entertainment that aired on NBC Thursday evenings from 1956 to 1961. In 1958, the show was telecast in color for the first time. These TV shows brought the company's newest models into viewers' homes via this rapidly growing mass medium. Photo from NBC-TV.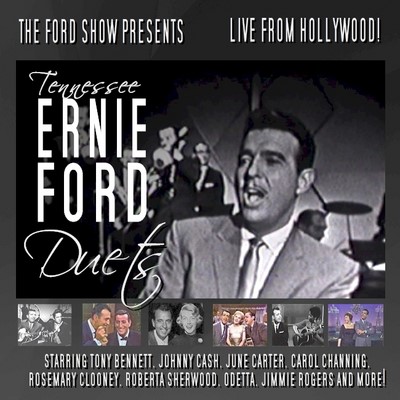 Tennessee Ernie Ford on "The Ford Show." (NBC-TV)
General Motors' Chevrolet Division had one of the largest advertising budgets in the industry. In 1951, they sponsored "The Dinah Shore Show," a variety show broadcast on NBC until 1956 when it became "The Dinah Shore Chevy Show" and ran for seven more seasons. The show was very popular and featured Shore singing the theme song "See the U.S.A. in Your Chevrolet." The song continued to be used in Chevrolet advertising for years long after the show ended in 1963.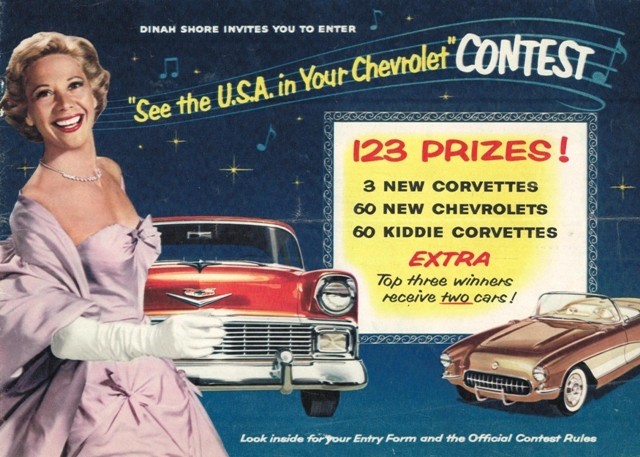 Dinah Shore Chevrolet ad (NBC-TV)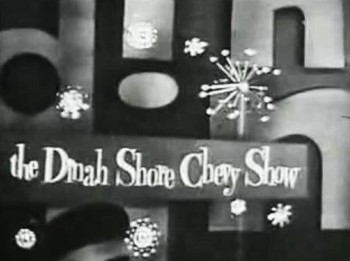 (Above) A 1956 contest to win a new Chevrolet featuring Dinah Shore; her Chevy-sponsored show featured the signature theme song "See the USA ... " (NBC-TV)
It wasn't all scripted advertising seen during commercial breaks. A new televised series was created with "three stars" featured. "Route 66" was a CBS-TV drama that premiered on October 7, 1960, and the three stars were two young men and a car. Martin Milner starred as Tod Stiles, and George Maharis played Buzz Murdock. Each episode was shot on location and followed Stiles and Murdock traversing the United States in a Corvette convertible. "Route 66" ran for four seasons (116 episodes) and highlighted the latest Corvette model provided by Chevrolet each season. The entire series was shot in black & white, so the Corvettes were provided in light colors. The final season featured a 1963 Corvette Sting Ray convertible finished in Saddle Tan.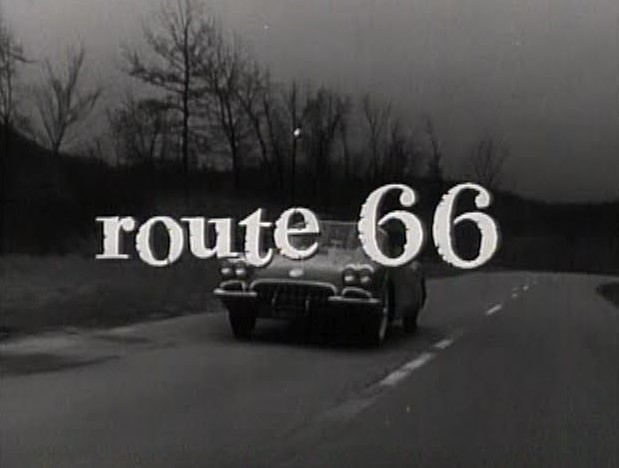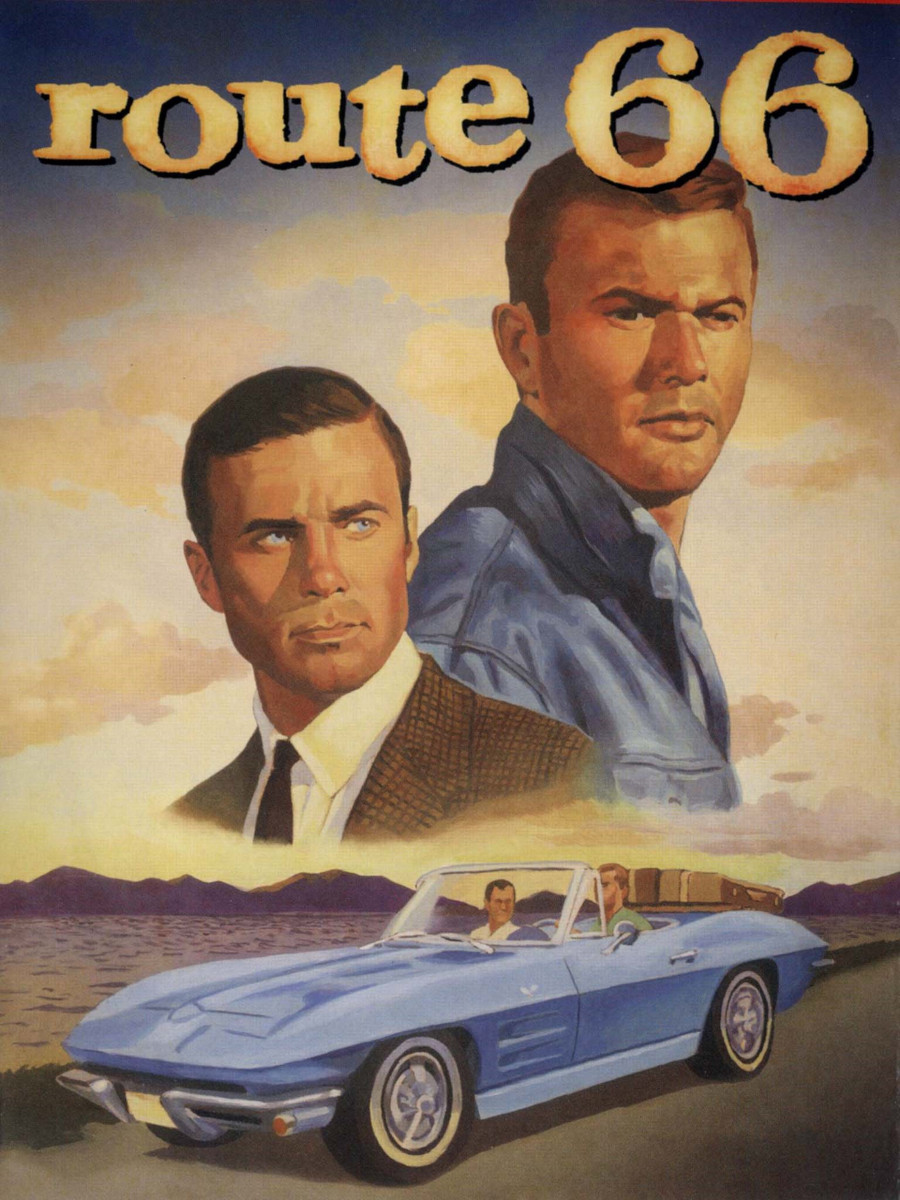 Driving around the country in a Corvette for most of us was only a dream. We could live the dream once a week by tuning in to "Route 66." (CBS-TV)
Today, advertising and marketing has become diverse and very sophisticated with many platforms used to get the advertisers' message across. Radio, TV, print media, computers, smartphones and social media offer analytics and services that can monitor the results of client dollars spent. Even today, as in days gone by, the car will always be the star.
Bibliography
Terrace, Vincent. "Encyclopedia of Television Shows 1925-2010."
Brooks, Tim and Marsh, Earle. "The Complete Directory to Prime Time Network and Cable TV Shows, 1946-Present." 2007.
Settel, Irving and Laas, William. "A Pictorial History of Television." 1969.
Jackson, Ronald. "Classic TV Westerns: A Pictorial History." 1994.