By Robert Tate Automotive Historian and Researcher
Images Courtesy of General Motors/Robert Tate Collection
Published 8.21.2019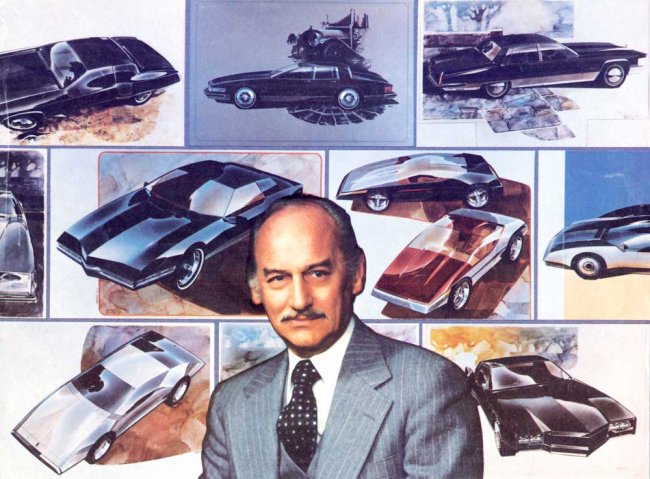 Irvin Rybicki in the GM Design Studio (General Motors)
Irvin Rybicki was born in Detroit on September 16, 1921 and graduated from Chadsey High School. Later, he would study art at the Meinsinger School in Detroit. In the beginning of his career, he involved himself with aviation designs and building model airplanes as a hobby. One day at an early age, while working in his father's grocery store, he expressed his admiration for his uncle's 1938 Cadillac Sixty Special automobile. He remembered saying, "My god, that's the most beautiful thing I've ever seen. If I can draw airplanes, why can't I do something with automobiles?"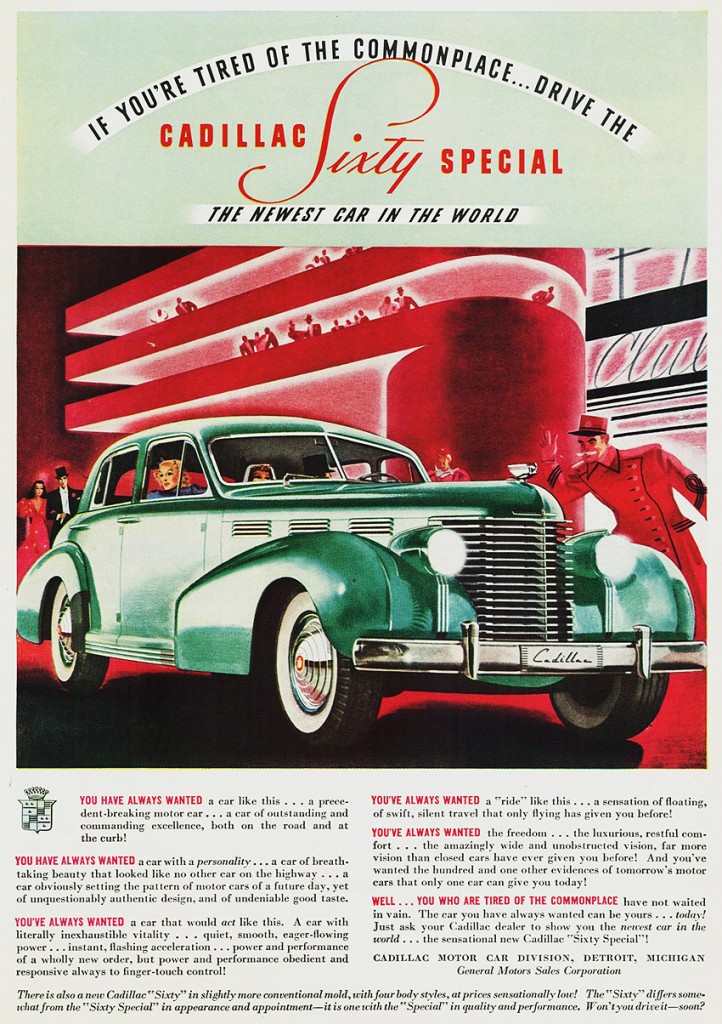 An ad for the 1938 Cadillac Sixty Special (Robert Tate Collection)
After many hours of sketching automobiles and creating a great portfolio of his work after Irvin graduated from high school, his father decided to take his son's design ideas to General Motors without his knowledge. His father was introduced to Jules Andrade, one of Harley Earl's assistants. GM showed some interest in Irvin's work, but due to the company's shift to wartime production, they kept his name on file for future reference. During World War II, Irvin Rybicki served in the military.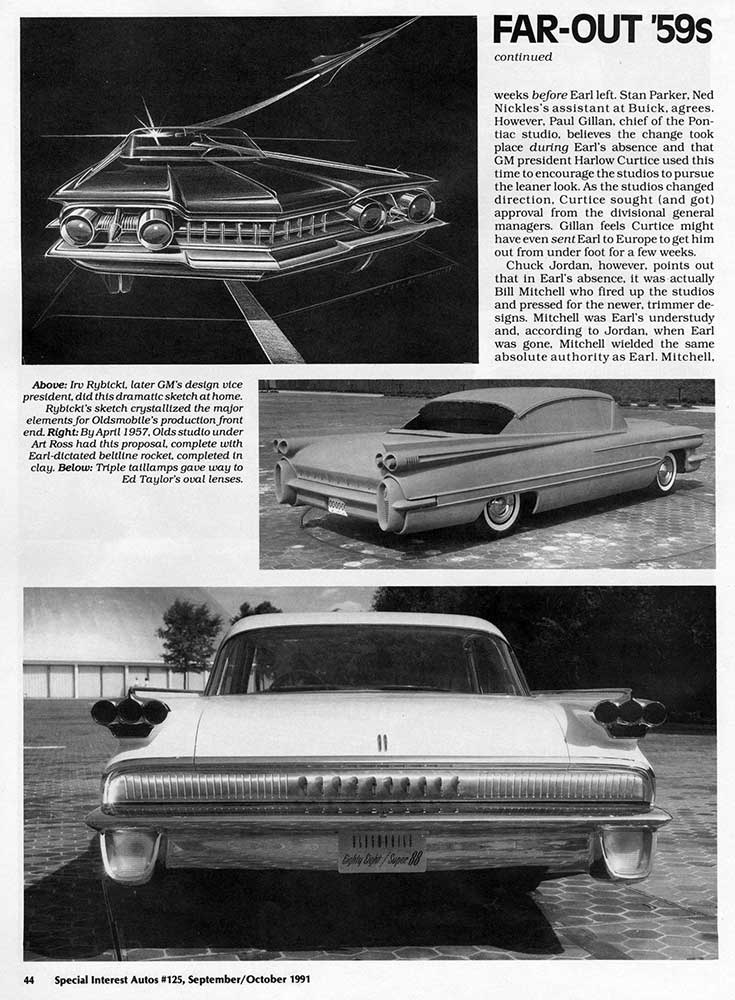 An article featuring the design of the 1959 Oldsmobile (Special Interest Autos magazine)
Eventually, Rybicki would land a position at the GM Proving Grounds in their data office, however, he wanted to design cars. A manager of his department had shown an interest in his automotive artwork and suggested that Rybicki should be assigned to Harley Earl's staff. The manager asked, "Do you mind if I take some of your work and send it down there?" After an evaluation of his work, Rybicki would join the GM design staff, called the Styling Section at the time. "That was one of the happiest moments in my life," he recalled.
Irvin Rybicki (General Motors)
Rybicki was first placed in a section called "Forty Milwaukee," an area for new trainee automotive designers. He said there were 15 in the class who were all striving for the same GM design positions. They were told each one had a year to prove themselves and would be audited every quarter. After completing the training, only two designers were left -- Carl Renner and Rybicki.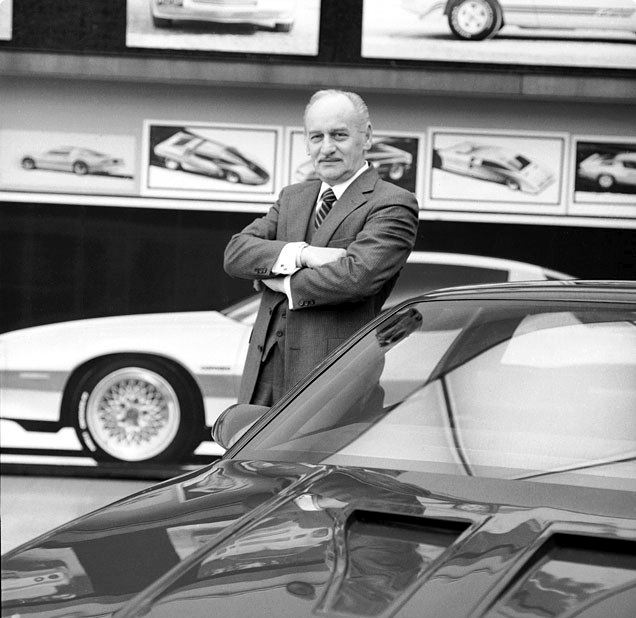 Irvin Rybicki in the GH Design Studio, 1980s (General Motors)
After his introduction to Harley Earl, Bill Mitchell and other talented designers, Rybicki would begin work in the Cadillac studio. The Cadillac studio designers were known as the "Blue Bloods." He designed a light feature on a new Cadillac proposal for 1950, which his manager really liked and admired. Rybicki would go on to design many other GM products, including the 1959 Oldsmobile. Harley Earl would visit him in the design studio on occasion until his retirement in 1959. In February 1962, Rybicki was named chief designer for the Chevrolet studio.
Irvin Rybicki standing next to a 1979 Buick Riviera (General Motors)
When Mitchell retired in July of 1977, Rybicki became the next GM Vice President of Design on August 1, 1977. Under his leadership, GM released great looking cars like the 1984 Corvette, Pontiac Fiero, the popular 1986 Buick Regal, Cadillac Seville and Chevrolet Corsica. His Chevrolet trucks became great sellers as well. GM also gained a lot of attention with their 1979 X cars. Rybicki served as vice president of design until 1986.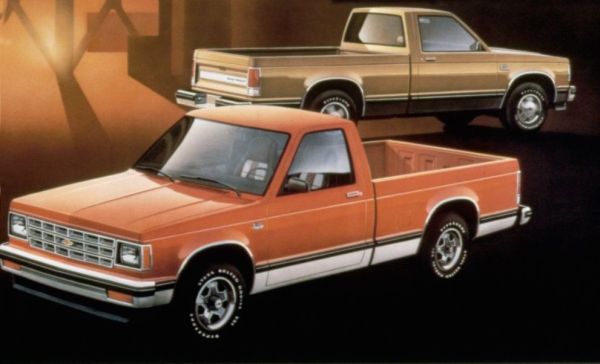 An ad for the 1982 Chevrolet S-10 truck (Robert Tate Collection)
In conclusion, Irvin Rybicki passed away on July 24, 2001, and although he is no longer with us, his designs and contributions to the automotive industry will always be a part of our history.
Bibliography
Lamm, Michael & Holls, Dave. "A Century of Automotive Style: 100 Years of American Car Design." Lamm-Morada Publishing Co., 1997.
Automobile in American Life and Society. "Automotive Design Oral History Project: The Reminiscences of Irvin W. Rybicki."