The Fisher Body Company's site on Fort Street and West End began as a one-story aircraft plant built by the U.S. government in 1916. When the United States entered World War I in April 1917, it awarded Fisher Body a contract to build fighter planes, even though the company had no design for such a product. Teams from Fisher Body were dispatched to Europe to examine Allied aircraft and three designs were approved. Production began in early 1918 at the West End plant with the J-1 Trainer, the Italian Caproni twin engine, and the British DeHaviland fighter. That year, 4,500 workers produced 40 2,005 aircraft, one some days building as many as 40..
At the end of the war, Fisher Body purchased additional property and three single-story, steel-framed buildings designed by Smith, Hinchman and Grylls, a Detroit-based architectural firm. A fourth building was constructed in 1919 and a six-story building, designed by famed Detroit architect Albert Kahn, was built in 1922. Kahn specialized in constructing industrial buildings with reinforced concrete. This multistoried building was known as Plant #18.
By this time, Fisher Body Company owned many other plants in Michigan. By 1919, when General Motors bought 60% interest in the company, Fisher Body operated 25 sites in Detroit alone, which employed about 10,000 people.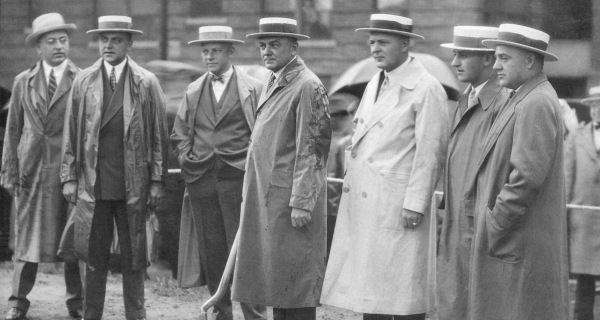 The Fisher Brothers at the for the Fisher Building groundbreaking (1927)
The seven Fisher brothers - Frederick, Charles, William, Lawrence, Edward, Alfred, and Howard - first developed a relationship with GM in 1910 when Cadillac placed an order with their company for 150 closed bodies. During this pre-World War I period, the brothers developed steel body presses that stamped solid steel panels to enhance closed car body strength. Innovations, both big and small, included the introduction of a rubber weather strip to keep out rain and cold. Fisher Body was also the first to use flash welding to produce a continuous seam, providing greater strength and resistance to the weather.
Initially, the West End plant produced bodies for Ford, Dodge, and Chrysler-Maxwell, but by 1926 Fisher Body became a subsidiary of General Motors. From then until World War II, the facility produced the Cadillac LaSalle, the first car styled by a designer rather than engineers. It was Lawrence Fisher who had met the young Harley J. Earl and brought him to Detroit. Earl had made his mark as a custom auto body builder for Cadillac's West Coast distributor. Earl's 1929 LaSalle touring car featured a longer, lower body and emphasized "swooping and flowing lines." Earl would be responsible for some of the most notable Cadillac design features over the next several decades.
The Fisher bodies the auto bodies produced at the West End plant 2.7 miles down the road to the Cadillac assembly plant on Clark Street, a process that required close coordination between Clark Street, Ternstedt, and West End. In 1931, Fisher Body purchased the Fleetwood Custom Body Company of Fleetwood, Pennsylvania and moved production to the Fort Street facility, which became known as the Fisher Body Fleetwood Plant. Many of the skilled tradesmen transferred to the plant from Pennsylvania and from other Fisher plants transferred to Fort Street.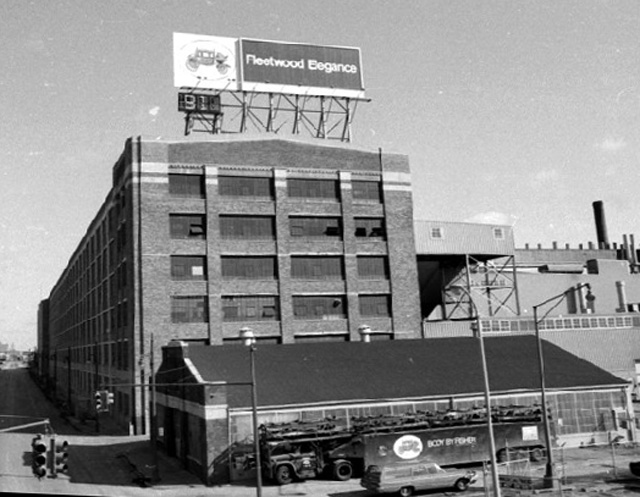 1969
By 1932, Fleetwood produced 14 distinctive body styles for the V-8 and V-12 Cadillacs and became the first auto company to use customized interior trim. In 1933, Fleetwood worked with Ternstedt to build a no-draft ventilation system for cars that used air currents generated by their own forward movement to eliminate drafts, prevent fogging, cool the car in hot weather, remove smoke, and bring in fresh air.
Innovations included using Dupont's duco lacquers to reduce drying time from four weeks to six hours (1924), developing slanted windshields to eliminate headlight glare for night driving (1930), introducing an all-weather closed body (1932) and an all-steel Turret Top by 1935. Just three years later, most Cadillac bodies were 100% steel.
To coordinate design, engineering, and construction, the Fleetwood plant housed a Jig & Fixture Department that serviced all GM plants in North and South America. In addition to creating and bulidng innovative body tooling, the department developed its own processes and tools, including the body side frame gate, automatic door hanging fixtures, a lay down-side frame shuttle system, robogate systems, the "Flying Nun" for hardtop assembly, and copper castings for use in welding operations. This overarching department was composed of planning and processing, estimating, design, pattern shop, design room, layout, welding and fabricating, machine shop, checking crib, a buyout room, and a tool tryout area and handled its own shipping and receiving. During the 1950s, more than 800 skilled tradesmen worked in Jig & Fixture. There were 350 tradespeople working in this department as late as 1983.
Fisher Body WWII Ad
As war production displaced auto production during World War II, GM replaced the "Body by Fisher" slogan, first used in 1923, with "Armament by Fisher." Fleetwood manufactured cowlings, exhaust collection systems, and subassembly parts for the B-17, B-25, and B-29 bombers and parts for the M-4 Sherman and M-26 Pershing tanks.
When Fleetwood returned to auto production after World War II, the plant resumed producing bodies by Fisher for the Cadillac plant, which assembled about 200,000 cars per year. Harley Earl's introduction of the tail fin in the 1948 model did more to establish Cadillac's identity than perhaps any other design element.

1948 Fleetwood Series Sixty
In 1952, new paint facilities installed down-draft spray booths and heat-sealed ovens that became standard in all Cadillac production. Fleetwood added a Plating Building two years later. Other 1950s innovations included wraparound windshields, a four-door hardtop, an integral body for rear-engine cars, and the introduction of power steering. The 1960s saw the construction of an even more modern paint shop that featured automatic temperature control. Front wheel drive was introduced in the Eldorado; by 1965, front seat belts became standard.
By the 1970s, General Motors used computerized drafting to develop lighter metals and other materials to meet the demand for greater fuel economy. The following decade saw the introduction of a digital electronic fuel injection system and microprocessor controls. Beginning in 1980, primary welding operations included computerized robotics.
As the plant aged and General Motors moved production to other areas of the country, Fleetwood and the Clark Street Cadillac plant were marked for closure. Replacement plants were built for the products made at Fleetwood and Cadillac, but a decline in oil prices boosted demand for rear-wheel drive cars, keeping these two plants open longer than anticipated. In its last years, Fleetwood produced bodies for the Cadillac Fleetwood Brougham, the Chevrolet Caprice Sedan, and the Oldsmobile Custom Cruiser. In the 1980s, the new Poletown Cadillac plant produced front-wheel drive cars, while the Fleetwood and Clark Street plants continued to make rear-wheel drive vehicles.
Fleetwood laid off 4,500 workers in 1987 and closed at the end of the year as rear-wheel production was moved to a new plant Arlington, Texas.
Click to view:
Fisher Body Company, a profile from the Encyclopedia of American Coachbuilders & Coachbuilding website that features great photographs tracing the evolution of body building.
Body by Fisher, WGTE Public Media Toledo's 30 - minute documentary highlighting the arc of the company's growth in the course of the 20th century.s
Harley Earl – the Inventor of American Car Design, Aurimas Grinys' profile from the Dyler.com classic cars listing service offers more insights into the career of this influential GM car designer.
Link to use: &
For those particularly interested in going inside the design operations and plants to more fully appreciate the complexities of body building, consider reviewing these two 25-minute films. Body Bountiful, is a 1955 film that was released to theaters. "The Bodybuilders from Fisher", produced in the early 1970s, offers insights into the ways main frame computers of that era were introduced into the design and production process. (Click the "Show More" feature for annotated notes about the different steps in body production)
TEXT - DIANNE FEELEY / RESEARCH - DIANNE FEELEY & RON ALPERN