In 1900, at the dawn of the automotive era, Detroit was already a bustling manufacturing center, with a population of 285,000 living in a relatively compact 23 square miles. Twenty years later, nearly a million people lived in Detroit and the city had grown to its present size, a massive 139 square miles, having absorbed the communities of Delray, Woodmere, and Springwells into what became known as Southwest Detroit.
At the end of the 19th century, twenty Detroit businesses—twelve of them located in southwest Detroit—employed more than 500 workers each. The largest of them, with nearly 9,000 employees, was American Car & Foundry, which produced train cars in its complex in Springwells. The Detroit Dry Dock Company, which built hulls for some of the largest ships on the Great Lakes, had operations just east of Clark St. In addition, southwest Detroit manufacturers produced tobacco and lumber products, bricks, gelatin caps and other pharmaceuticals, as well as work garments and ladies' clothing.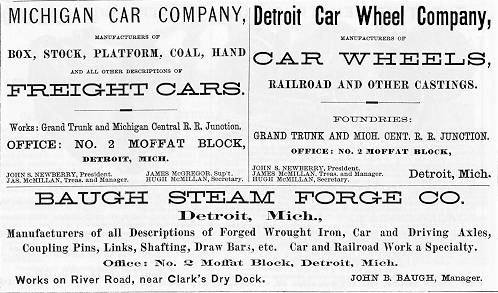 City Directory Listings of Newberry and McMillan companies (1879)
Metalworking shops specialized in the manufacture of stoves, boilers, radiators, cast iron pipe for water mains, and structural steel for bridges. The skill required to form, bend, and join metal products was especially important for the development of early automobiles. For example, the Detroit Copper and Brass Rolling Mills, at Clark St. and Jefferson Ave., was incorporated in 1880, well before the automobile era, yet transitioned in the early 1900s to become a major supplier of parts for the young Ford Motor Company. Automobiles eventually increased demand for glass, which required soda ash that was produced from the massive underground salt deposits in the region by the Solvay Process Company and the Michigan Alkali Company, both based in nearby Wyandotte.

Detroit Copper and Brass (1910)
Although Detroit became known as the Motor City, it had a thriving industrial base before the automobile era. Many of those companies contributed directly to the rapid growth of both the auto industry and the City of Detroit in the early 20th century, and a good share of them were located in what became known as Southwest Detroit.
Click the links below for an overview of the neighborhood's industrial roots:
Railway Cars, Bricks, and Salt: Southwest Detroit Industrial History Before Auto, Dr. Thomas Klug's report that provides an overview of the neighborhood's industrial roots. This paper and the bus tour provided by Ron Alpern for the Southwest Detroit Business Association "Faces, Places and Automobile" Master Plan project team were the early seeds of the Auto Heritage Guide.
[MCNHA to create an internal link to AC&F profile]
American Car & Foundry, the Guide's profile of AC&F and the Michigan Car Company operation that preceded it.
TEXT & RESEARCH - RON ALPERN & DIANNE FEELEY