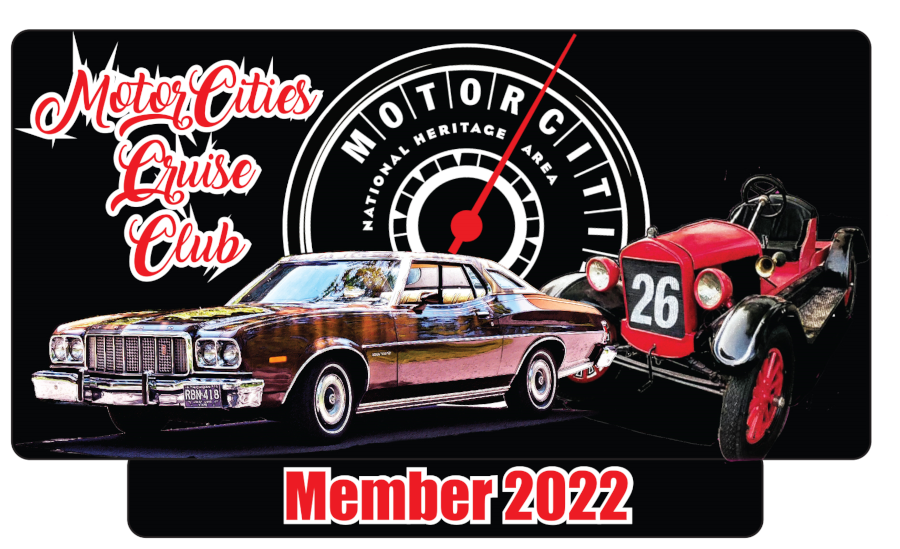 Introducing our new MotorCities Cruise Club!
Join us for monthly Cruise Nights hosted at MotorCities partner attractions on the following dates:
• Wednesday, May 18, 2022 -- Pontiac Transportation Museum, 250 West Pike Street, Pontiac from 4 - 8 p.m.
• Wednesday, June 15, 2022 -- Detroit Historical Museum, 5401 Woodward Ave, Detroit from 4 - 8 p.m.
• Wednesday, July 20, 2022 -- Ford Piquette Avenue Plant, 461 Piquette Ave, Detroit from 4 - 8 p.m.
• Wednesday, August 17, 2022 -- Ford House, 1100 Lake Shore Road, Grosse Pointe Shores from 4 - 8 p.m.
Each of these events is open to all cruisers, but membership has its privileges!
BECOME A MEMBER OF MOTORCITIES AND THE CRUISE CLUB by filling out the form at the bottom of this page! (Only MotorCities members can join the Cruise Club)*

CURRENT MOTORCITIES MEMBERS -- You can join our exclusive MotorCities Cruise Club for just an additional $10/year by clicking here.
Cruise Club benefits include the following:
Club sticker and card

Member/Club specific parking at each Cruise Club event

Admission to each museum hosting an event (day of event only) for the Cruise Club member and one guest. (NOTE: MotorCities Family Membership Holders can have their family admitted)

A Raffle Ticket for an end of season drawing

Food will be available for purchase at each event site.
2022 MotorCities Cruise Club Sponsors:
Gateway Classic Cars
Vanguard Motor Sales
Ford & Mercury Restorers Club of America
---
*
A complete list of benefits of MotorCities membership can be found
HERE