By Robert Tate, Automotive Historian and Researcher
Images Courtesy of GM Media Archives and Mecum Auto Auctions
Published 1.18.2023
For the 1970 model year, Chevrolet introduced many great looking vehicles and styles for the buying public. Chevy highlighted its great tradition of innovation and styling that most consumers really enjoyed and appreciated. Automotive styling for the 1970 Chevrolet models featured a richer and sportier look across the line. At that time, John Z. DeLorean was general manager for General Motors' Chevrolet Division after pioneering muscle cars at Pontiac.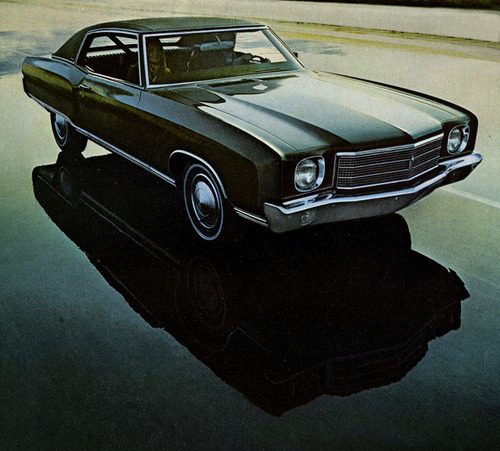 1970 Chevy Monte Carlo advertising image (GM Media Archives)
1970 was a great year for GM with the introduction of the popular Chevrolet Monte Carlo, which became an instant hit and generated great sales and huge profits. The Monte Carlo joined Chevy's full size car, along with the Chevelle, Camaro, Nova, Corvette and the new truck models. In 1912, Chevrolet produced a total of 2,999 units. In 1970, assembly plants across the country turned out many times that number of vehicles in a single working day.
In addition, Chevrolet merchandising introduced the largest automobile dealerships in the world in 1970. A major component was the success and growth that took place in Chevrolet dealerships as one-stop automotive shopping centers.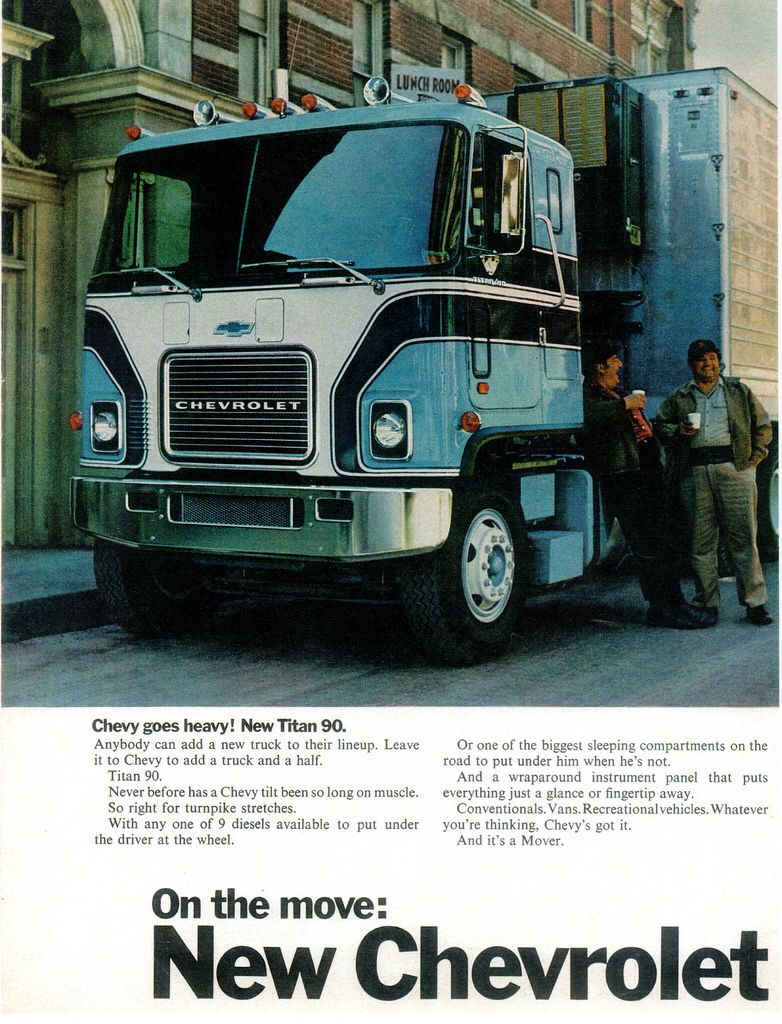 1970 Chevrolet Titan 90 Series truck (GM Media Archives)
In 1970, the big news for Chevrolet trucks was the introduction of the Titan 90 Series, which became very popular among long haul drivers. The models were heavy-duty highway haulers available with a choice of gasoline or diesel power engines. The light-duty truck models offered some aluminum trim, which became very popular among younger drivers. The refinements also included optional dress-up moldings with wood-grain vinyl or painted inserts for the great-looking fleet-side pickup truck models.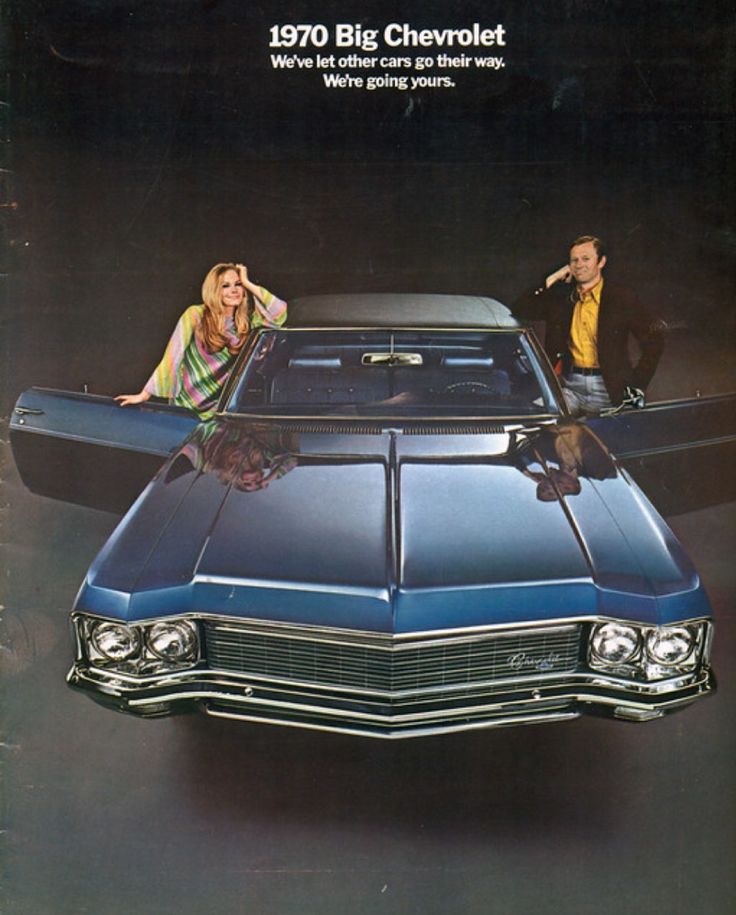 1970 Chevrolet Impala ad (GM Media Archives)
Chevrolet was "on the move" in 1970 with the Caprice, Impala and Bel Air models, which offered added interior space. The Caprice's exterior for 1970 introduced its own distinctive wheel covers. The Impala series, which was introduced in 1958, was the best-selling model for the Chevrolet nameplate in 1970, including the popular sport coupe and convertible models. The Impala Custom hardtop model sold for $3,266, and the Impala convertible model was priced at $3,377.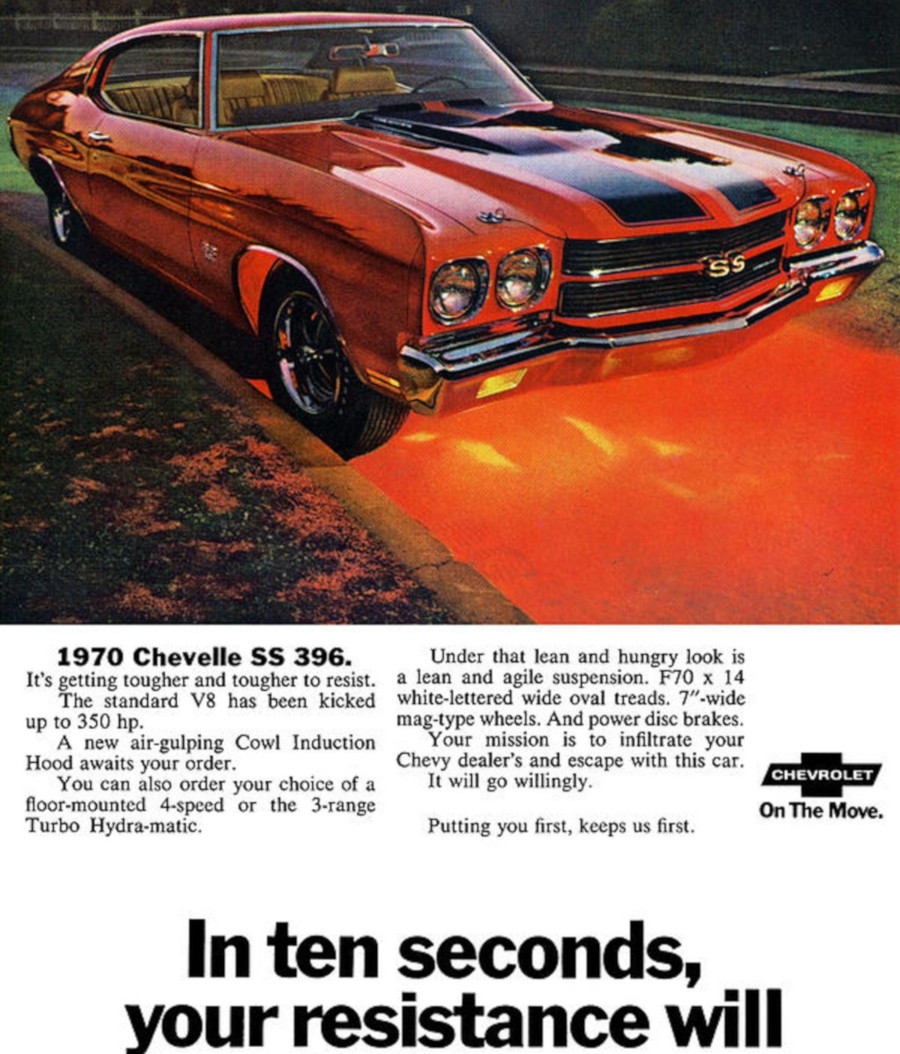 1970 Chevrolet Chevelle SS 396 ad (GM Media Archives)
Introduced to the public on September 18, 1969, the 1970 Chevrolet Chevelle was also very popular. The Chevelle was the base model, and the Malibu series was the next step up in body styles. The Chevelle SS 396 models were very popular among younger buyers, and their advertising was geared toward that audience. "In ten seconds your resistance will self-destruct" was a popular print ad that appeared in Car Life and Motor Trend magazines for the Chevelle SS 396 models,.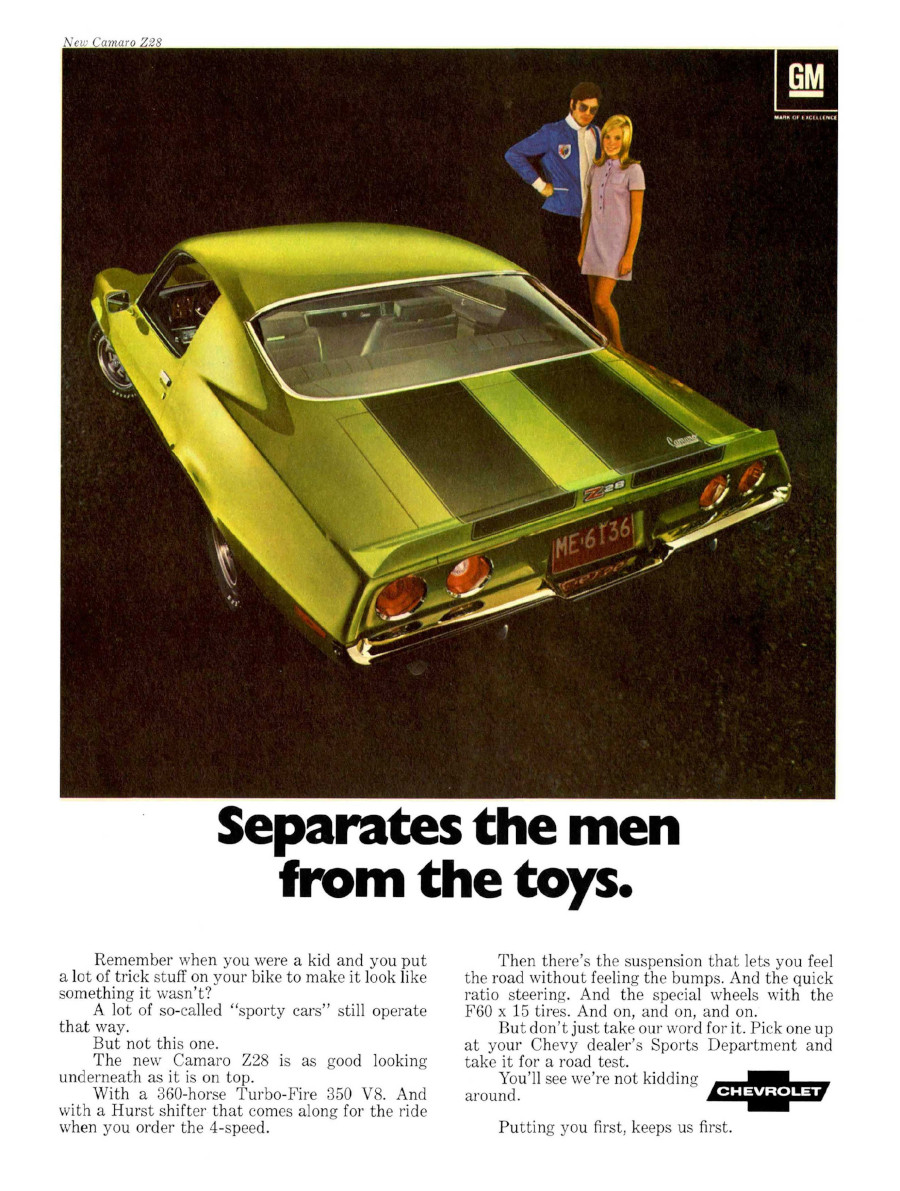 1970 Chevrolet Camaro Z28 ad (GM Media Archives)
The Chevrolet Camaro models for 1970 offered some new styling features. They were low and sleek with that muscle car offered with the Z28 model. The Camaro performance package included a special 360-hp 350-cubic inch V8 engine with a striping rear deck spoiler design and the popular Z28 logo emblems. Some automotive historians have said that the newly designed 1970 Camaros brought dramatic European-inspired GT styling to the pony car field. In 1970, over 143,000 Camaros were sold, and its body design would remain unchanged for many years.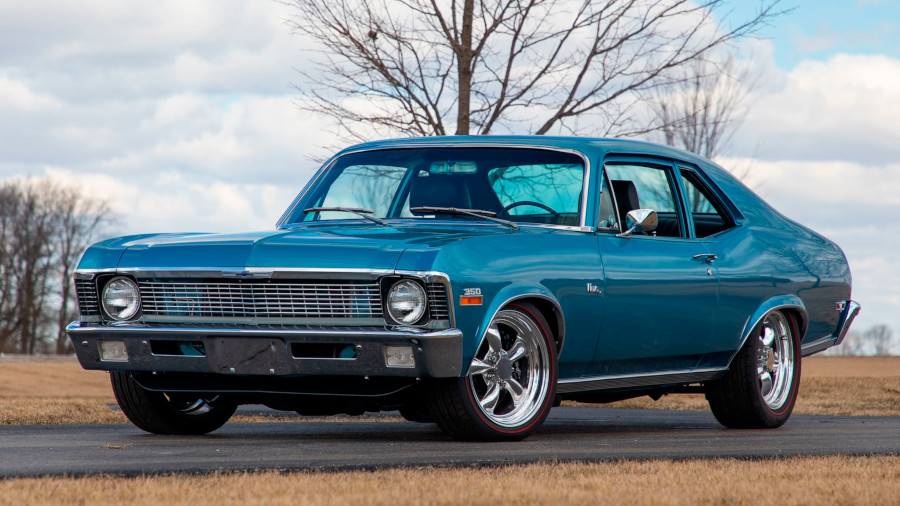 1970 Chevrolet Nova (Mecum Auto Auctions)
In 1970, the Nova replaced the Corvair as Chevrolet's smallest car and offered two basic body styles – a coupe and four-door sedan -- in three series. The 1970 Nova was a refined and great looking automobile with a fine-mesh grille design along with large front side and rear lights. The Nova SS models featured a black accented grille, simulated air intakes, a special suspension and a three—speed transmission. Today, the Nova body styles from 1968-1970 are still very popular with automotive enthusiasts around the world.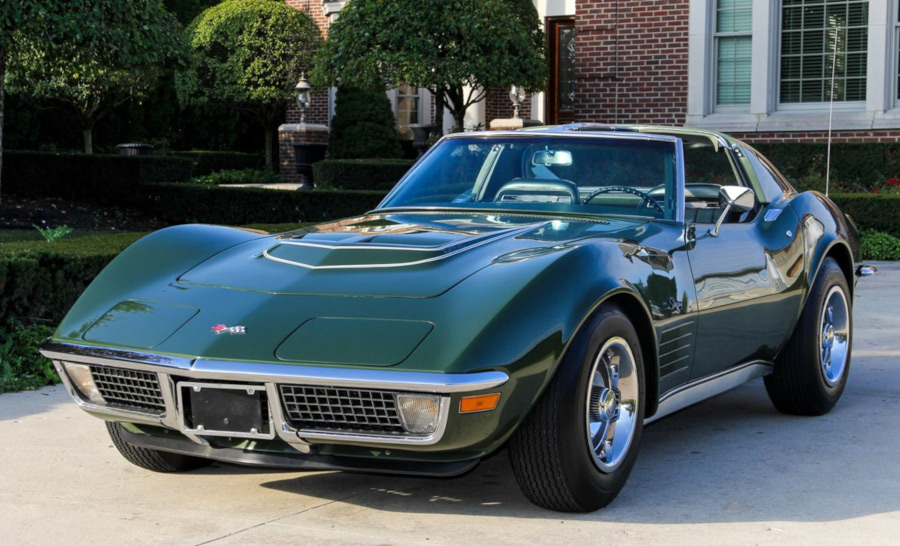 1970 Chevrolet Corvette (Mecum Auto Auctions)
Last but not least, there was the Corvette for 1970, a great looking model. A four-speed transmission became available, and there was still an optional removable hardtop. Other than that, the Corvette received no major changes from the models originally introduced in 1968, and a four-speed manual floor shift transmission was standard.
In conclusion, the 1970 Chevrolet line was great, memorable and profitable for GM.
Bibliography
General Motors. "The Chevrolet Story 1911-1970." GM Communications, 1970.
Dammann, George H. "Sixty Years of Chevrolet." Crestline Publishing, 1972.
Frumkin, MJ. "Classic Muscle Car Advertising: The Art of Selling Horsepower." Krause Publications, 2002.
Kowalke, Ron. "Standard Catalog of Chevrolet 1912-1998." Krause Publications.