By Robert Tate, Automotive Historian and Researcher
Images Courtesy of Jordan Motor Car Company
Published 10.19.2022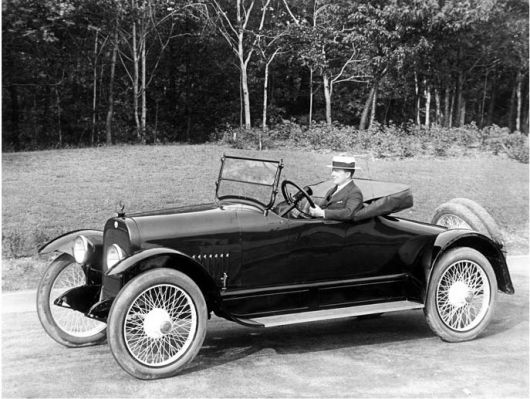 Ned Jordan, an early automotive pioneer, was born in Merrill, Wisconsin in 1882. He always had a strong passion and connection to the fledgling auto industry. Jordan got his feet wet in the industry as the advertising manager for the Thomas B. Jeffery Automobile Company in 1906. This job would help his career by giving him the familiarity with the process of automobile manufacturing.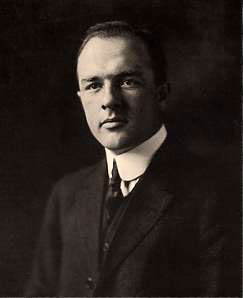 Ned Jordan
In 1915, Jordan announced that he wanted to build and manufacture a smart automobile for smart people. In January 1916, he established the Jordan Motor Car Company in Cleveland, Ohio. By September 1916, a total of 1,788 Jordan automobiles were sold. That number grew to over 5,000 by 1918.
In 1919, his company introduced the Jordan Playboy, which became a very popular nameplate. The Playboy was a great designed automobile compared to the popular Stutz Bearcat and the Mercer Raceabout automobiles of that time period.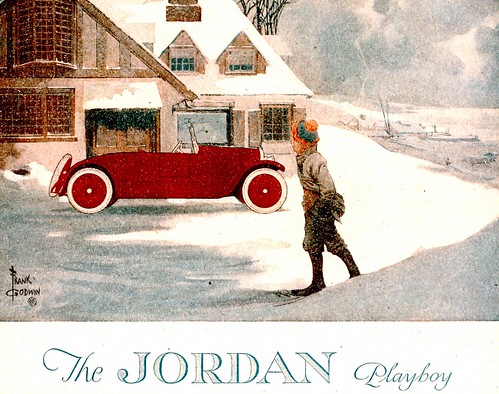 Jordan Playboy ad (Jordan Motor Car Co)
The Jordan Playboy also was featured in great automotive advertising that contributed to a million-dollar sales increase for the company. Jordan's advertising changed the way consumers looked at buying cars. The Jordan brand introduced romance and four-color artwork to advertise their automobiles, which was used to attract more women and younger people to their dealerships. Jordan ads that appeared in Vanity Fair and the Saturday Evening Post magazines have now become classic works of art and are very difficult to find today for automotive collectors.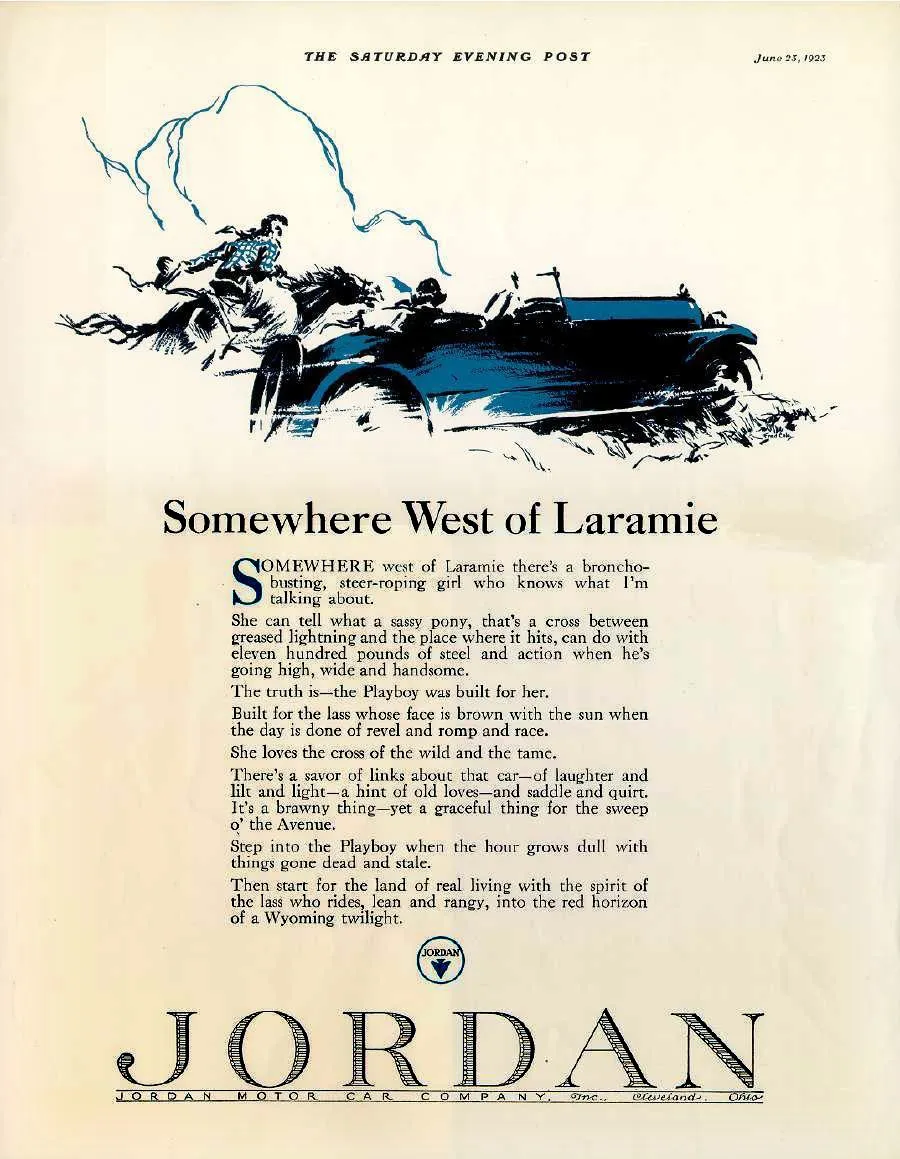 Another Jordan Playboy ad
According to historians, Jordan founded his car company with fellow former Jeffery employees engineer Russell S. Bergg and purchasing agent Paul Zen. Jordan had style and charisma; he brought his very own special style to the beginning stages of the automobile industry.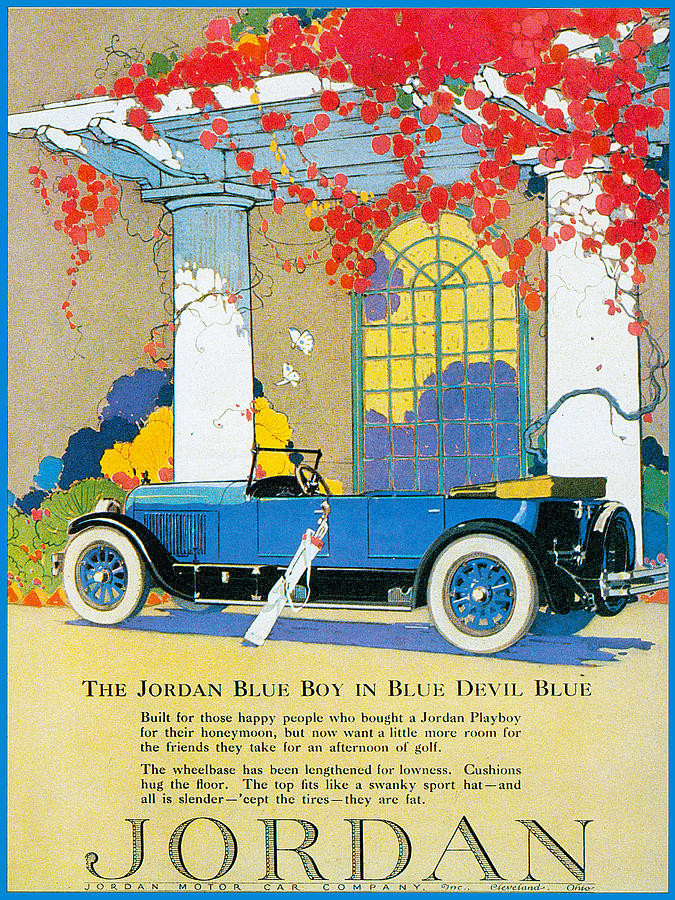 An early color Jordan ad (Jordan Motor Car Co)
Jordan once said that "cars are too dull and drab," and he wanted to make vehicles that made an impression and represented their consumers' taste. From the beginning of his company, Jordan automobiles were a great success, and the public enjoyed their great styling and performance.
In 1917, Jordan introduced a new line of models to the public, including a sport limousine and a brougham town car, which featured light but sturdy aluminum bodies. In addition, Jordans were among the industry's first closed-bodied vehicles.
A Jordan promotional photo
By 1919, the company had distributed $25,000 in bonuses to its employees and purchased more plant space to increase manufacturing production. The Playboy models were still great sellers. In 1923, the Jordan company had assets over $3 million and debt of a mere $250,000, which was cause for celebration.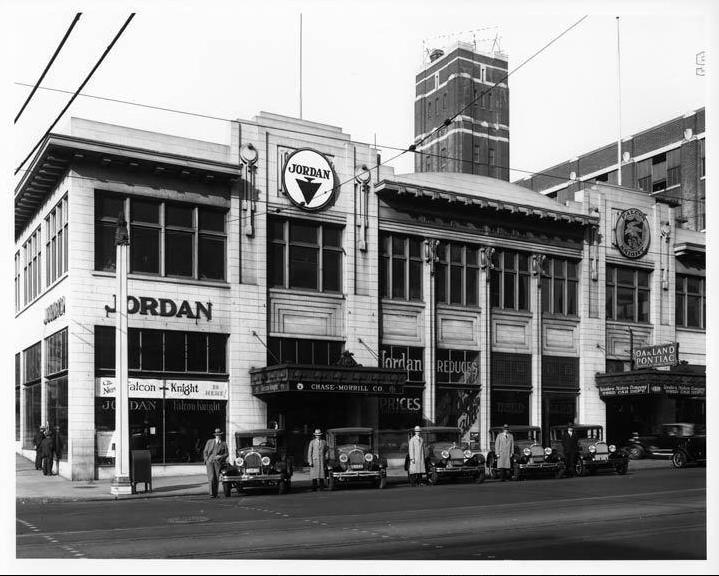 A 1927 Jordan dealership
In 1926, the Jordan Motor Car Company was at its peak with production of over 11,000 units. Unfortunately, the Great Depression during the 1930s brought financial problems to many automakers, and Jordan was no exception.
For 1930, Jordan models all featured 8-cylinder Continental engines. A total of 11 models were available starting at a price of $2,095. In 1931, the company became to liquidate its assets and ceased operations by the next year.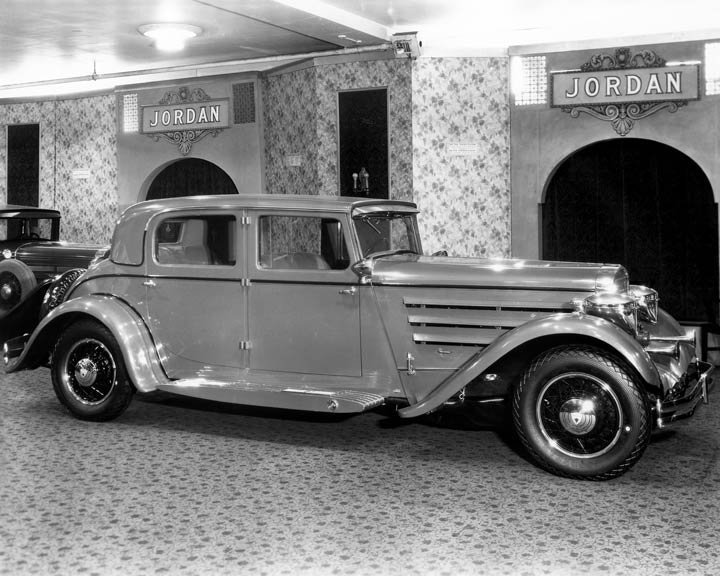 A 1931 Jordan
In conclusion, the Jordan Motor Car Company produced cars from 1916 to 1931 in Cleveland, Ohio and will always be a part of our automotive heritage.
Bibliography
Langworth, Richard M. "Ned Jordan: The Cars He Built." Automobile Quarterly, Volume XIII, Number 2. Second Quarter 1975.
Lackey, James H. "The Jordan Automobile: A History." McFarland & Co., Inc. March 15, 2006.
Moloney, James H. "Encyclopedia of American Cars: 1930 to 1942." Crestline Publishing, Inc. 1977.