by Robert Tate, Automotive Historian and Researcher
Images Courtesy of Motor Trend Magazine
Published 9.7.2022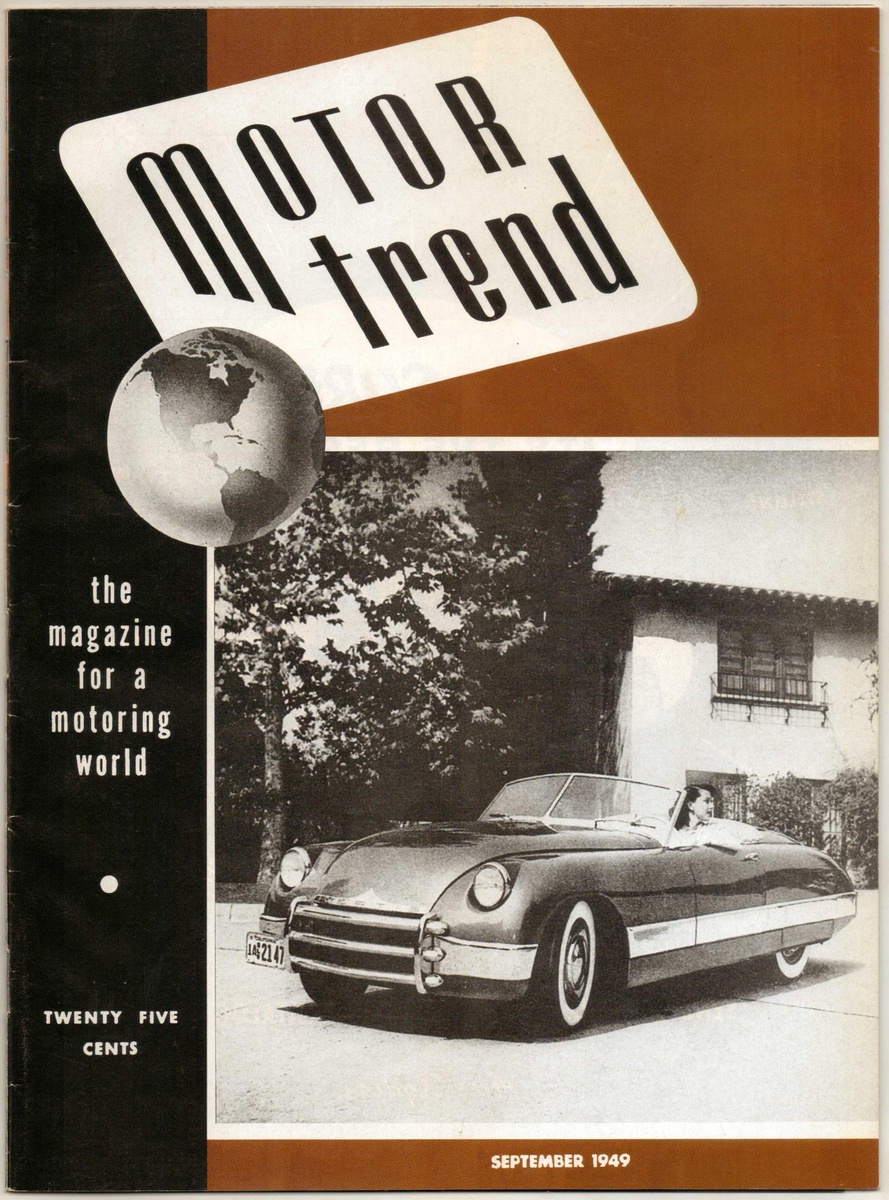 For more than 70 years, Motor Trend magazine has covered the great history of the automotive industry. From tailfins of the 1950s to the mod colors of 1960s and 1970s muscle cars, Motor Trend has always had great stories for its readers and features the best reporting about new and exciting automobiles.
Motor Trend September 1959 with Ford Design Chief George Walker
Motor Trend is the number one magazine in the automotive consumer market because they create the right content featuring what consumers are looking for when making new automobile purchases. In addition, Motor Trend has received many prestigious awards for style and content.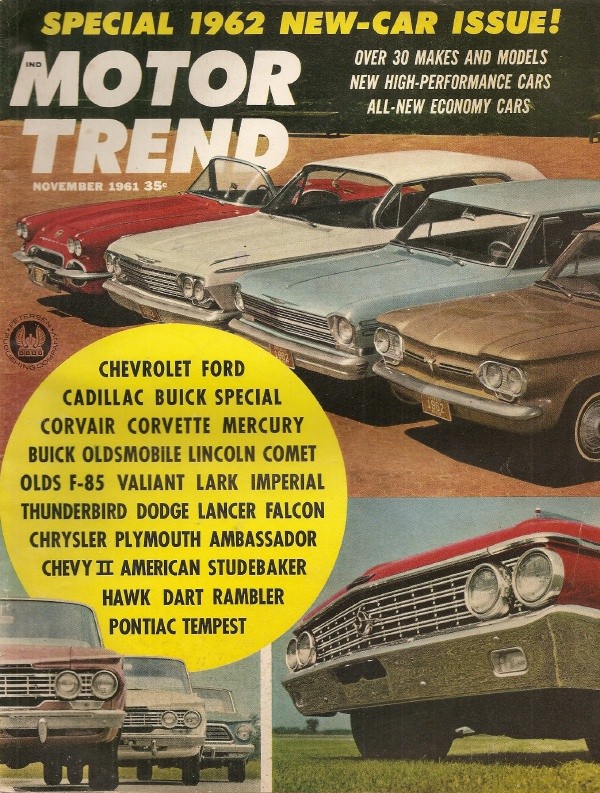 Motor Trend November 1961
The first edition of Motor Trend appeared in September 1949 (in the first picture above), issued by Peterson Publishing Company in Los Angeles, California. It was subtitled "the magazine for a motoring world." Some automotive historians have said that Motor Trend magazine created an interest in an era when the country was just beginning to recover after the conclusion of World War II. With the war over, consumers had a strong interest in buying new automobiles.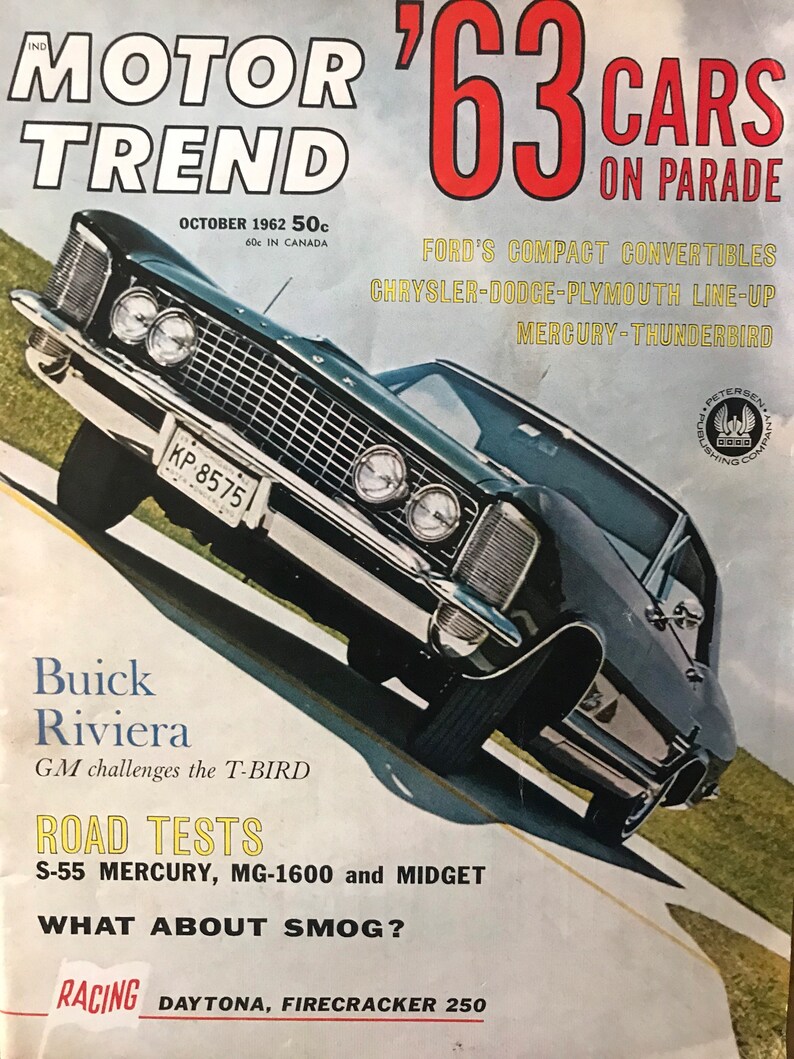 Motor Trend October 1962 with new 1963 Buick Riviera
Motor Trend became known for providing road test information, which gave readers performance aspects of new vehicles being introduced. Readers could then comparison shop by looking at performance and price. As a result, Motor Trend became a trusted source for automotive information on new vehicles.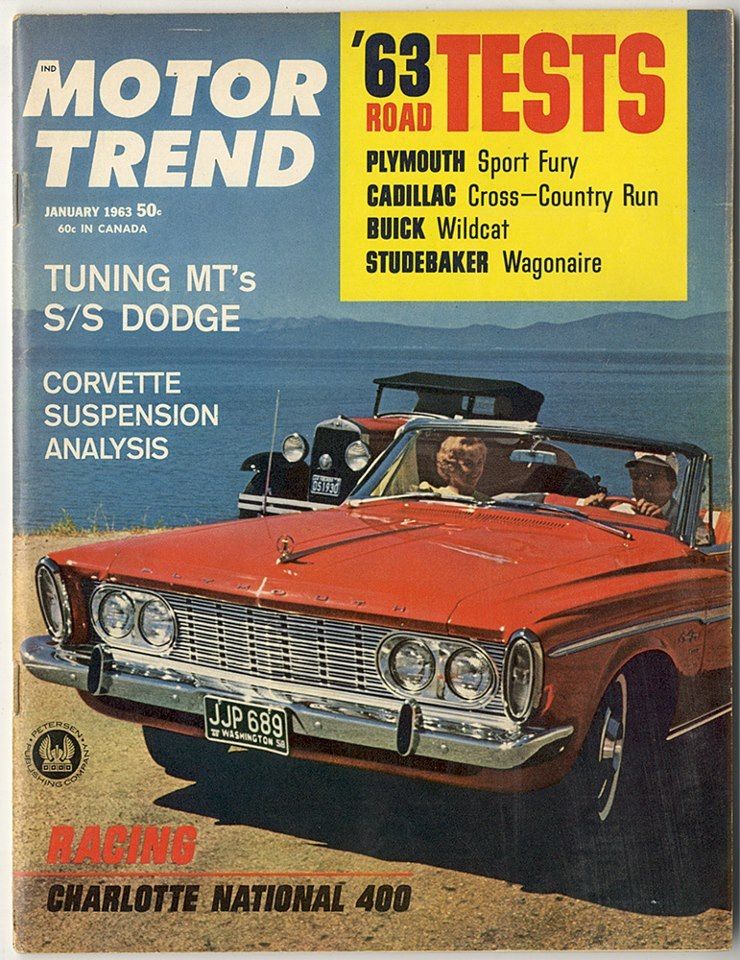 Motor Trend January 1963
Another important aspect of Motor Trend's influence in the automotive industry was their annual "Car of the Year" award, which created a huge buzz for the brand and vehicle winner. The first automobile recognized as Motor Trend's Car of the Year was the 1949 Cadillac because of its style and beauty during a time when Americans were looking closely at design of new vehicles. Cadillac has always had a very good reputation for being the standard of the world.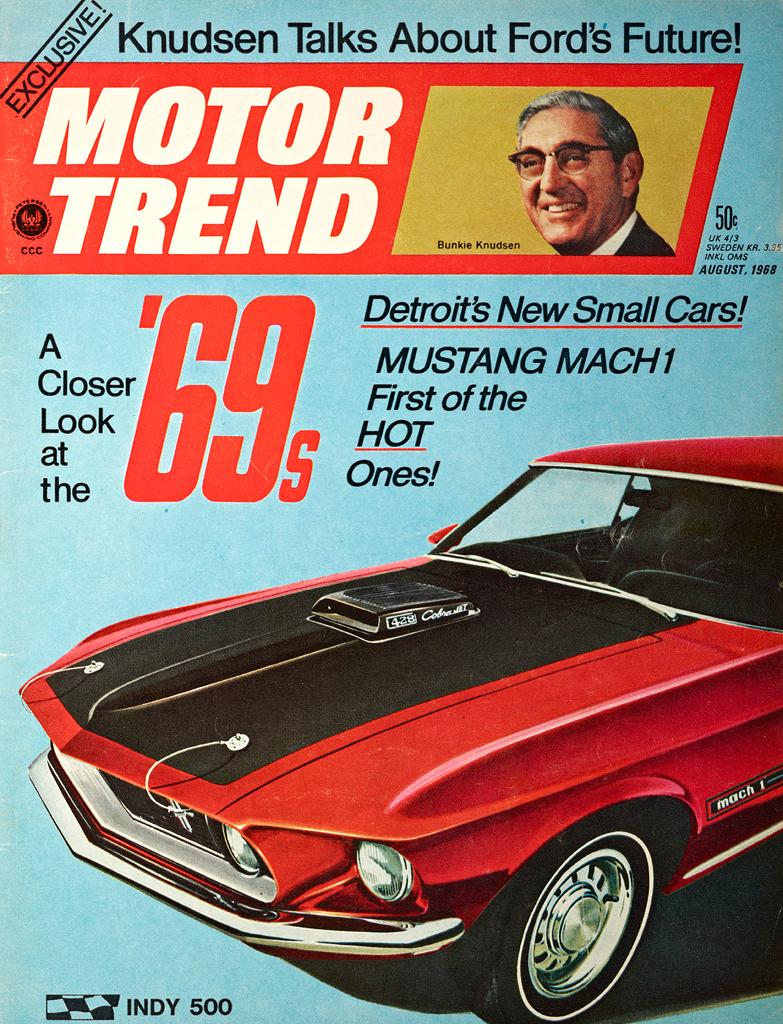 Motor Trend August 1968 with 1969 Mustang on cover
Peterson Publishing Company in Los Angeles published Motor Trend magazine until 1998 when they sold it to British publisher EMAP, who later sold the publication to another company. Now, the magazine is published by the Motor Trend Group, a division of Warner Bros. Discovery that also features titles like Hot Rod and Roadkill. Some automotive sources have said that the magazine has a monthly circulation of over one million subscribers.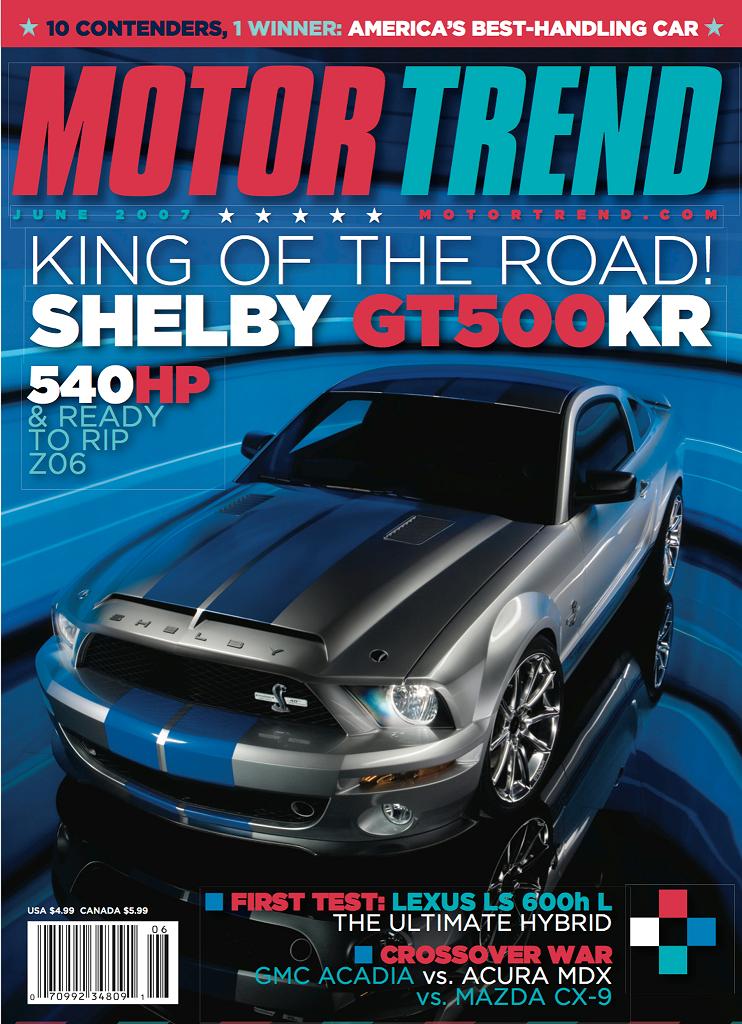 Motor Trend June 2007 with Shelby GT 500KR
Motor Trend still provides the latest news about automotive manufacturing and is an excellent source for those interested in design, engine power, and handling.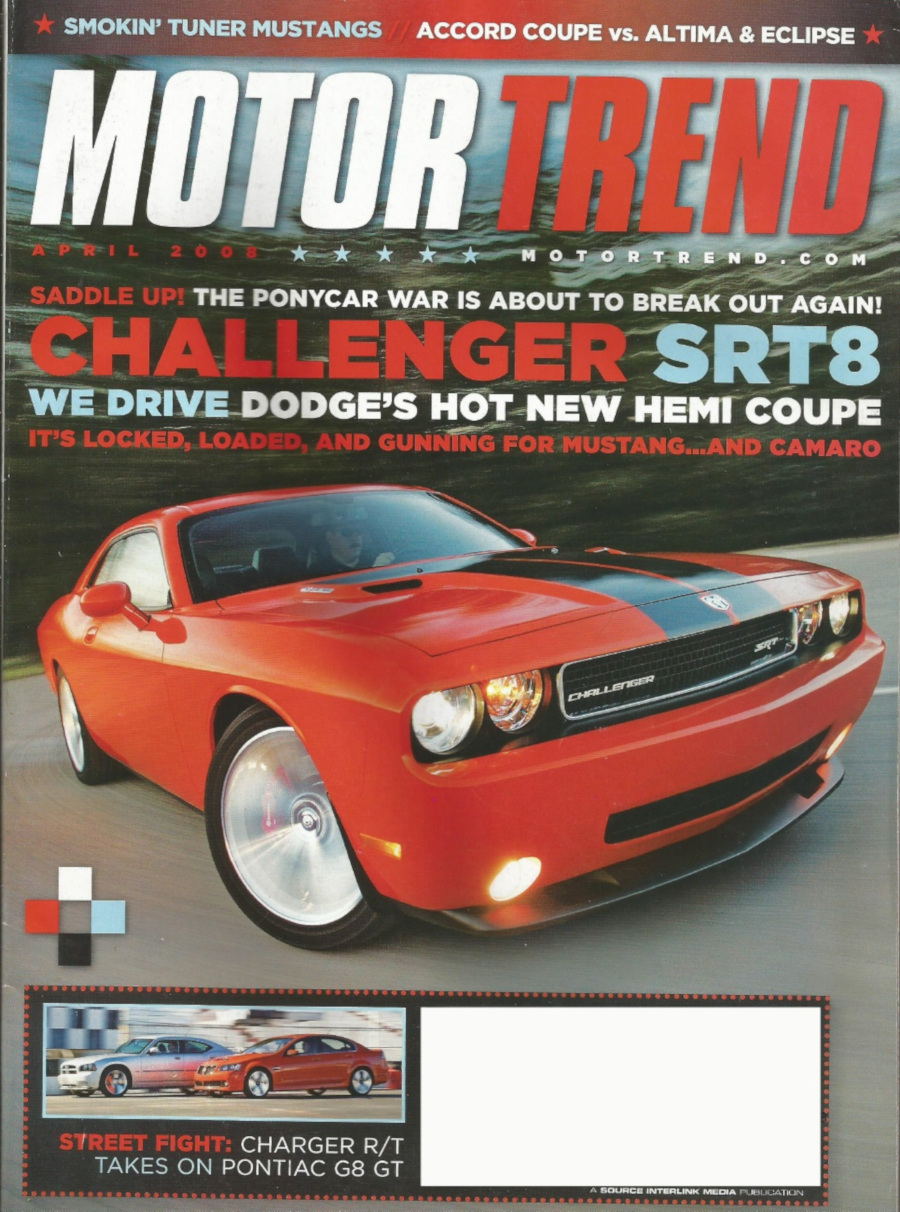 Motor Trend April 2008 with the Dodge Challenger SRT8
For many years, Motor Trend has told the stories about the evolving look and shape of the automobile and is appreciated today by many cultures and generations of automotive enthusiasts. Motor Trend magazine has been around into its eighth decade, and I'm sure it will be around for many generations to come.
Bibliography
Woron, Walt. "How Motor Trend Came To Be." Motor Trend, September 1, 1999.
Dixey, Jerry. "Vintage Car Magazines." Hot Rod News, March 24, 2021.
Fifty Years of Motor Trend Magazine. 1999.