By Robert Tate, Automotive Historian and Researcher
Images Courtesy Mary Ellen Green Dohrs, GM Media Archives
Published 2.2.2022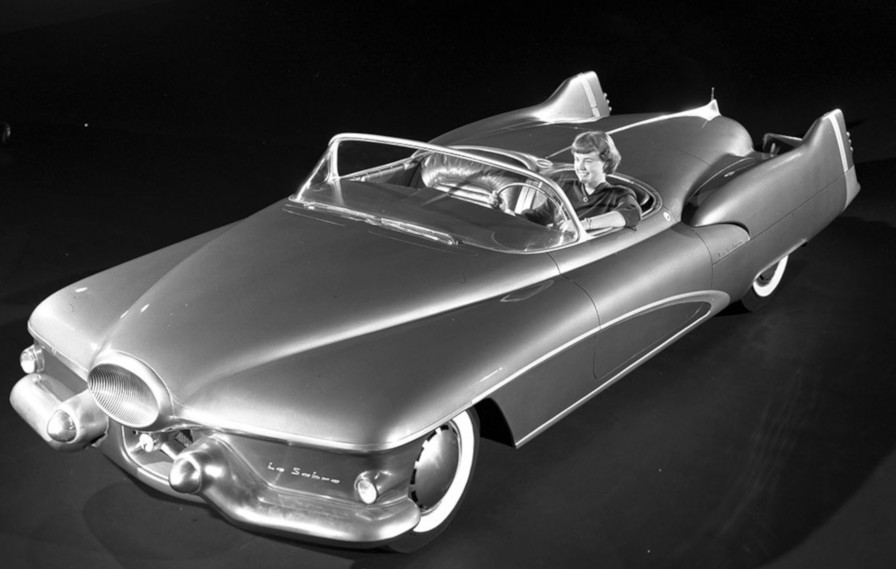 Mary Ellen Dohrs in 1950 (GM Media Archives)
The automotive world lost a great designer and creative genius on January 12, 2022 when Mary Ellen Green Dohrs died at the age of 92. She was one of the first women to design automotive interiors and a contemporary of Betty Thatcher Oros, who did design work at Hudson. Dohrs was truly a trailblazer who left her creative mark on the world.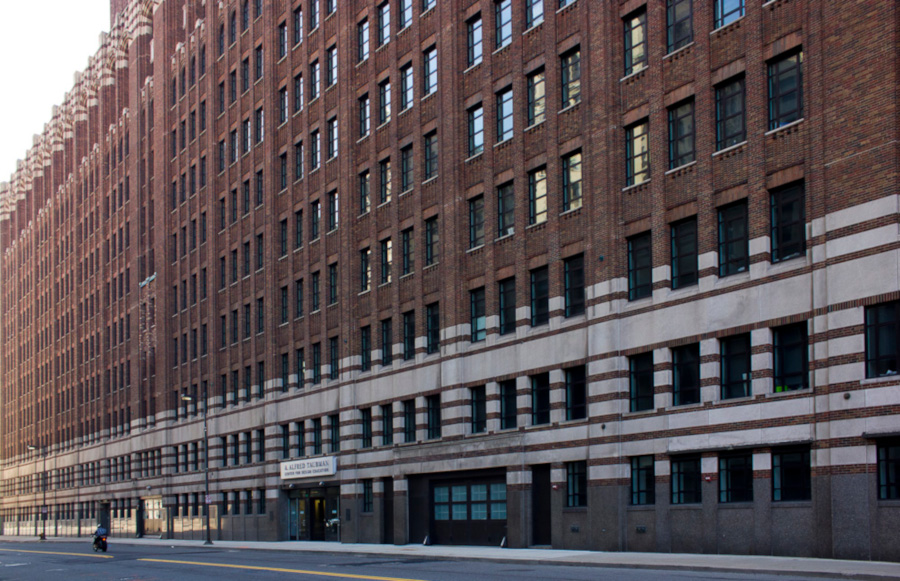 The Argonaut Building, the home of GM Design (GM Media Archives)
I first discovered Dohrs, when I wrote a Story of the Week on the first female designers titled "Remembering Dorothy Draper & Mary Ellen Green" in August 2014. Dohrs was hired by General Motors in 1950 by Harley Earl, who had created the Art & Colour Design Department at GM. At that time, automotive styling was housed in the Argonaut Building, now known as the Taubman Center.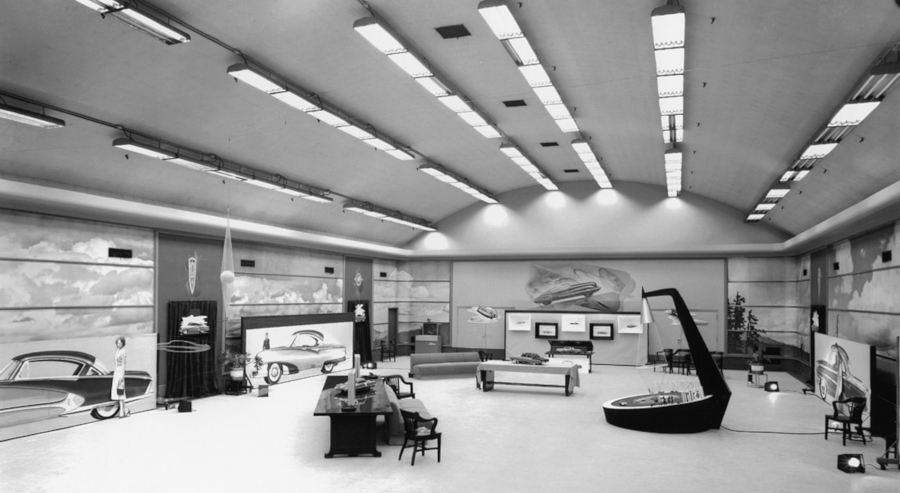 The GM Design Studio inside of the Argonaut Building (GM Media Archives)
Dohrs was a graduate of one of the most prestigious art colleges in the United States, the Pratt Institute of New York. However, her interest in design began at the age of six building model aircraft from kits. As a young child growing up before the age of television, she would use her time to create and draw newsprint scrape books. After graduating from high school in Los Angeles, she attended Pratt Institute and received her degree in Industrial Design, which became her new passion.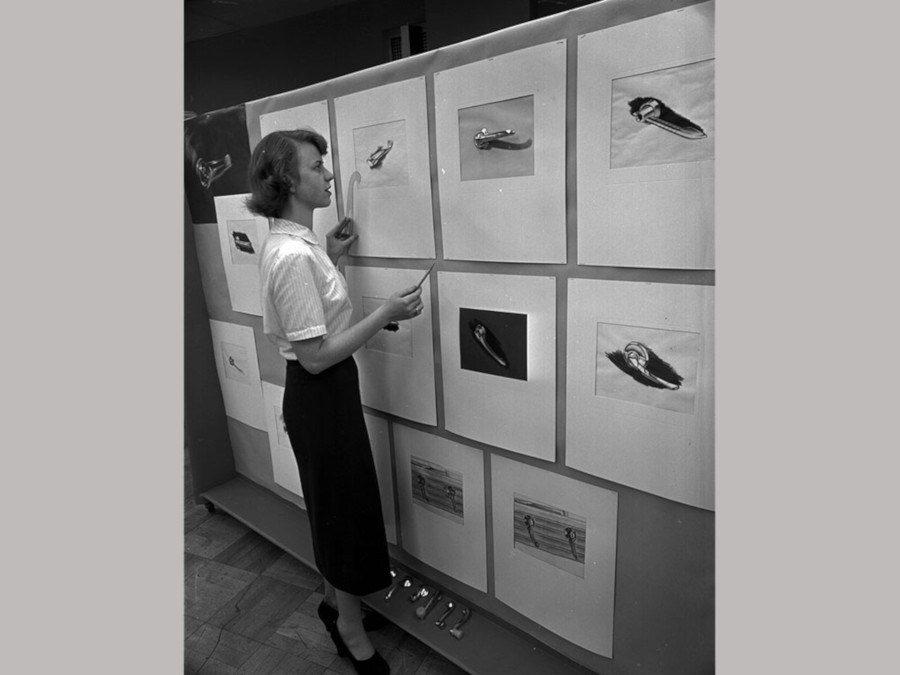 Mary Ellen Dohrs in 1952 at the Argonaut Building (GM Media Archives)
After college, GM hired Dohrs to become the first woman ever in their design department. This was before Earl began hiring the talented women who were dubbed the "Damsels of Design" in the late 1950s. Dohrs worked hard at GM with a group of talented male designers and looked to bring her own creativity to her assignments.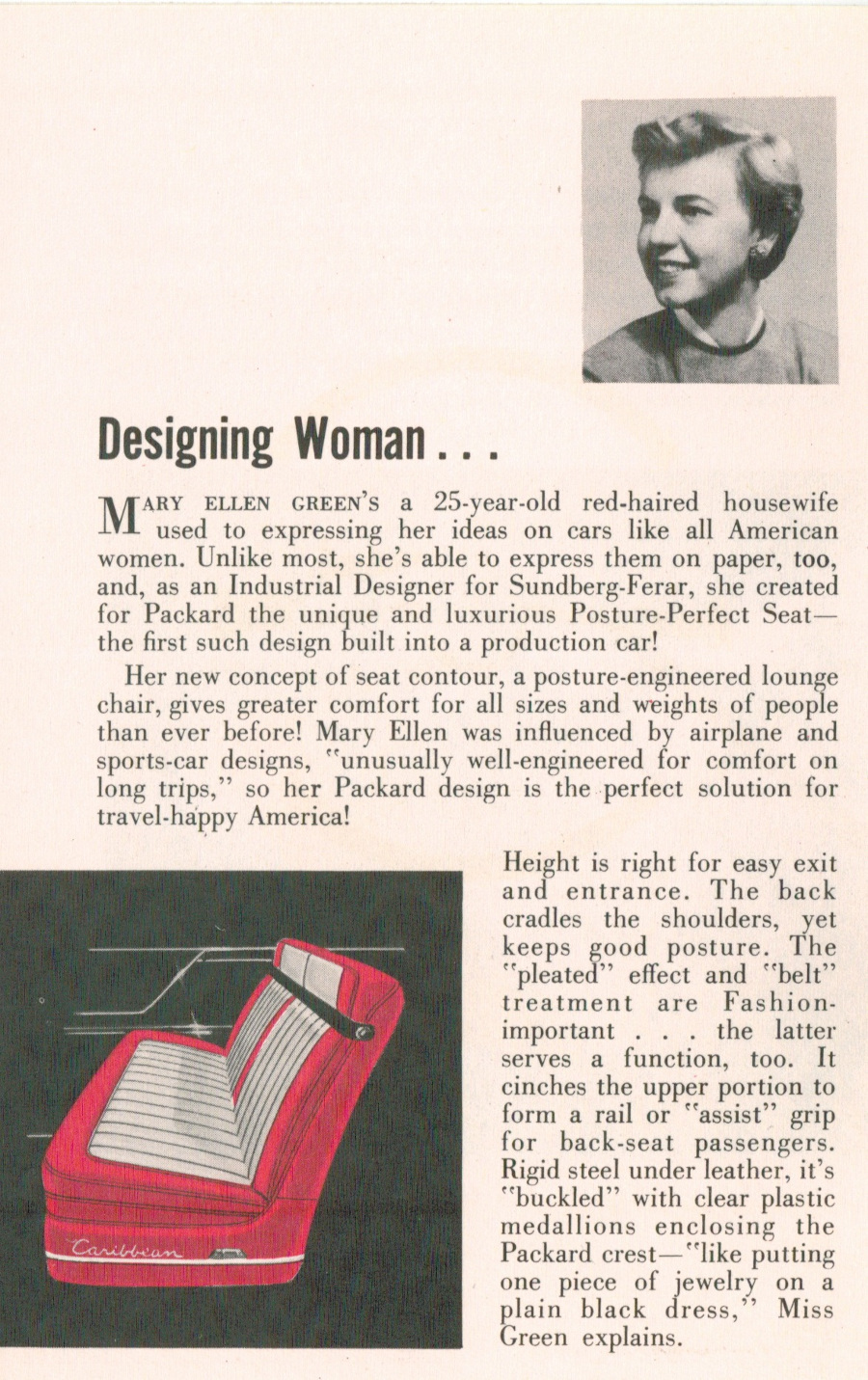 Designing Woman article featuring Mary Ellen Green Dohrs (Packard Motor Car Company)
"I had to prove myself and ideas constantly," Dohrs said. "I was very happy to be the only female designer in styling at that time." Her first assignment was to design interiors for the black Cadillac convertible for Hopalong Cassidy. Dohrs also noted that GM had five divisions in the styling department, each had their own studios. The Chevrolet Corvette and Corvair models had their beginnings in that space well before the Technical Center in Warren was built.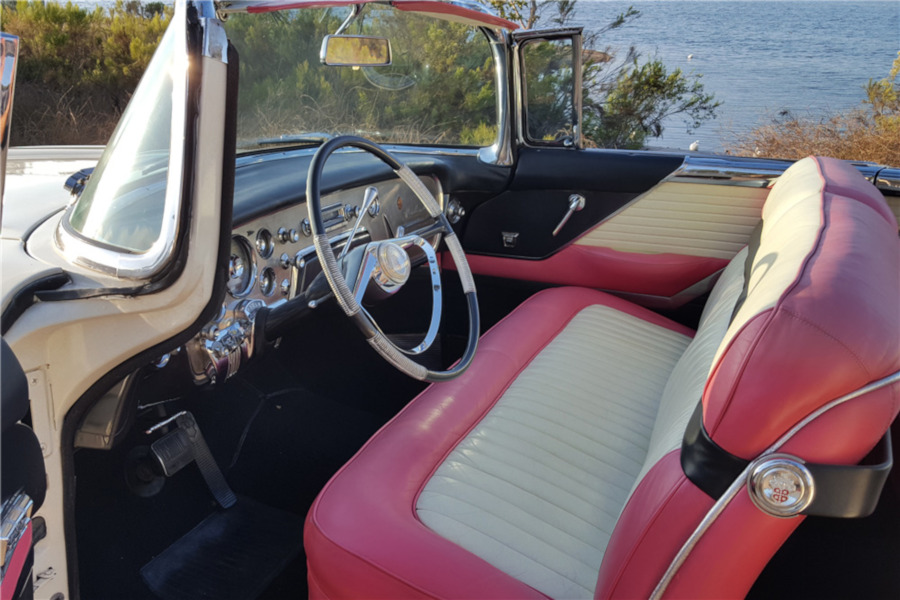 The 1955 Packard Caribbean interior (Barret Jackson)
After a few years, Dohrs had GM to do projects with other companies such as IBM, Kenmore and the Packard Motor Car Company. At Packard, Dohrs was good friends with Richard Teague. Teague had asked Dohrs to create the new interior design for the 1955 Packard Caribbean model. At that time, Dohrs was 25 and had just started a family, however, this was a great opportunity. She also did freelance work in industrial design, as well as paintings and pen and ink drawings for many companies. When she worked in the auto industry, Dohrs admitted that she sometimes would feel intense pressure and leaned on her faith in God to help relieve the stress.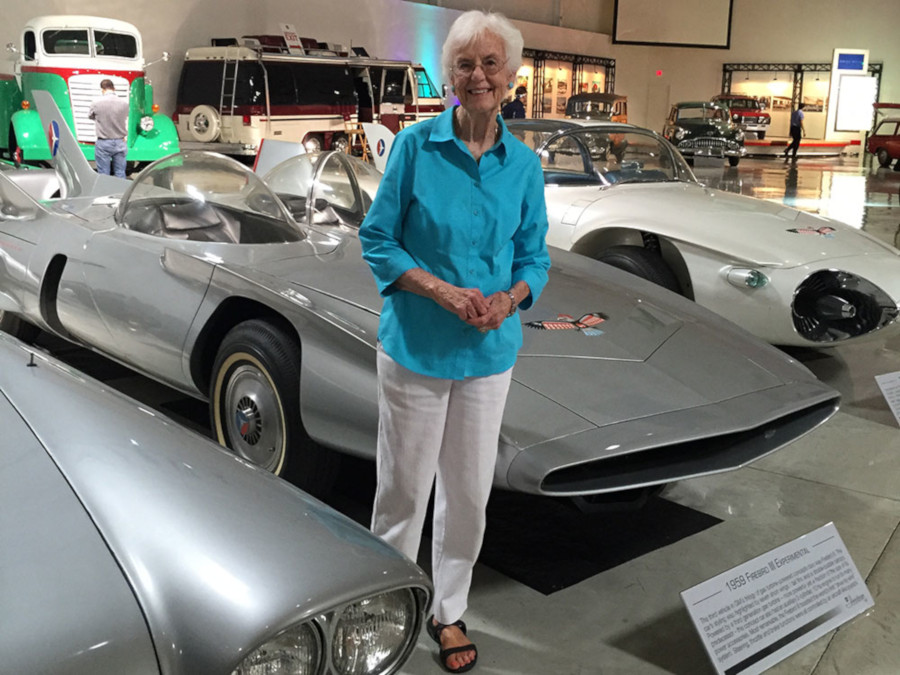 Mary Ellen Dohrs in 2015 (GM Media Archives)
In addition to her industrial design work, Dohrs was a great artist and teacher. She also was a talented sculptor and inventor. During her years as an artist, she said, "I'll just work things out technically and artistically using my engineering skills." The subjects of her sculptures ranged from athletes to frogs. Writer Marjorie Eddington of Bible Wise said, "Mary Ellen Dohrs has forged her own path in the art world and has evolved as a sculptor from a decidedly electric educational background."
In conclusion, Dohrs had a great career that helped shape the auto industry. May she rest in peace.
Bibliography
Eddington, Marjorie F. "Mary Ellen Green Dohrs." Bible Wise Categories-Arts /Business.
Lopez, Jonathan. "Former General Motors Designer Mary Ellen Green Dohrs Passed Away at Age 92." GMAuthority.com, January 19, 2022.