By Robert Tate, Automotive Historian and Researcher
Images Courtesy of Multiple Sources
Published 2.23.2022
EDITOR'S NOTE: As we continue our observance of Black History Month, we revisit this Story of the Week from November 2018 on the first African American automaker.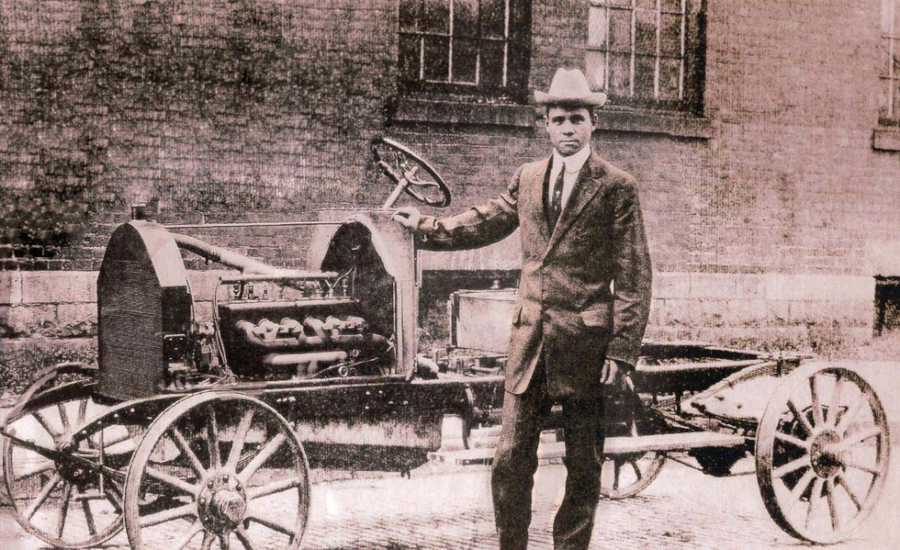 C.R. Patterson's son Fred with car
When you look back at automotive manufacturing and engineering history, the first name that most people think about is the great automotive pioneer Henry Ford. His name is usually associated with perfecting a moving assembly line to mass produce an automobile.
During the evolution of the automobile, there were other names involved in the industry and many great independent automakers that started over 100 years ago, but unfortunately, due to the Great Depression, many of them did not survive. This story is about the first African American automotive manufacturer, C.R. Patterson, of Greenfield, Ohio. His career started at an early age, when Patterson became a blacksmith and learned the craftsman trade. By 1870, he had become a foreman.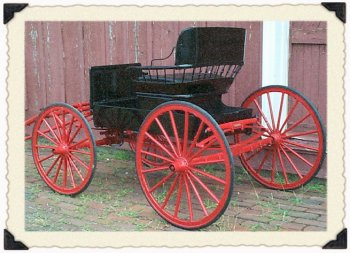 A black and red C.R. Patterson carriage (Greenfield Historical Society)
In 1873, Patterson went into business with J.P. Lowe, who was a prominent carriage maker in Greenfield. The two men worked well together and had many satisfied carriage customers. Upon Lowe's death, Patterson would become the sole owner of the business. Patterson went on to develop new and great looking horse buggies for the consumer market. His business produced 28 different horse-drawn buggies that were developed in Greenfield.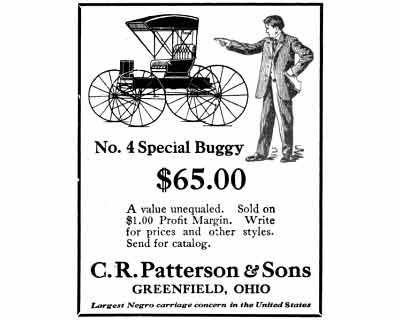 Ad for C.R. Patterson No 4 Special Buggy (v kweli.com)
In 1883, Patterson, along with his two sons, started the "C.R. Patterson and Son Carriage Company." After some years in the business, Patterson's sons would leave for other opportunities. Fred Patterson became the first African-American football player at Ohio State in 1891. Fred would return later to his father's carriage business for a greater opportunity and take on a more active leadership role building and designing products.
Ad for Patterson Whipper horse carriage (v kweli.com)
As the century turned, Fred Patterson began to see that consumer need for horse buggies was coming to an end. In 1910, C.R. Patterson died, and Fred was now running the business. His new goal was to manufacture a great looking automobile because American transportation needs had changed.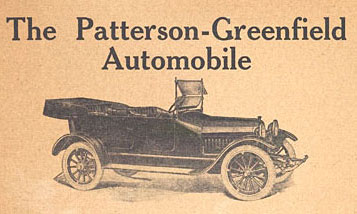 Ad for the Patterson Greenfield Automobile (thecall.com)
On September 23, 1915, the company's first automobile, the Greenfield Patterson, was manufactured. The first production run was 150 units for the consumer market at a cost of $850. The first model was offered as a touring or roadster design and featured a Continental 4-cylinder engine with a full floating rear axle, cantilever springs, demountable rims, electric starting and lighting, and a split windshield for ventilation.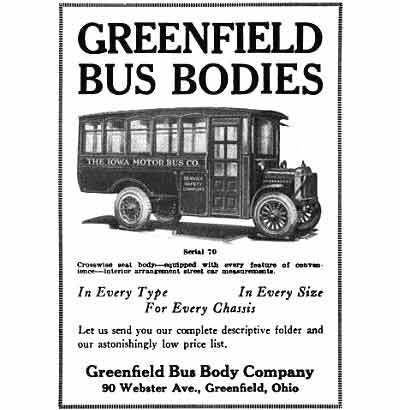 Ad for Greenfield Bus Body Company (community.allhphop.com)
Unfortunately, as the years went by, funding for expanding the company was just not there, and Fred Patterson would focus his attention on making buses and trucks. In fact, he renamed the business as the "Greenfield Bus Body Company." During the 1920s, Fred started manufacturing school bus bodies and truck models. The bus bodies were sold to school boards in southern Ohio, West Virginia and Kentucky and greatly appreciated by many.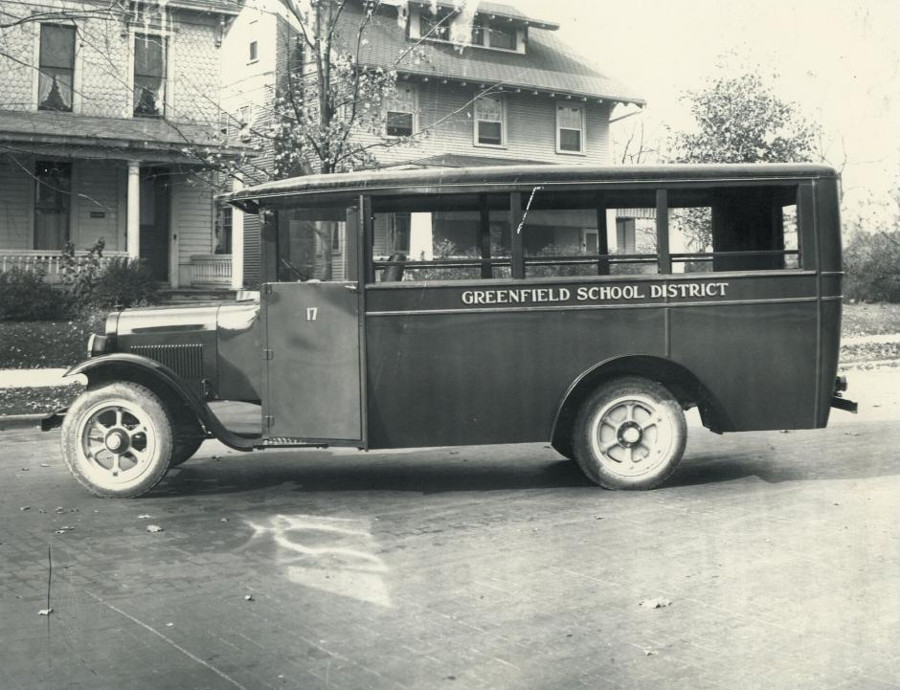 A school bus built for the Greenfield School District (coachbuilt.com)
Between 1922 and 1925, advertisements and press release information appeared in the nation's commercial vehicle trade journals. The models were custom-bodied vehicles, and some offered wood framing. Some automotive historians have said that the Greenfield buses were known to have been built on Chevrolet and Dodge truck chassis.
In conclusion, the Great Depression during the 1930s created more financial problems for the company, and Fred Patterson died on January 18, 1932. The Greenfield Bus Body Company closed in 1939. For more information on the Patterson family's history in the auto and truck manufacturing business, visit here.
Bibliography
Nelson, Christopher. "The C.R. Patterson and Sons Company: Black Pioneers in the Vehicle Building Industry, 1865-1939." 2010.
Schrempp, Zach. "C.R. Patterson & Sons Company (1893-1939)." Article on Blackpast.org.