by Bob Sadler, MotorCities Communications Manager
Images Courtesy of the Automotive Hall of Fame
Published 12.1.2021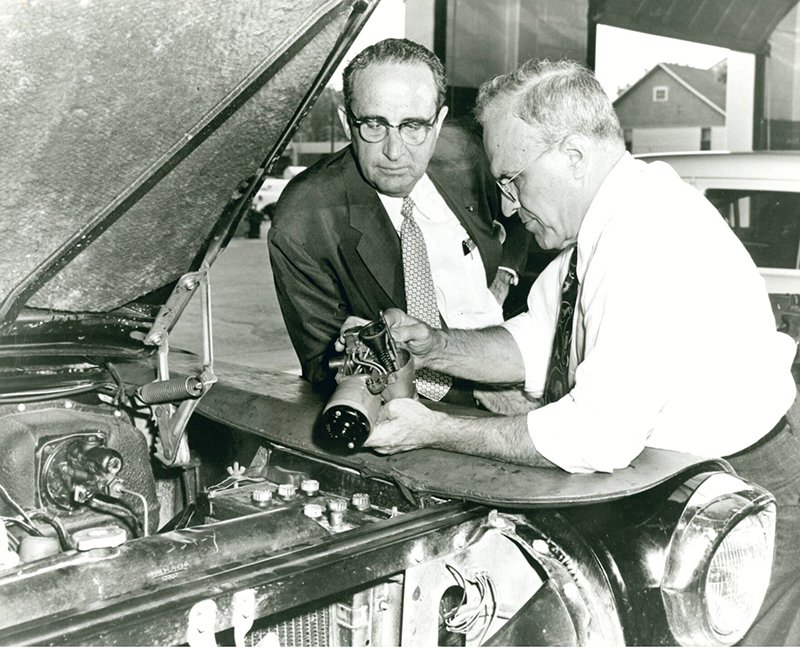 Ralph Teetor (right) and Perfect Circle President, William Prossner, looking at a cruise control unit in 1957 (Automotive Hall of Fame)
EDITOR'S NOTE -- In honor of the International Day of People with Disabilities on Friday, December 3, we present the story of Ralph Teetor, a person with a disability who invented a feature now commonplace in vehicles today.
Ralph Teetor was an engineer and inventor who overcame blindness to develop the automotive feature we now know as cruise control, a device that foreshadowed technologies like autonomous vehicles, GPS navigation, hazard automatic braking and lane assist systems.
Born in 1890 in Hagerstown, Indiana, Teetor had normal vision until age five when his hand slipped while working with a knife and the blade penetrated his eye. This resulted in blindness in one eye, however, within a year, a condition known as sympathetic opthalmia, rendered him completely blind.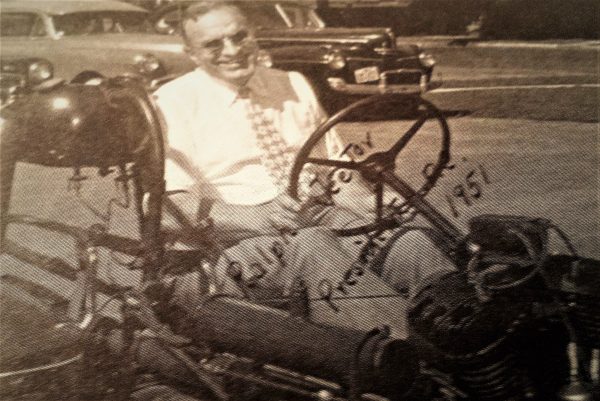 Ralph Teetor, 1951 (Automotive Hall of Fame)
Despite his disability, Teetor developed an extremely acute sense of touch and a knack for understanding machinery working at his family's bicycle company. At the age of 12, having been trained by his father and uncles as a machinist, he actually built an automobile of his own design that reached speeds of 25 miles per hour.
Teetor attended the University of Pennsylvania in Philadelphia and earned a mechanical engineering degree in 1912. He then took a job working on a shipyard contract for U.S. Navy in Camden, New Jersey, where he developed a process for dynamically balancing steam turbines that operated under extreme heat and pressure, leading to an industry standard for maritime propulsion.
After that innovation, Teetor returned to the family business, now known as Teetor-Hartley, an early automotive supplier and provider of gasoline engines to companies like Indiana-based Auburn and Duesenberg. Later, the company elected to specialize in producing piston rings for engines. Higher quality piston rings would lead to more powerful and fuel efficient engines, and when the company's product became the industry standard, it led to a new name – Perfect Circle. Teetor served as Perfect Circle's lead engineer and later was appointed president of his family's auto parts business in 1946.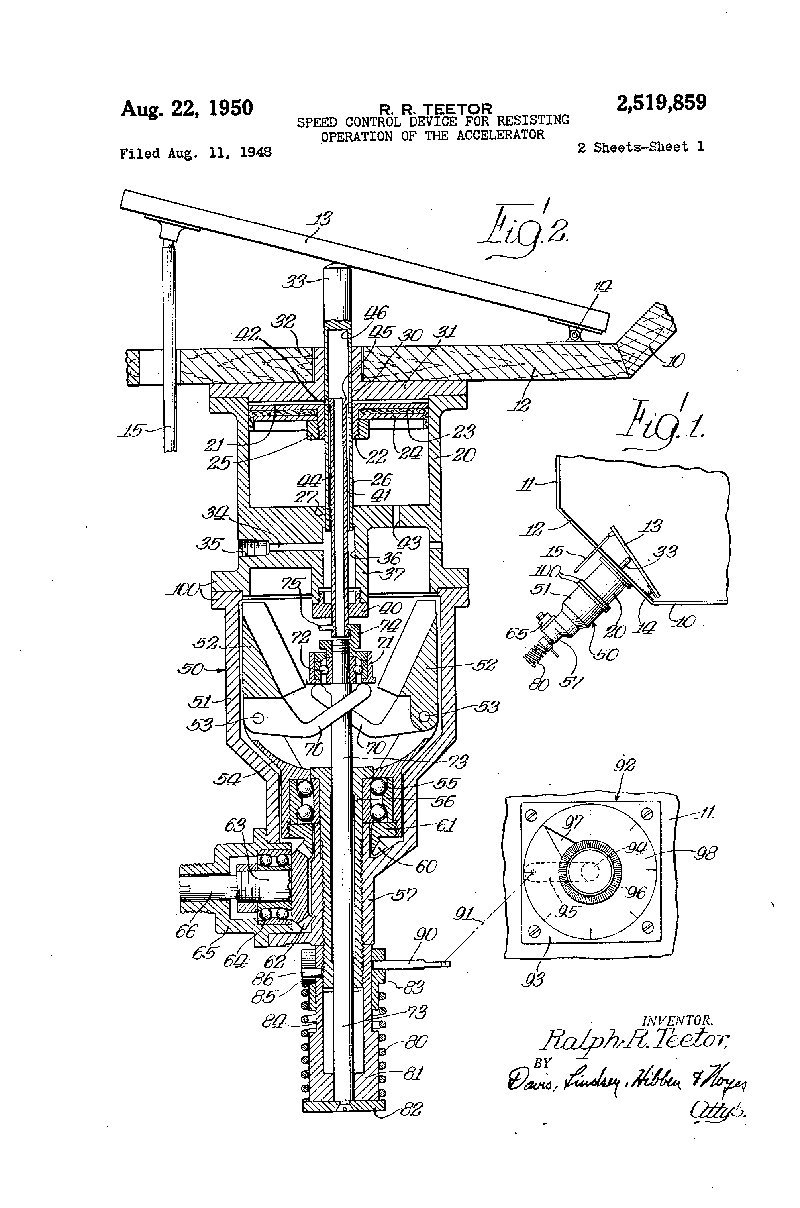 Ralph Teetor's patent
Vehicles were becoming fast enough that Teetor began focusing on automobile safety. In addition, during World War II, Federal fuel conservation policies led to the adoption of a nationwide speed limit of 35 MPH. Teetor's work resulted in an invention he dubbed the "Speedostat," which allowed the driver to select a speed. Once that speed was achieved, a piston would push back against the gas pedal. On August 22, 1950, he received a patent for his speed control device for motor vehicles.
Speed control was a luxury amenity at first, offered as an option first by Chrysler in 1958. It proved so popular that Chrysler began to offer Speedostat on all of its models. When General Motors' Cadillac brand adopted the device, it marketed the feature under the moniker "cruise control."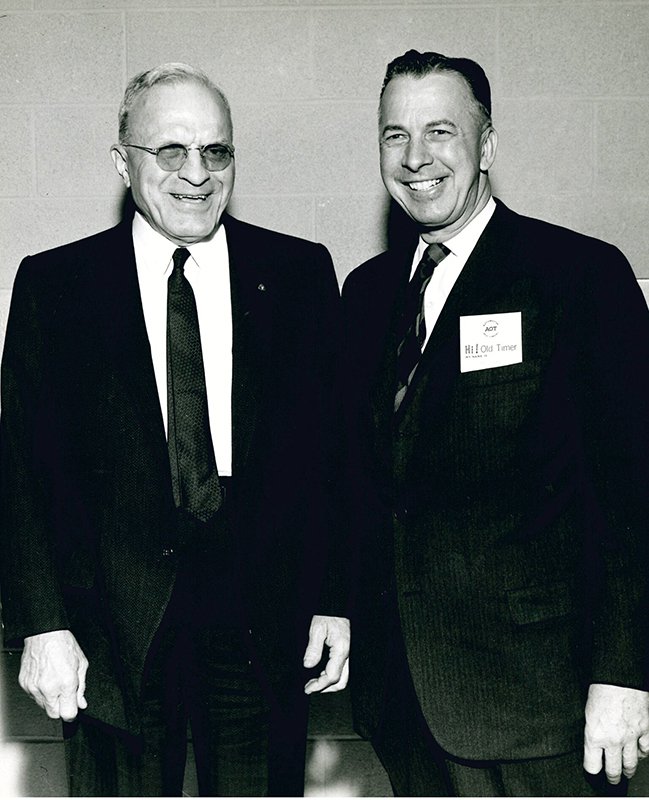 Ralph Teetor with General Motors executive Ed Cole (Automotive Hall of Fame)
In the 1960s, cruise control was a convenient, but non-essential option for vehicles. However, the feature was more universally adopted in the 1970s when it was recognized as an effective means of fuel conservation during the Organization of Petroleum Exporting Countries (OPEC) oil embargo that began in 1973.
Among his other accomplishments, Teetor served as president of the Society of Automotive Engineers, received a number of honorary degrees, and an annual award given by SAE bears his name. He died in 1982 and was inducted posthumously into the Automotive Hall of Fame in 1988.
In conclusion, Ralph Teetor did not let his disability get in the way of achieving great things and left a substantial legacy in the automotive industry.
Bibliography
Donnelly, Jim. "Ralph R. Teetor." Hemmings Classic Car, July 2009.
Sears, Daniel. "The Sightless Visionary Who Invented Cruise Control." Smithsonian Magazine, March 8, 2018.
Ralph Teetor. Automotive Hall of Fame.