by Bob Sadler, MotorCities Communications Manager
Images Courtesy of the National Automotive History Collection, the Automotive Hall of Fame and the Library of Congress
Published 3.24.2021
Alice Ramsey next to her automobile (Library of Congress)
Alice Ramsey was 22 years old in 1909 when she made history, becoming the first woman to drive across the United States from coast-to-coast. She, along with two sisters-in-law and a friend, left New York City on June 9 and arrived in San Francisco on August 7. In total, the trip took 59 days, and Ramsey drove a total of 3,800 miles.
Ramsey began driving the previous year, when her husband bought her an automobile after a vehicle raced past her at 30 miles an hour, scaring her horse. She immediately took the wheel and logged 6,000 miles around their New Jersey home and entered an endurance drive to and from Montauk. Her driving abilities caught the eye of a representative from Maxwell Motors, who offered her an all-expenses-paid trip across the country to demonstrate the quality and durability of their automobile.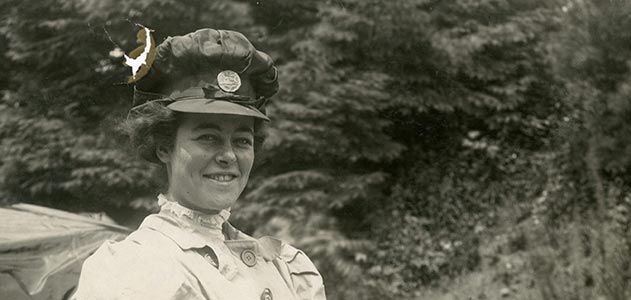 Alice Ramsey (National Automotive History Collection)
Maxwell provided a dark green 1909 DA touring car. It was a four-cylinder, 30 horsepower vehicle with two bench seats and a removable pantasote roof.
Ramsey's companions for the trip were sisters-in-law Nettie Powell and Margaret Atwood, both in their 40s, and her 16-year-old friend Hermine Jahns. Each woman received a primer on car safety and wore hats and goggles while on the road. They also covered long dresses with dusters to protect themselves and their clothing from dirt and dust.
There were a myriad of challenges during the trip. While the company would advertise later that the Maxwell performed without a hint of trouble, the women actually dealt with 11 different episodes of flat tires and mechanical breakdowns. They also faced bad weather and even worse roads in many states – the state of Iowa alone took 12 days to traverse.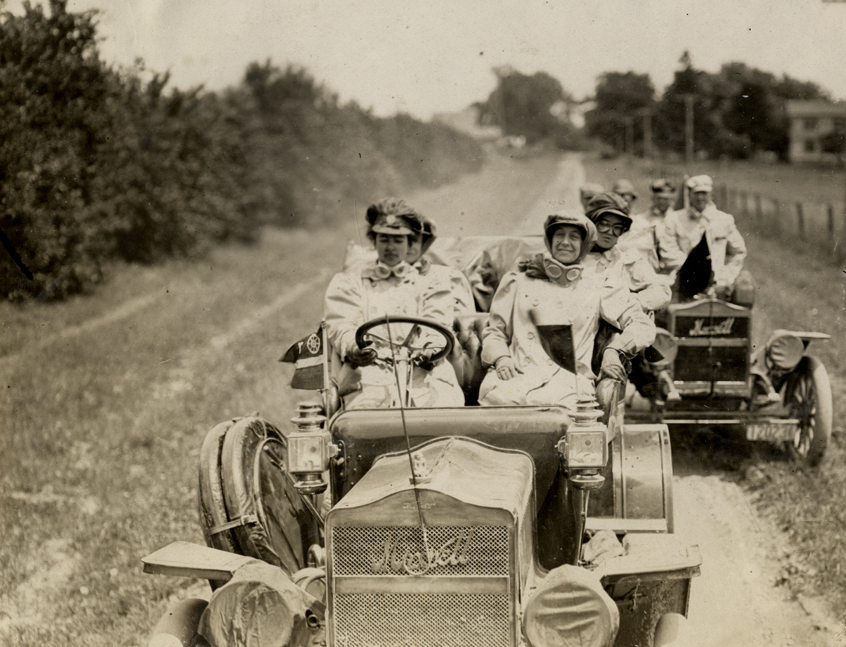 Alice Ramsey and passengers in her Maxwell, 1909 (National Automotive History Colection)
Maps proved to be unreliable and not designed for coast-to-coast travel. Many landmarks used to provide direction either disappeared or changed in appearance, leading to many episodes of backtracking. Sometimes, Maxwell hired local drivers familiar with the area to travel with Ramsey and her companions and lead them westward.
When they made it to California, they marveled at the redwoods before driving onto a ferry to cross San Francisco Bay before arriving at their destination. Maxwell surrounded Ramsey and her three companions with a fleet of their models before giving a parade in their honor. The San Francisco Chronicle heralded their arrival with the headline: "Pretty Women Motorists Arrive After Trip Across the Continent."
Ramsey returned to New Jersey by train after her fleeting brush with fame. She and her husband raised two children. She also continued driving coast-to-coast and lost count after her thirtieth trip.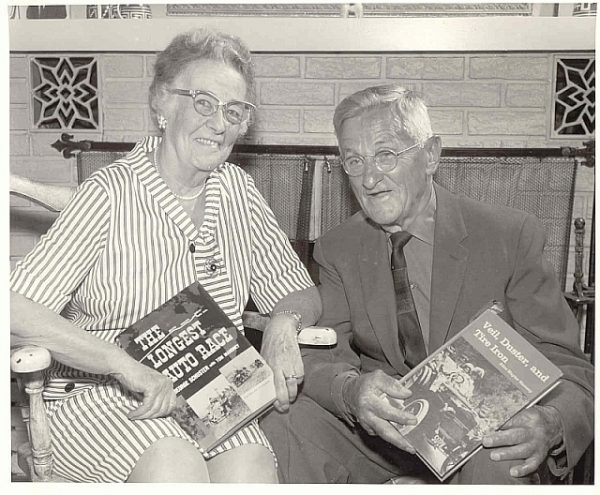 Alice Ramsey later in life (Automotive Hall of Fame)
In 1961, Ramsey recounted her 1909 adventure in a book, Veil Duster and Tire Iron. She continued to maintain her drivers license until age 95 and passed away in 1983 at the age of 97.
In 2000, Alice Ramsey became the first woman to be inducted into the Automotive Hall of Fame.
Finally, on the hundredth anniversary of Ramsey's cross-country drive, June 9, 2009, a Seattle, Washington woman by the name of Emily Anderson left New York City on a quest to replicate the achievement. She drove a 1909 Maxwell that had been rebuilt by her father to commemorate the drive's centennial.
Bibliography
Koestler Ruben, Marina. "Alice Ramsey's Historic Cross-Country Drive." Smithsonian Magazine. June 4, 2009.
Automotive Hall of Fame. Alice Ramsey.