By Robert Tate, Automotive Historian and Researcher
Images courtesy of the National Automotive History Collection and General Motors
Published 3.20.2019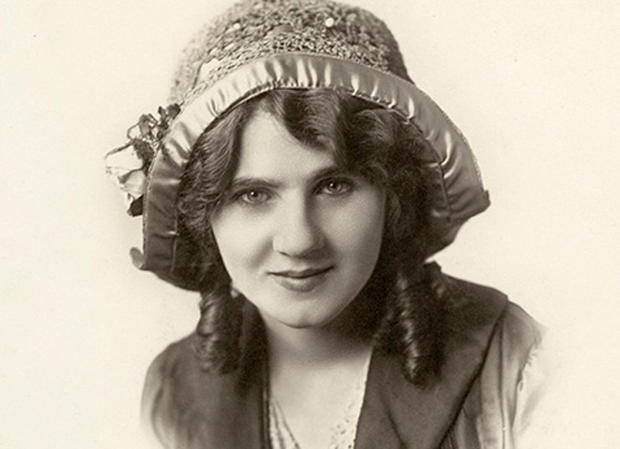 Florence Lawrence, inventor of the automotive turn signal (History.com)
The history of women in the auto industry goes back to the early days when Americans were beginning to use cars for their everyday transportation needs. For many years, women have accomplished great things in engineering, along with design and other automotive fields that still shape the industry today.
In 1903, Mary Anderson patented the first manual windshield wiper. Later, in 1917, Charlotte Bridgwood manufactured an automatic windshield wiper through her small company.
Other early women in the auto industry included Margaret E. Knight, one of the first female engineers, and Florence Lawrence, a great automotive inventor and silent movie star of the era. In 1914, Lawrence created an automotive turn signal. When she failed to file for a patent for her invention, other automotive manufacturers rushed to claim the first patent and ownership, since they had received patents for similar designs. Some automotive historians have said that Lawrence also developed an equally simplistic and ingenious device to alert fellow motorists of a braking vehicle.
During the 1920s, Marie Luhring (the subject of our Story of the Week from November 30, 2016) made history by becoming the first female truck designer. She was a member of the Society of Automotive Engineers and a very successful designer with many creative ideas. Luhring designed Mack Trucks, impressing the company with her creative ideas and work ethic.
Woman during wartime working as an assembler at Ford (National Automotive History Collection)
The 1930s and the Great Depression brought much economic despair around the country, but that would change when World War II prompted the auto industry to hire women to keep up production of wartime equipment. During the war, many women took on the role of "Rosie the Riveter." At Ford Motor Company, jobs consisted of assembly of B-24 bombers at Willow Run, along with producing tanks and motorized gun carriages. Many women assembled tubes for aircraft wires or parts and performed other factory jobs as well.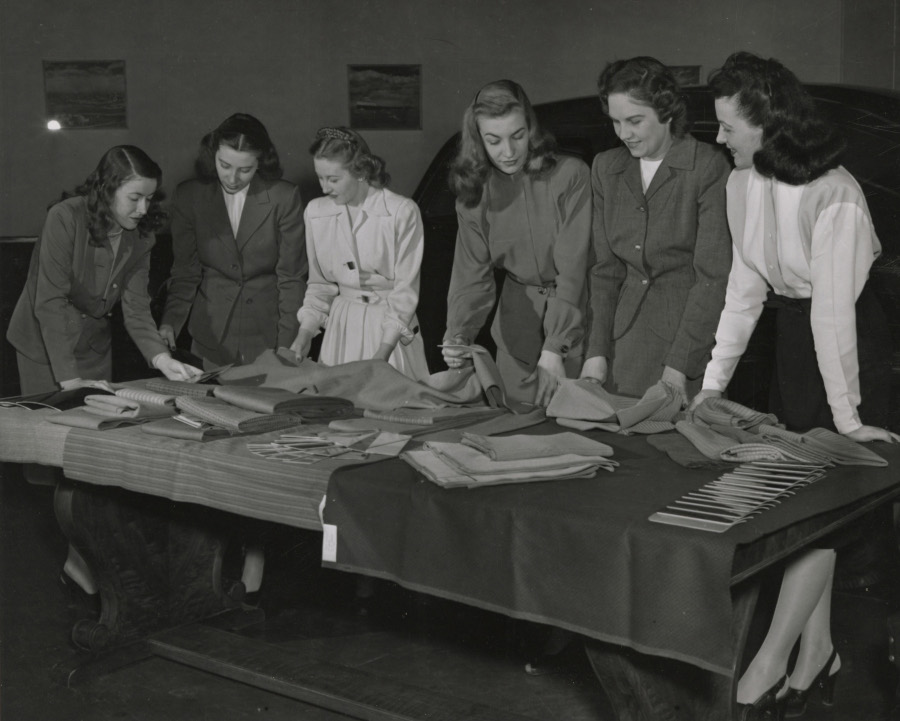 Women examining upholstery at Ford, 1950 (National Automotive History Collection)
Both before and after the war, women began to be hired as automotive designers at American carmakers. Early female designers included Helen Dryden and Audrey Moore Hodges, who helped Raymond Loewy at Studebaker. Helen Rother Ackerkncoht at Nash was a very talented designer, and Betty Thatcher designed the 1941 Hudson instrument panel in 1939.
Helen Rother, one of the first female auto designers at Nash
In 1943, Harley Earl, the iconic design leader at General Motors hired Amy Stanley Light in 1943 and then Mary Ellen Green, who later went to Packard. Earl later hired Sue Vanderbilt, Ruth Glennie, Marjorie Ford, Sandra Lonyear, Jeannette Linder, Gere Cavanaugh, Peggy Sauer, Dagmar Arnold, Jayne Van Alstyne and Jeanette Krebs, which he referred to as the "Damsels of Design."
GM Damsels of Design with Harley Earl, early 1950s (General Motors Archives)
In 1950, Ford hired female market analysts to examine and evaluate upholstery. Chrysler hired women to work in the field of interior design. Throughout the 1960s and 1970s, women continued to make inroads in many places within the auto industry around the world.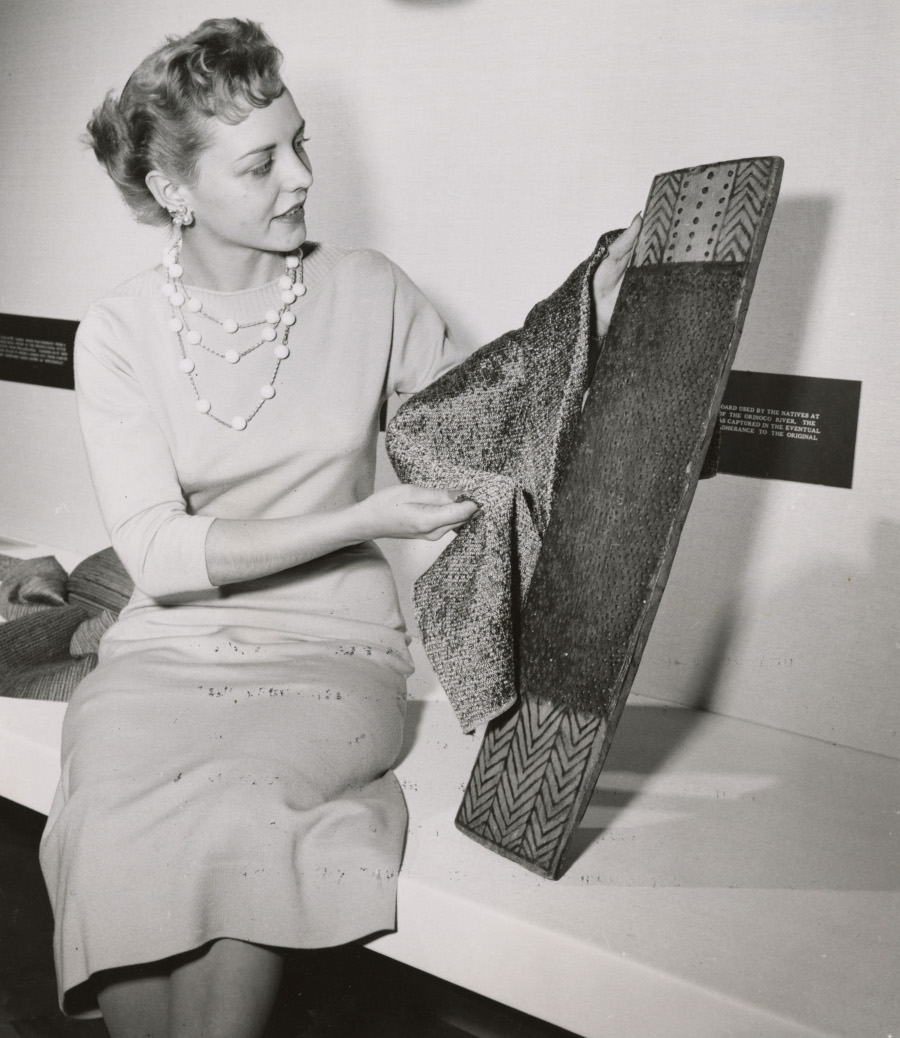 Chrysler secretary Dorothy Tokarczyk showing a fabric design, 1950s
In January 2016, Crystal Windham became director of interiors at Cadillac, and her past work includes work on multiple GM brands and special assignments as well. She became the first African American female director in GM's design history.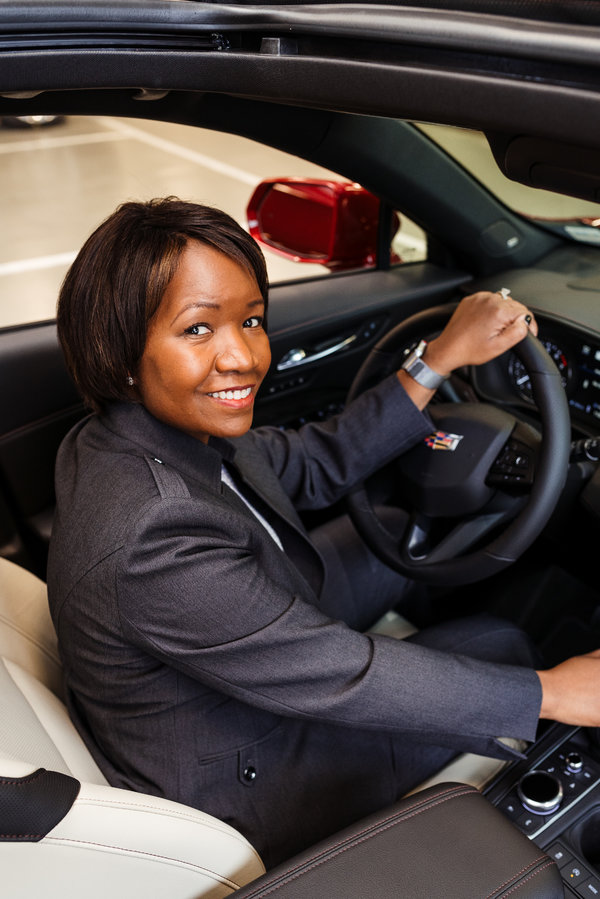 Crystal Windham, director of interior design for Cadillac (New York Times/General Motors Archives)
Finally, on January 15, 2014, Mary Barra of GM became the first female chief executive officer of a major global automaker in history. She was previously the executive vice president of global product development purchasing and supply.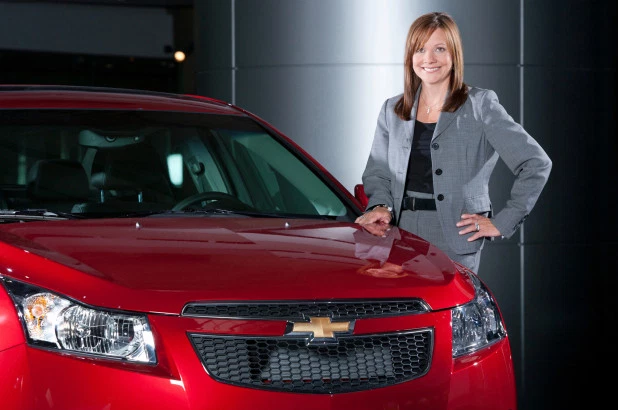 Mary Barra, CEO of General Motors
For more than a century, women have played a role in the auto industry and will continue to make history for many generations to come.
Bibliography
Lamm, Michael & Holls, Dave. "A Century of Automotive Style 100 Years of American Car Design." 1996-1997.
The National Automotive History Collection: Vertical File History Information.
"Women and Cars (Part One)." Associated Media Publishing.