By Robert Tate, Automotive Historian and Researcher
Images Courtesy of the Robert Tate Collection and National Automotive History Collection
Published 8.14.2019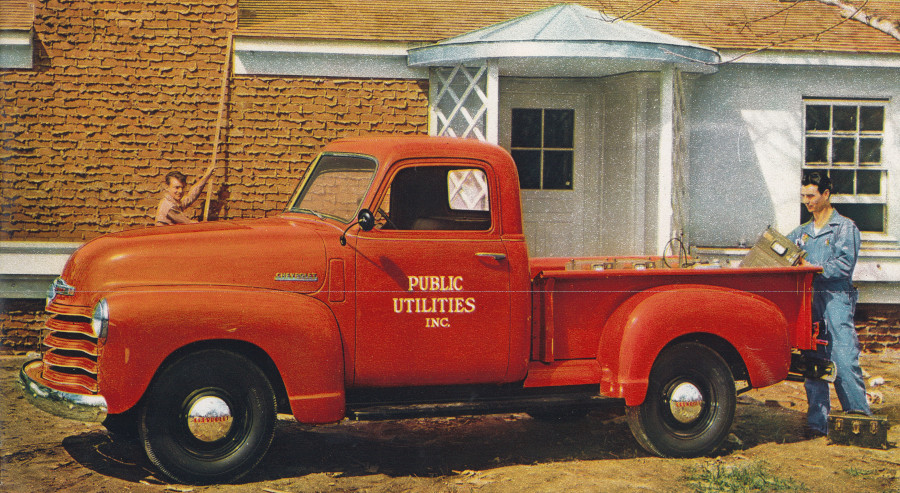 1948 Chevrolet pickup (Robert Tate Collection)
In 1948, General Motors introduced a new line of Chevrolet truck designs. Although Chevrolet automobiles were unchanged until 1949, the trucks were beginning to set a new design trend in the industry.
The Chevrolet Model ½ pickup was a very popular selling model among consumers. The 1948 Chevy truck designs were so popular that they remained unchanged, except for the front grille styling, through the 1954 model year. The new 1955 models were styled by Charles Jordan, a young and talented GM designer. I always thought that the 1948-1953 Chevrolet 1/2 pickup models offered a timeless design for the consumer market.
GM called the 1948 Chevrolet truck model line the "Advance-Design," which led the truck industry in post-war improvements. Chevrolet's "Advance-Design" trucks were also called the "Thrift master" and "Loadmaster" models as well. The pickup truck models offered increased load capacity for the driver. The tailgate and platform cargo area were very strong when it came to hauling heavy loads. Two engines were used for Chevrolet truck models; for example, the thrift master or loadmaster became very popular with consumers.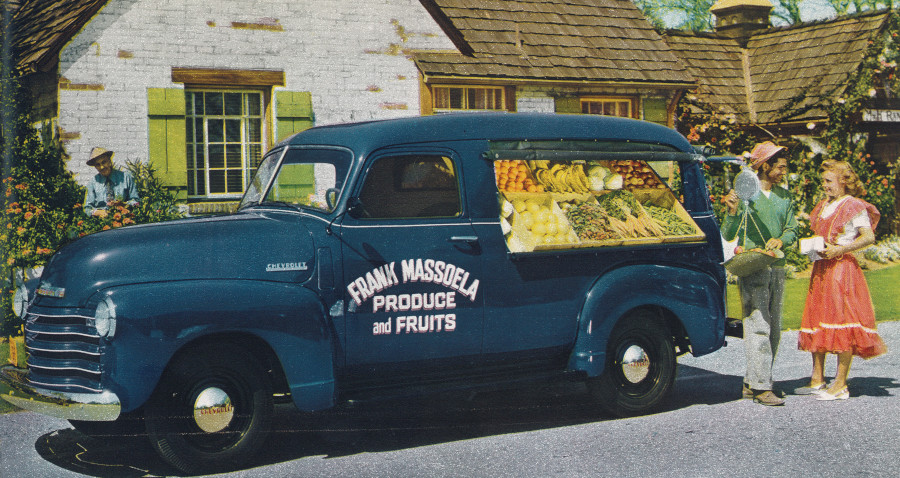 1948 Chevrolet Canopy Express (Robert Tate Collection)
The Canopy Express model was another popular model. It featured a unique way of selling merchandise with easy accessibility to load from the sides or rear. Merchandise was protected by an all-steel body with a one-piece roof design. Waterproof curtains were attached to the sides and rear of the truck. This was a time when merchants could go out into the neighborhoods and sell their food products to residents. Eventually, the Canopy Express models disappeared due to poor sales.
1948 Chevrolet Deluxe Stake truck (Robert Tate Collection)
A popular Chevy truck for farmers was the De Luxe Stake model. They were ideal for hauling merchandise, and many farmers admired its large platform and loading capacity. Removable interlocking stake sides were reinforced with steel pockets in what was called a rub rail. Improved insulation, a thicker dash and floor mats proved a cooler quieter cab for the driver and passenger.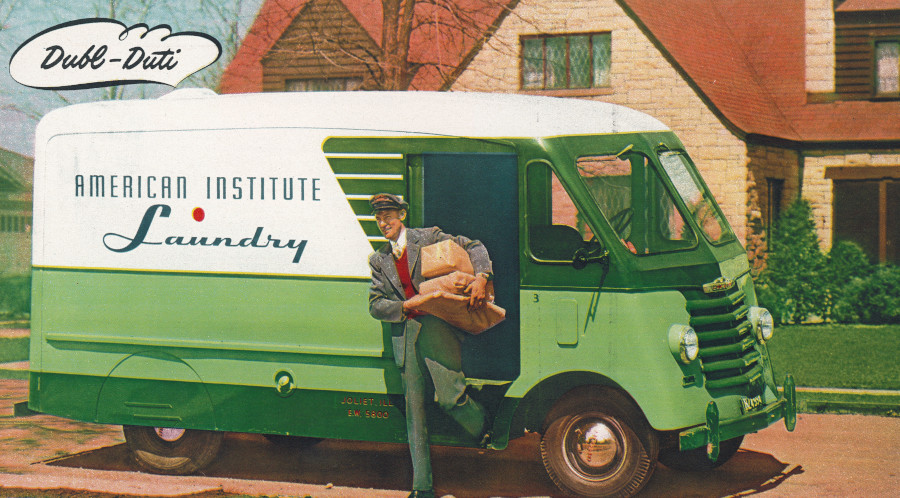 1948 Chevrolet Dubl Duti truck (Robert Tate Collection)
In this era, door-to-door delivery was very popular with consumers. A truck called the Dubl-Duti was great for such delivery operations and was admired by many store owners. It should also be noted that the Chevrolet Stepvan was also widely accepted by route delivery firms. Called a #3742, it was a lighter version of the stepvan and offered sliding doors for added convenience for a driver making frequent stops. Also, GM had independent companies who supplied parcel delivery bodies for the special Chevrolet package delivery chassis.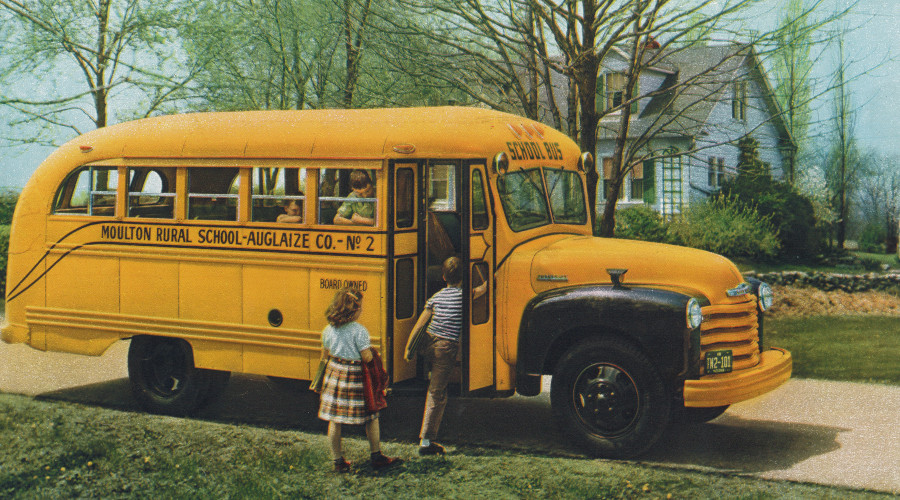 1948 Chevrolet School Bus (Robert Tate Collection)
In 1948, Chevrolet manufactured two school bus chassis. The buses offered a 161-inch wheelbase and held up to 36 passengers. The bodies were supplied by several independent manufacturing firms. Chevrolet also offered a 199-inch wheelbase model 6703, which could carry more passengers and fuel for longer runs.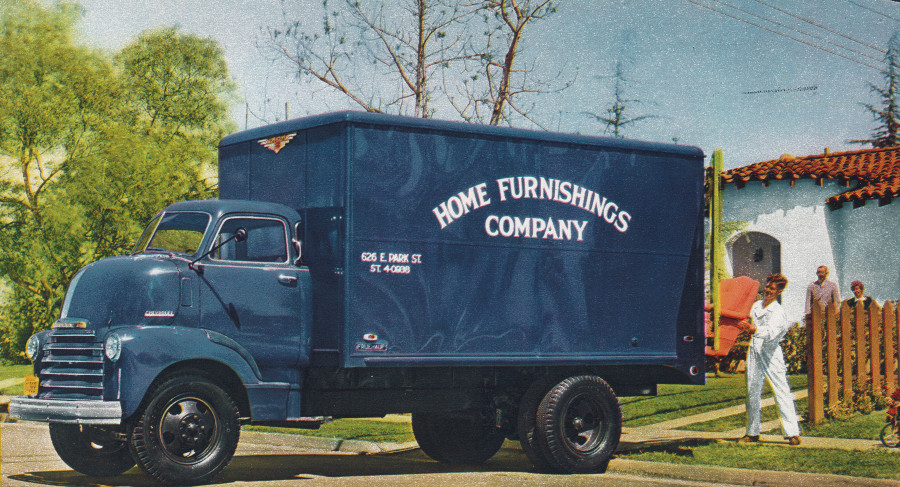 1948 Chevrolet Chassis and Cab truck (Robert Tate Collection)
The 1948 Chevrolet Cab-over engine model was very popular among companies. This model was used for moving and other heavy-duty operations. The truck offered up to 17 ½ feet of space. The driver's compartment had more seat, hip and shoulder room. The cab seats were 3 3/4 inches wider. The instruments and controls were grouped for driver convenience. The driver vision was increased by enlarging the V-type windshield and all windows in both height and width, which was called the "Nu-Vue" design. The models also had a cigarette lighter which are no longer seen today.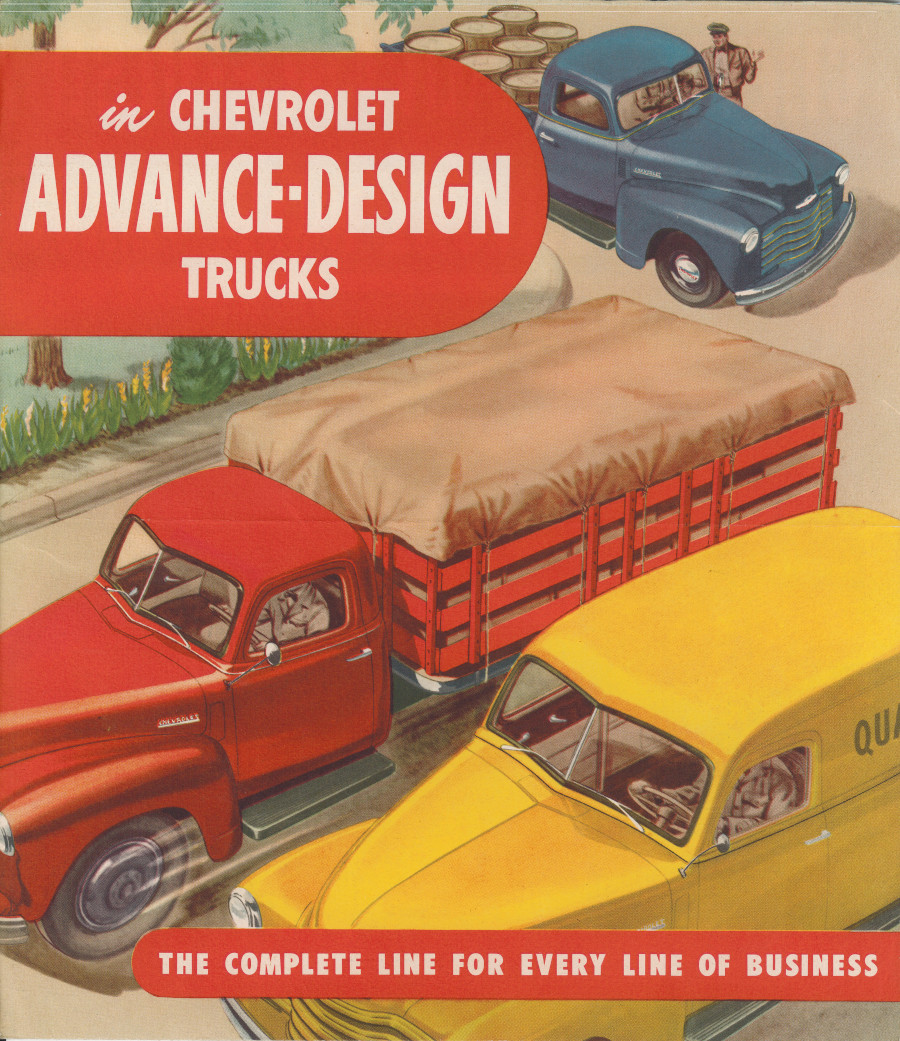 1948 Chevrolet Truck brochure cover (National Automotive History Collection)
The advertising campaign for the 1948 Chevrolet trucks proclaimed: "Come in -- see the Advance-Design Chevrolet Trucks with the cab that breathes."
In conclusion, the 1948 Chevrolet trucks were popular models and will always have a special place in the category's history.
Bibliography
1948 Chevrolet Motor Division truck material. Advanced Design Chevrolet trucks. Specifications Data and information sheets.
Dammann, George H. "Sixty Years of Chevrolet." Crestline Publishing, 1972.