By Robert Tate, Automotive Historian and Researcher
Images Courtesy of the National Automotive History Collection & the Robert Tate Collection
Published 9.18.2019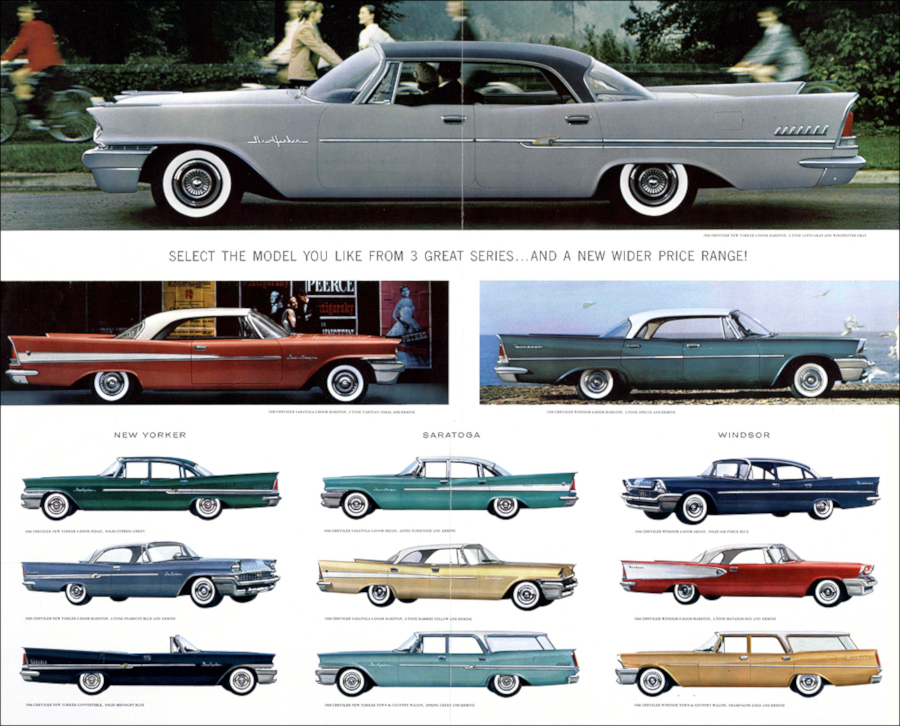 Chrysler's 1958 complete line of models (National Automotive History Collection)
1958 was the year that Chrysler Corporation unveiled their latest "Forward Look" styling. L.L. Corbert, president of the company at the time, said, "We at Chrysler Corporation proudly present these new cars and trucks, which offer even greater value than their Forward Look predecessors."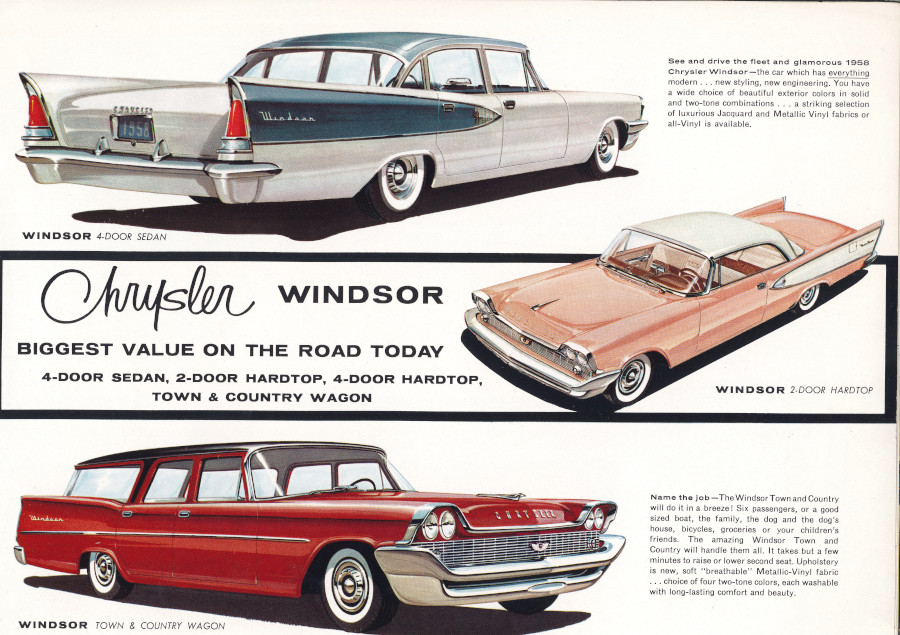 1958 Chrysler Windsor (National Automotive History Collection)
Chrysler introduced five "Forward Look" models in their 1958 lineup, including Chrysler, DeSoto, Dodge, Dodge trucks, Imperial and Plymouth. This story is about the 1958 Chrysler models that were introduced to the news media on September 27, 1957. Virgil M. Exner, Chrysler's vice president and director of styling, said at the national press event, "The fins of these cars instantly signal that here are genuinely modern automobiles, styled years ahead of the field."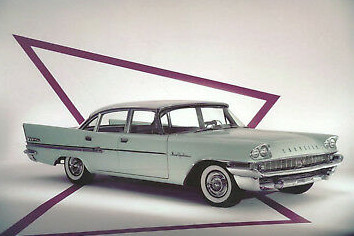 1958 Chrysler Newport vintage car dealer advertising postcard (National Automotive History Collection)
The 1958 Chrysler models included the stylish New Yorker, Saratoga, Windsor and the popular 300 D. Styling changes were minimal compared to the 1957 models, which many consumers admired and appreciated. The trim chrome on the 1958 models were shuffled, and metallic vinyl made its way as a design theme. The 1958 Chryslers also offered a control-tower windshield design, which was 11 square feet of glass curving into the roof and around the sides for unequaled visibility. These models also offered an efficient dual headlamp system.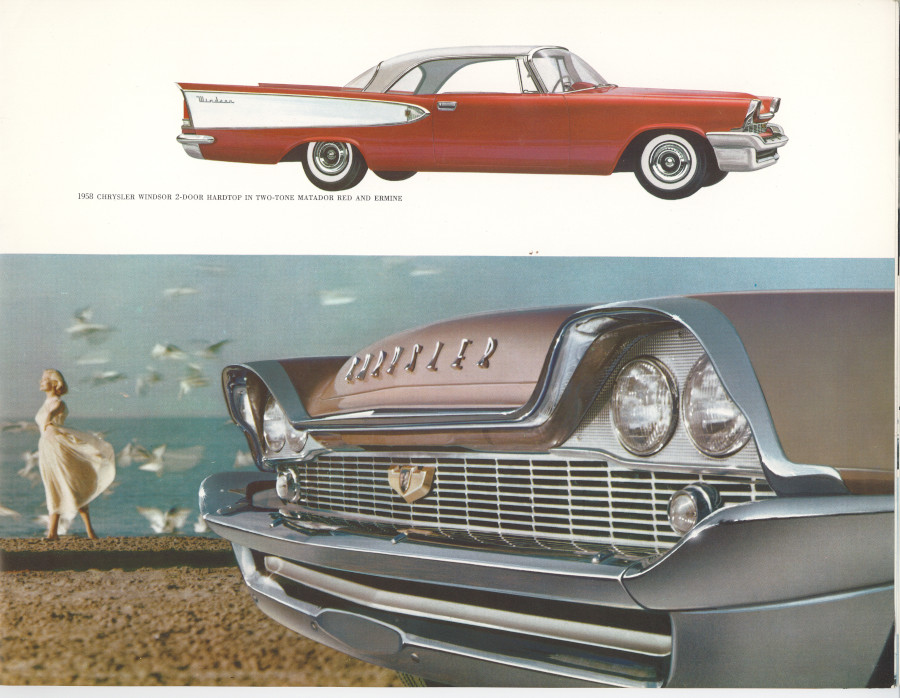 1958 Chrysler Windsor brochure image (National Automobile History Collection)
A new feature in these models was "Auto Pilot," a new pushbutton automatic drive assist that became optional equipment on all new Chrysler and Imperial models in 1958. The device provided an automatic throttle control, which acted as a speed reminder for the driver. The models also offered a pushbutton torque flite drive with Torsion-Aire ride. Many customers also enjoyed Chrysler's interior Jacquard fabrics with new metallic vinyl materials.

1958 Chrysler New Yorker (National Automotive History Collection)
In addition, a design element really liked by consumers was the distinctively modern C side emblem that was artistically sculptured in gold anodized aluminum. Chrysler also presented a new approach to automotive colors, about which Exner said, "The muting of color tones is the natural complement to the lean, taut, agile flight sweep styling of Chrysler Corporation's cars for 1958." These colors were dubbed the "Follow the sun colors," which matched the subtlety of nature herself, Exner said.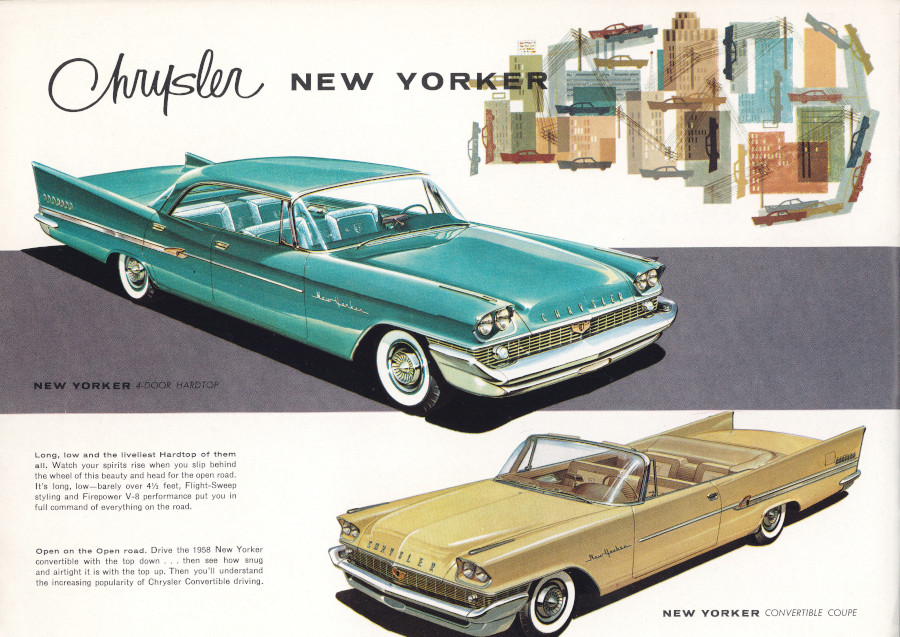 1958 Chrysler New Yorker brochure image (National Automotive History Collection)
When the new Chryslers hit showrooms in November 1957, the Windsor models with their "Flight Sweep" styling were priced at $2,849 and were the best sellers in the entire Chrysler line for 1958. New Yorkers carried a $4,656 sticker price.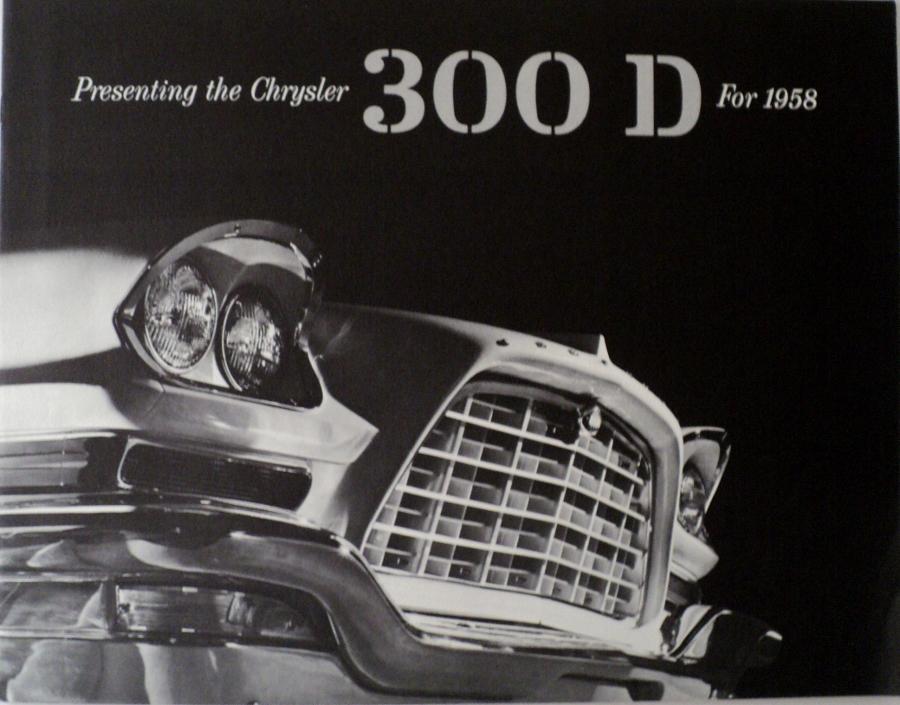 1958 Chrysler 300 D brochure image (Robert Tate Collection)
The 300 D was Chrysler's top of the line model, a prestigious automobile that was popular in 1958. It was designed to please the motorist who drove fine automobiles for pure pleasure. They came with power brakes and a dual four-barrel carburetors to provide extra power. The 300 D also offered a sleek sculptured steel body design. The 1958 Chrysler 300D model was mildly changed from the popular 1957 300C series and available in a two-door hardtop and convertible styles only. The 300 D models were available in six popular colors -- Ermine White, Mesatan, Tahitian Coral, Raven Black, Matador Red and Aztec Turquoise.
In conclusion, aside from a mild facelift and certain series adjustments, the 1958 model year saw minor changes in Chrysler vehicles. However, Exner's designs will always have a place in our automotive history books.
Bibliography
Langworth, Richard M. "Chrysler and Imperial: The Postwar Years." Motorbooks International, 1976.
Langworth, Richard M, & Norbye, Jan P. "The Complete History of Chrysler Corporation 1924-1985." By the Auto Editors of Consumer Guide, 1985.
Langworth, Richard M. "Encyclopedia of American Cars 1930-1980." 1984.