By Robert Tate, Automotive Historian and Researcher
Images Courtesy of Robert Tate's Collection
Published 7.24.2019
In 1977, American Motors used the advertising slogan "There's more to an AMC," and that year's line of passenger vehicles represented a major step-up in their continuing escalation of product values with the Pacer, Gremlin, Hornet and Matador models. All 1977 AMC products offered higher levels of standard equipment, more efficient performance, and added appearance and convenience features, which many consumers enjoyed.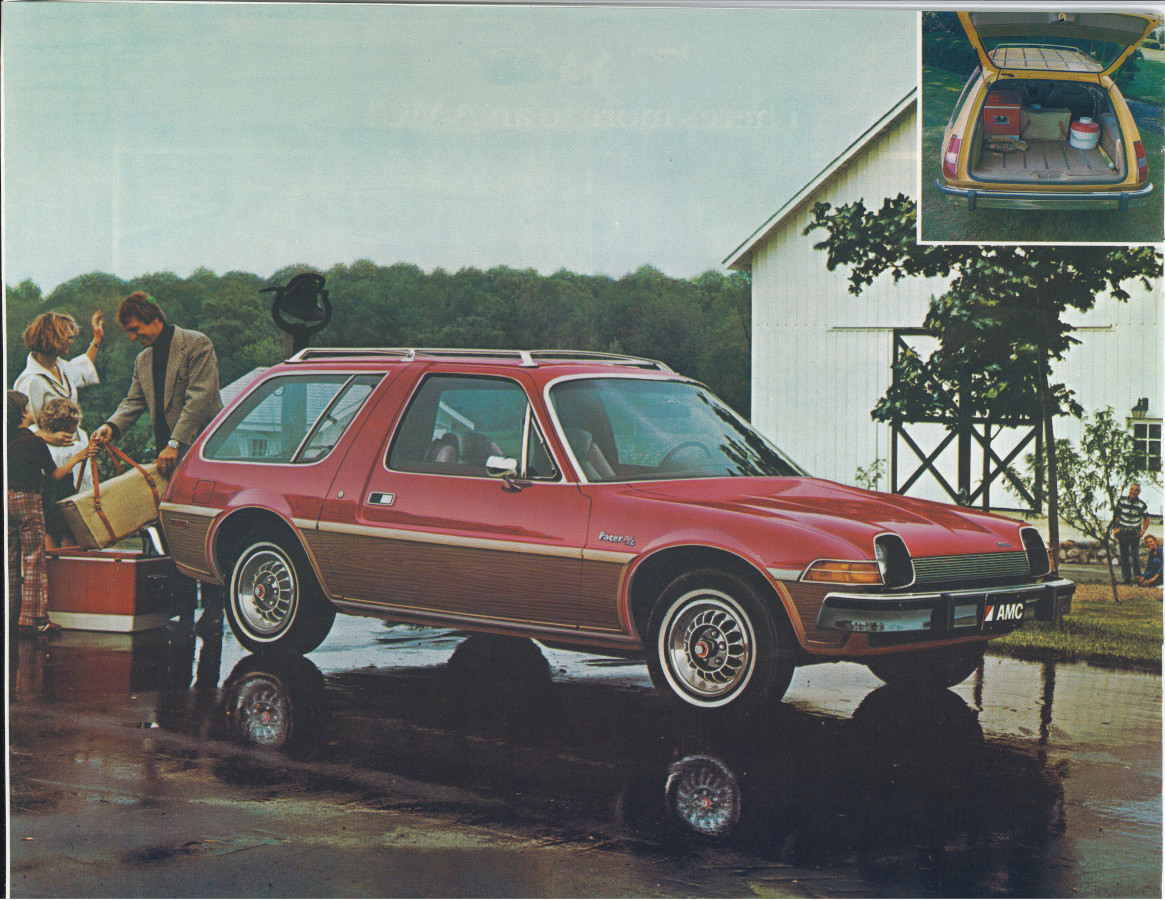 1977 AMC Pacer (Tate Collection)
Let's begin with the AMC Pacer, first introduced as a sedan in 1975. In 1977, the Pacer wagon model was introduced. The Pacer models were great looking and extremely roomy, but some consumers did not like the styling and others thought it was bad idea. The Pacer wagon had all the features that made the sedan a success among some consumers. The new Pacer had also introduced an isolated suspension system for a quiet ride. The models also offered a 6-cylinder engine with a 22-gallon fuel tank. The Pacers offered so much glass visibility that some consumers called it a fishbowl design. However, the new two-door Pacer station wagon was as distinctive as the innovative Pacer sedan first introduced in 1975.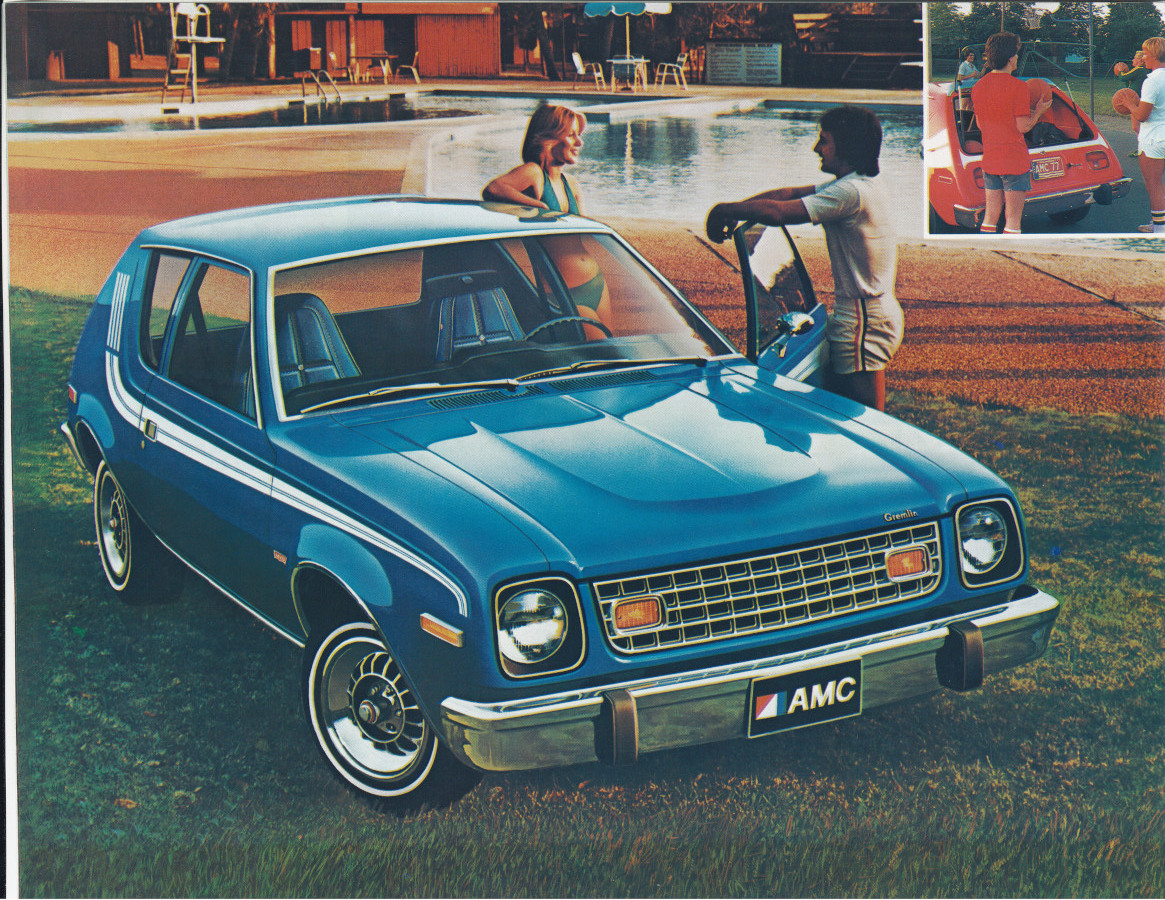 1977 AMC Gremlin (Tate Collection)
The AMC Gremlin was introduced as a subcompact car. The model received its first major design changes in 1977, while retaining the unique Gremlin identity. The Gremlin models introduced a more expansive rear lift window design, which made it easier for consumers when it came time to load cargo. I always thought that one of the Gremlin's interesting features was its optional Levi's blue jean denim interior, which was a hit with many consumers. Standard equipment for 1977 included custom vinyl bench seats, custom door trim panels, carpeted floor and cargo areas, custom steering wheel, spare tire covers and a 232 CID six engine. A 258 CID six engine was available as an option. An important aspect of the Gremlin was great fuel economy. The base price for the Gremlin was $2,995.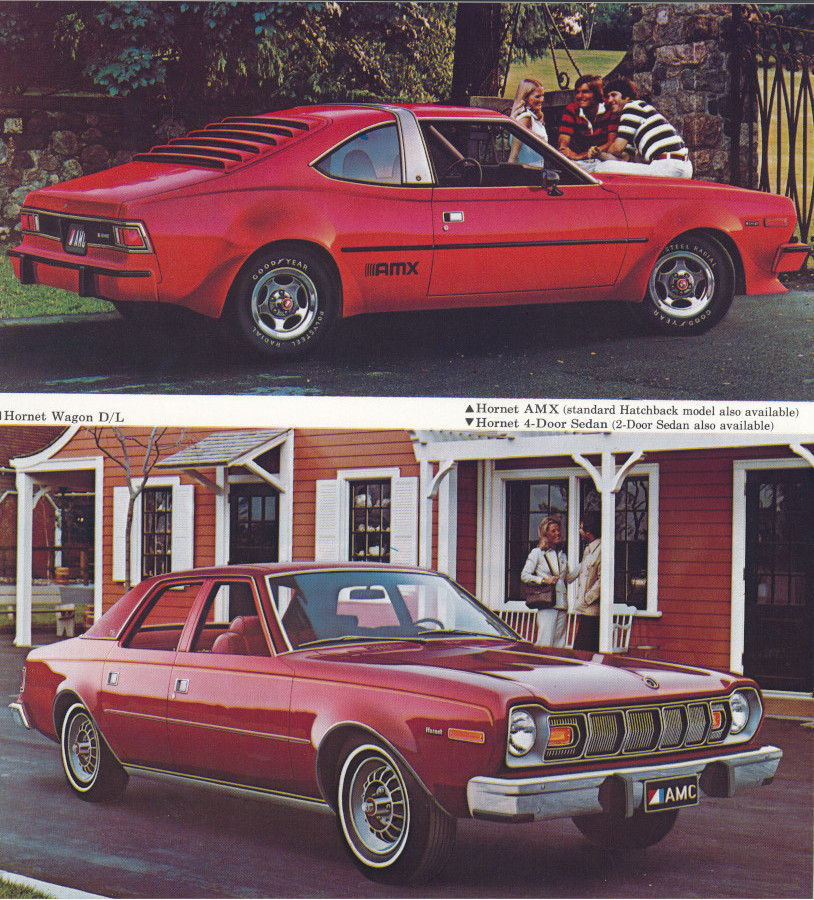 1977 AMC Hornet AMX top and Hornet sedan below (Tate Collection)
The compact Hornet line expanded in 1977 with the addition of the AMX nameplate. The AMX was a sporty hatchback model designed to appeal to young buyers. American Motors said the AMX reflected the growing interest in a new breed of personal cars with distinctive styling. I always felt, as an automotive historian, that the 1968-1970 AMX models highlighted the great era of muscle car culture in America. The interior of the 1977 AMX models included rally gauges with a tachometer, special door trim panels, soft-feel sports wheel, floor console, and a unique instrument panel designed for the younger driver. The AMX model was available in four colors: Firecracker Red, Silver Frost Metallic, Sunshine Yellow and Lime Green.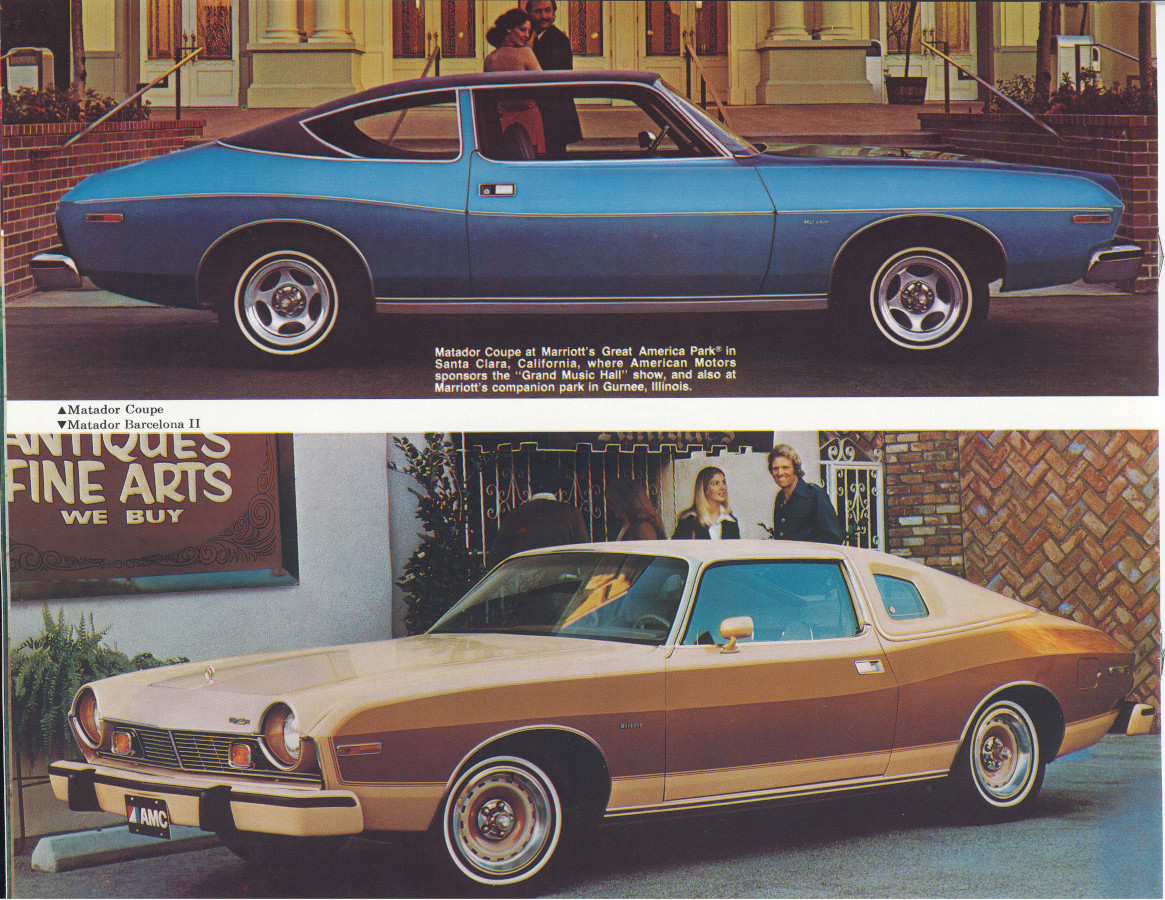 1977 AMC Matador coupes (Tate Collection)
The 1977 Hornet hatchback, wagon and two and four-door sedans offered roomy interiors, which could seat five people for a comfortable and safe ride. The Hornet sedan models were designed for young married couples, small families, and businessmen or women. Many automotive historians referred to the Hornet models as a combination of style and practicality.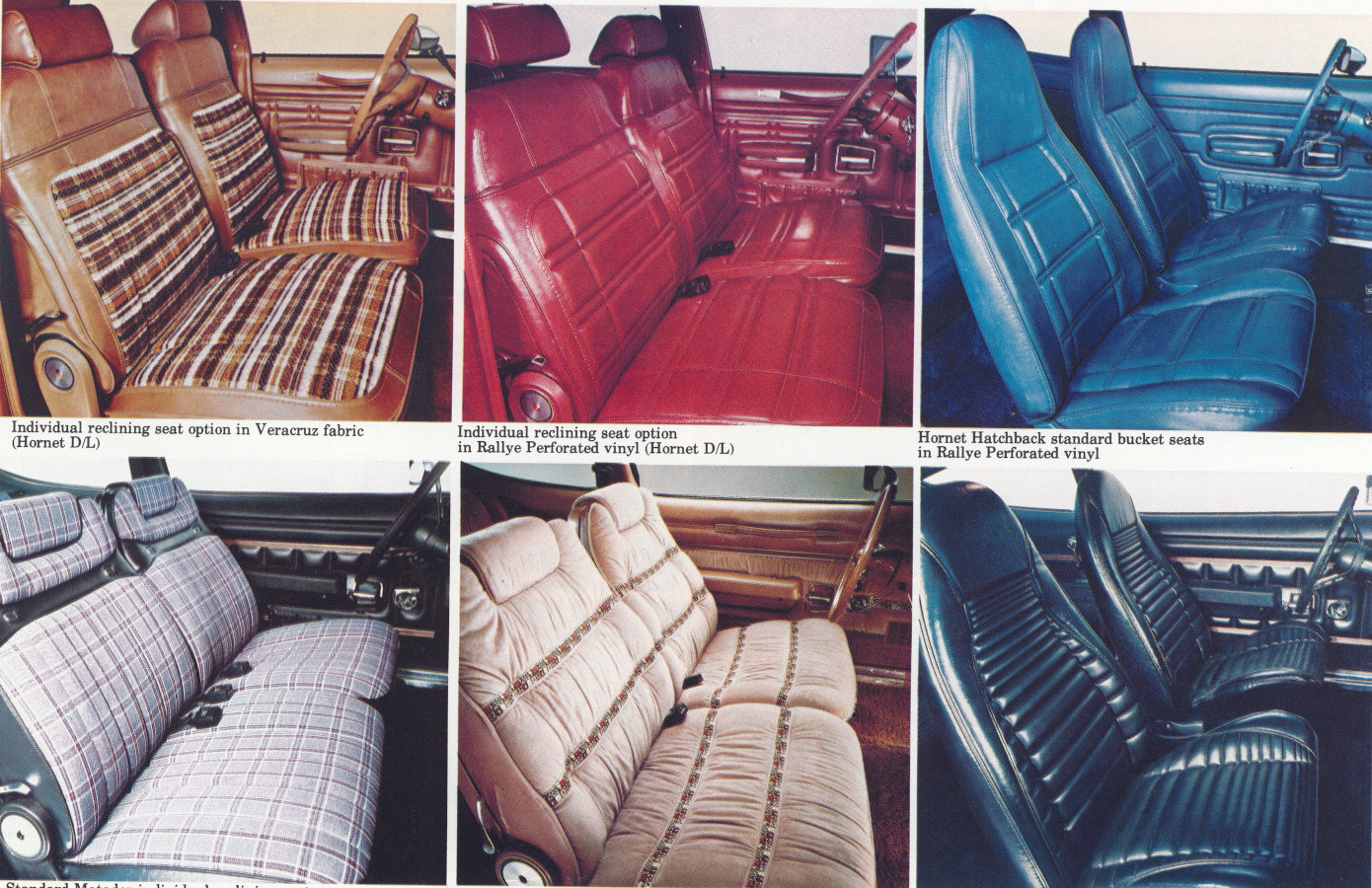 1977 AMC interior options (Tate Collection)
Finally, the Matador coupe stood apart from the regular Matador models in 1977. The Matador coupe was an intermediate design featuring big-car comfort, style and luxury while offering a smooth ride. For 1977, the Matador coupe was available along with a Matador Barcelona II model. When the Matador was first introduced, auto writer Patrick R. Foster said, "The big news for 1974 was the all-new Matador coupe, which replaced the former Matador hardtop. The coupe's styling received acclaim from many automotive writers." Available but not pictured were the 1977 Matador wagon and sedan models.
In conclusion, the 1977 American Motors line will always be a part of our automotive history.
Bibliography
Foster, Patrick R. "An Illustrated History AMC CARS 1954-1987." Iconografix, 2004.
Flammang, James M. "Standard Catalog of American Cars 1976-1986." Krause Publications, 1988.