On December 12, 1967, a ribbon-cutting ceremony marked the opening of the first part of the Fisher Freeway. The completed section cost $50 million and covered an area of 4.3 miles, extending from Schaefer Highway to West Grand Boulevard near the Ambassador Bridge. It was named after the Detroit's famous Fisher family, who manufactured car bodies.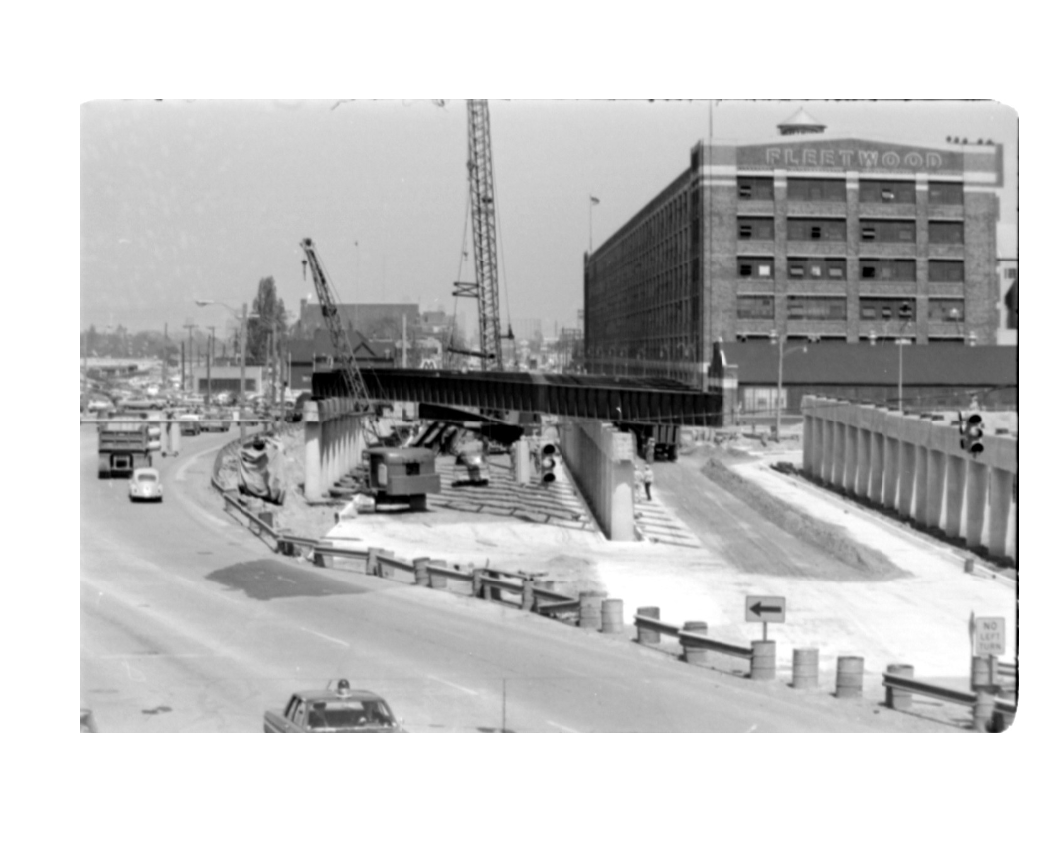 Fisher Freeway construction image courtesy of Wayne State University
The Fisher Freeway is a part of Interstate 75 (I-75), the interstate highway that runs from Sault Ste. Marie in the Upper Peninsula of Michigan south to Miami, Florida. The portion of the interstate known as the "Fisher Freeway" is located from the southern part of Detroit up to the interstate's merger with I-375, where it bears the name of "Walter P. Chrysler Freeway" through Oakland County.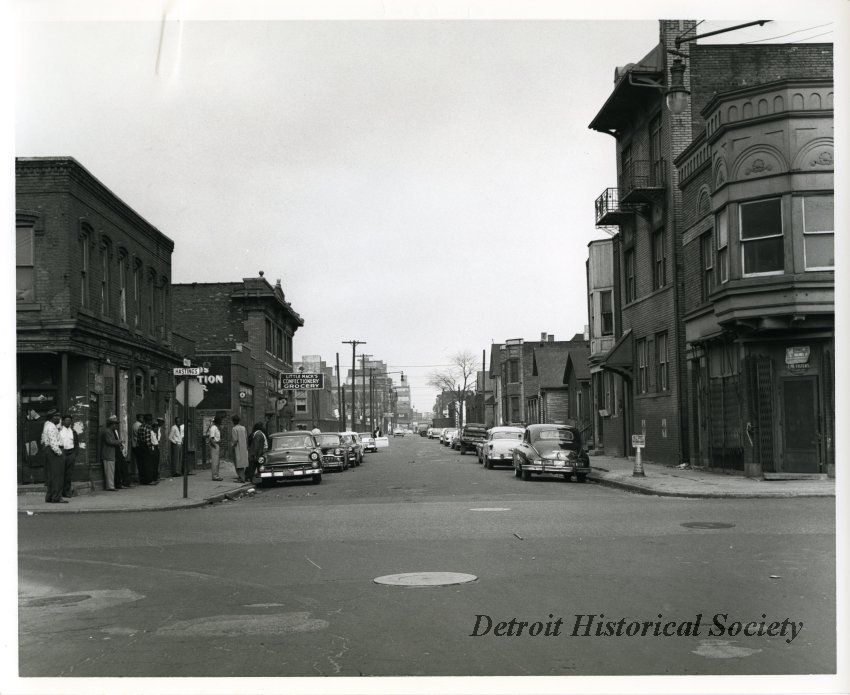 View from Hastings St. in Black Bottom image courtesy of the Detroit Historical Society
Construction of the Walter P. Chrysler Expressway – the highway's original name – had begun on January 30, 1959 with a ceremony at the corner of Hastings and Macomb Avenues. The entire Black Bottom district – a predominantly Black neighborhood in Detroit – was demolished as part of Detroit's urban renewal program to build Lafayette Park and the Chrysler Expressway. In this sense, Mayor Edward Jeffries' 1946 Detroit Plan devastated a community. The National Housing Act of 1949, as well as the 1956 National Highway Act which funded the construction of Interstate 75, provided the city of Detroit with the necessary financial means to undertake its urban renewal plan.
RESEARCH & WRITING
Louise-Helene Filion, Ph.D.

PHOTO RESEARCH
Rebecca Phoenix
Bibliography:
-"Black Bottom Neighborhood." Encyclopedia of Detroit (Detroit Historical Society), https://detroithistorical.org/learn/encyclopedia-of-detroit/black-bottom-neighborhood . Accessed 16 February 2022.
-Detroit Free Press, 11 December 1967, p. 8.
-"Fisher Freeway." Encyclopedia of Detroit (Detroit Historical Society), https://detroithistorical.org/learn/encyclopedia-of-detroit/fisher-freeway. Accessed 19 February 2022.
-"How the razing of Detroit's Black Bottom neighborhood shaped Michigan's history." Michigan Radio, https://www.michiganradio.org/arts-culture/2019-02-11/how-the-razing-of-detroits-black-bottom-neighborhood-shaped-michigans-history . Published 11 February 2019.
-"Origins of Redevelopment." 12th Street Detroit Web Exhibit (Walter P. Reuther Library), https://projects.lib.wayne.edu/12thstreetdetroit/exhibits/show/beforeunrest/panel4 . Accessed 16 February 2022.
-"Part of Fisher Freeway Opens." The Herald-Palladium (Benton Harbor, MI), 13 December 1967, p. 34.
-Williams, Jeremy. The Black Bottom Community, Charleston, Chicago, Portsmouth and San Francisco, 2009, 128 p.