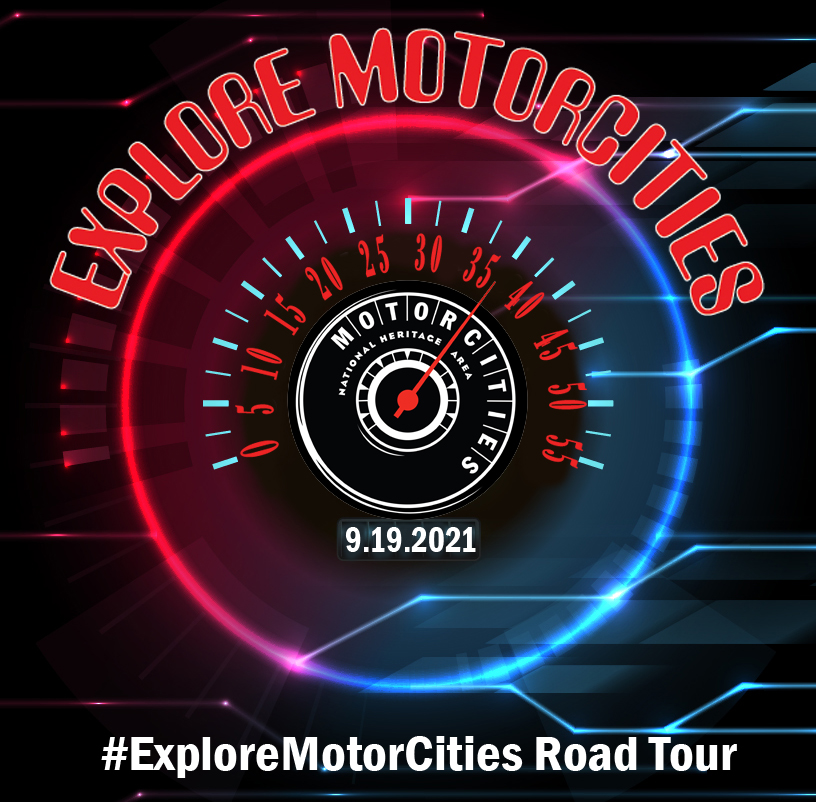 PLEASE NOTE: Due to a number of factors, this event has been postponed. We will keep you posted regarding future events. Thank you!
Calling All Auto History Enthusiasts! Register now for this first-ever event!
Coming Sunday, September 19, 2021
Join us for a fun way to explore region's automotive history and visit some great attractions.
Here's how the #ExploreMotorCities Road Tour works:
Pick up your MotorCities Passport book at any participating attraction.

Get it stamped on the day of the event at any of our 11 southeast Michigan participating attractions, including the Automotive Hall of Fame in Dearborn, the Detroit Historical Museum, Ford Piquette Avenue Plant in Detroit, The Henry Ford in Dearborn, Historic Fort Wayne in Detroit, Meadow Brook Hall in Rochester, Michigan Firehouse Museum in Ypsilanti, Michigan Military Technical & Historical Society in Eastpointe, Packard Proving Grounds in Shelby Township, Plymouth Historical Museum and Yankee Air Museum in Belleville. *Please note that registration for this event includes access to each attraction for the purpose of getting your stamp but does not necessarily guarantee free admission. More details are in the table below the map.

Bring your Passport to our final stop, the Automotive Hall of Fame, and get entries in our prize drawing for every stamp in your book! Our Grand Prize is four passes to the American Speed Festival at the M1 Concourse in Pontiac ($300 value).
Other prizes include: 2 Suite Tickets + Parking for the Detroit Lions taking on the Arizona Cardinals at Ford Field on Sunday, December 19 (courtesy of the Detroit Metro Convention & Visitors Bureau), 4 Passes to the either the Henry Ford Museum of American Innovation or Greenfield Village in Dearborn (courtesy of The Henry Ford), 4 Admission Tickets for the Yankee Air Museum in Belleville, 5 TIckets to the Michigan Firehouse Museum in Ypsilanti and additional tickets and swag from our attraction partners

Enjoy music, a car show, refreshments and see if you win!
Use this map of our participating sites to plan your trip:
| | | |
| --- | --- | --- |
| Attractions | Hours for Stamping | Admission Policy |
| Automotive Hall of Fame | 10 a.m. - 4 p.m. | Free Admission |
| Detroit Historical Museum | 1 - 5 p.m. | TBD |
| Ford Piquette Avenue Plant | 10 a.m. - 4 p.m. | Free Admission |
| The Henry Ford | 9:30 a.m. - 5 p.m. | Regular Admission |
| Historic Fort Wayne | 10 a.m. - 4 p.m. | Free Admission |
| Meadow Brook Hall | 11 a.m. - 4 p.m. | Reduced Admission |
| Michigan Firehouse Museum | 12 - 4 p.m. | Donation Encouraged |
| Michigan Military Technical & Historical Society | 10 a.m. - 5 p.m. | Donation Encouraged |
| Packard Proving Grounds | 10 a.m. - 1 p.m. | Limited Access due to Special Event (Stamp Only at Gate) |
| Plymouth Historical Museum | 1 - 4 p.m. | Regular Admission |
| Yankee Air Museum | 11 a.m. - 4 p.m. | Free Admission |
$30/per car ($25 for MotorCities/Hagerty members)